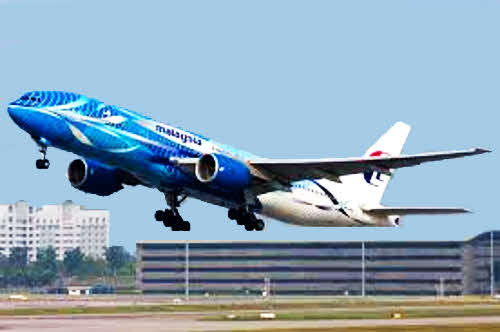 The word Melayu is thought to derive from the Tamil words Malai and Ur meaning "mountain" and "city, land". The term was later used as the name of the Melayu Kingdom, which existed between the 7th and 13th centuries on Sumatra. Malayadvipa was the word used by ancient Indian traders when referring to the Malay Peninsula.
Following his 1826 expedition in Oceania, French navigator Jules Dumont d'Urville invented the terms Malaysia, Micronesia and Melanesia, distinguishing these Pacific cultures and island groups from the existing term Polynesia. In 1831, he proposed these terms to the Société de Géographie. Dumont d'Urville described Malaysia as "an area commonly known as the East Indies". In 1850, the English ethnologist George Samuel Windsor Earl, writing in the Journal of the Indian Archipelago and Eastern Asia, proposed naming the islands of Southeast Asia as Melayunesia or Indunesia, favoring the former.
In 1957, the Federation of Malaya was declared as an independent federation of the Malay states on the Malay Peninsula. The name "Malaysia" was adopted in 1963 when the existing states of the Federation of Malaya, plus Singapore, North Borneo and Sarawak formed a new federation, with "si" being added to Malaya in honour of the three joining states. Prior to that, the name itself had been used to refer to the whole Malay Archipelago. Politicians in the Philippines contemplated renaming their state "Malaysia" before the modern country took the name. At the time of federation, other names were considered: among them was Langkasuka, after the historic kingdom located at the upper section of the Malay Peninsula in the 1st millennium CE.
In 1511 Malacca was conquered by Portugal, after which it was taken by the Dutch in 1641. In 1786 the British Empire established a presence in Malaya, when the Sultan of Kedah leased Penang to the British East India Company. The British obtained the town of Singapore in 1819, and in 1824 took control of Malacca following the Anglo-Dutch Treaty. By1826 the British directly controlled Penang, Malacca, Singapore, and the island of Labuan, which they established as the crown colony of the Straits Settlements. By the 20th century, the states of Pahang, Selangor, Perak, and Negeri Sembilan, known together as the Federated Malay States, had British Residents appointed to advise the Malay rulers, to whom the rulers were bound to defer by treaty. The remaining five states in the peninsula, known as the Unfederated Malay States, while not directly under British rule, also accepted British advisers around the turn of the 20th century. Development on the Peninsula and Borneo were generally separate until the 19th century. Under British rule the immigration of Chinese and Indians to serve as laborers was encouraged. Sabah was governed as the crown colony of British North Borneo after it was leased from the Sultanate of Sulu in 1878. In1842, Sarawak was ceded by the Sultan of Brunei to James Brooke, whose successors ruled as the White Rajahs over an independent kingdom until 1946, when it became a Crown colony.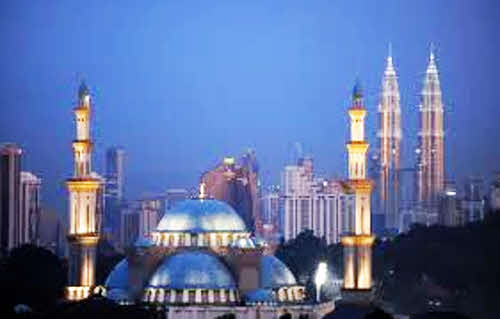 Malaysia is a federal constitutional elective monarchy. The system of government is closely modeled on that of the Westminster parliamentary system, a legacy of rule. The head of state is the Yang di-Pertuan Agong, commonly referred to as the king. The King is elected to a five-year term by and from among the nine hereditary rulers of the Malay states; the other four states, which have titular Governors, do not participate in the selection. By informal agreement the position is systematically rotated among the nine, and has been held by Abdul Halim of Kedah since December 2011.The King's role has been largely ceremonial since changes to the constitution in 1994, picking ministers and members of the upper house.
Legislative power is divided between federal and state legislatures. The bicameral federal parliament consists of the lower house, the House of Representatives and the upper house, the Senate. The 222-member House of Representatives is elected for a maximum term of five years from single-member constituencies. All 70 senators sit for three-year terms, 26 are elected by the 13 state assemblies, and the remaining 44 are appointed by the King upon the Prime Minister's recommendation. The parliament follows a multi-party system and the government is elected through a first-past-the-post system. Since independence Malaysia has been governed by a multi-party coalition known as the Barisan Nasional.
Each state has a unicameral State Legislative Assembly whose members are elected from single-member constituencies. State governments are led by Chief Ministers, who are state assembly members from the majority party in the assembly. In each of the states with a hereditary ruler, the Chief Minister is required to be a Malay, appointed by the ruler upon the recommendation of the Prime Minister. Parliamentary elections are held at least once every five years, the most recent of which took place in March 2008. Registered voters of age 21 and above may vote for the members of the House of Representatives and, in most of the states, for the state legislative chamber. Voting is not mandatory. Except for elections in Sarawak, all state elections are held concurrently with the federal election.
Race is a significant force in politics, and many political parties are ethnically based. Actions such as the New Economic Policy and the National Development Policy, which superseded it, were implemented to advance the standing of the bumiputera, consisting of Malays and the indigenous tribes who are considered the original inhabitants of Malaysia, over non-bumiputera such as Malaysian Chinese and Malaysian Indians. These policies provide preferential treatment to bumiputera in employment, education, scholarships, business, and access to cheaper housing and assisted savings
Subdivisions
Malaysia is a federation of 13 states and three federal territories. These are divided between two regions, with 11 states and two federal territories on Peninsular Malaysia and the other two states and one federal territory in East Malaysia. Governance of the states is divided between the federal and the state governments, and the Federal government has direct administration of the federal territories.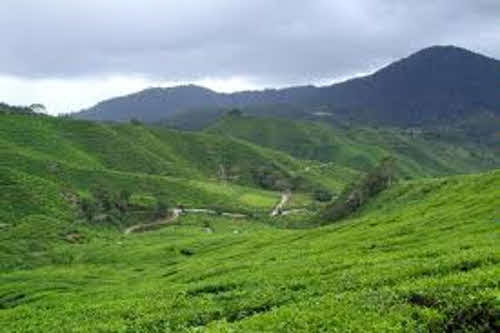 Malaysia is the 67th largest country by total land area, with a land area of 329,847 square kilometers (127,355 sq. mi). It has land borders with Thailand in West Malaysia, and Indonesia and Brunei in East Malaysia. It is linked to Singapore by a narrow causeway, and also has maritime boundaries with Vietnam[91] and the Philippines. The land borders are defined in large part by geological features such as the Perlis River, the Golok River and the Pagalayan Canal, whilst some of the maritime boundaries are the subject of ongoing contention. Brunei forms what is almost an enclave in Malaysia, with the state of Sarawak dividing it into two parts. Malaysia is the only country with territory on both the Asian mainland and the Malay Archipelago. Tanjung Piai, located in the southern state of Johor, is the southernmost tip of continental Asia. The Strait of Malacca, lying between Sumatra and Peninsular Malaysia, is one of the most important thoroughfares in global commerce, carrying 40 per cent of the world's trade.
The two parts of Malaysia, separated from each other by the South China Sea, share a largely similar landscape in that both Peninsular and East Malaysia feature coastal plains rising to hills and mountains. Peninsular Malaysia, containing 40 per cent of Malaysia's land area, extends 740 kilometers (460 mi) from north to south, and its maximum width is 322 kilometers (200 mi). It is divided between its east and west coasts by the Titiwangsa Mountains, part of a series of mountain ranges running down the center of the peninsula. These mountains are heavily forested, and mainly composed of granite and other igneous rocks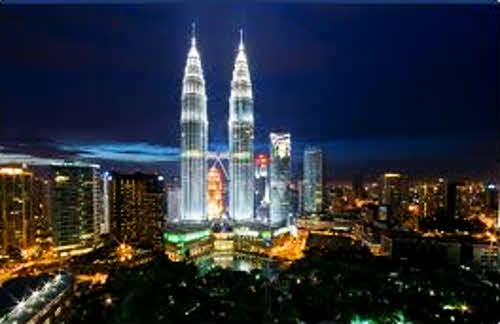 Malaysia is a relatively open state-oriented and newly industrialized market economy. The state plays a significant but declining role in guiding economic activity through macroeconomic plans. Malaysia has had one of the best economic records in Asia, with GDP growing an average 6.5 per cent annually from 1957 to 2005. In 2011 the GDP (PPP) was about $450 billion, the 3rd largest economy in ASEAN and 29th largest in the world.
International trade, facilitated by the adjacent Strait of Malacca shipping route, and manufacturing are key sectors of the country's economy. Malaysia is an exporter of natural and agricultural resources, the most valuable exported resource being petroleum. At one time, it was the largest producer of tin, rubber and palm oil in the world. Manufacturing has a large influence in the country's economy, although Malaysia's economic structure has been moving away from it. Malaysia remains one of the world's largest producers of palm oil.
In an effort to diversify the economy and make it less dependent on exported goods, the government has pushed to increase tourism to Malaysia. As a result, tourism has become Malaysia's third largest source of income from foreign exchange, although it is threatened by the negative effects of the growing industrial economy, with large amounts of air and water pollution along with deforestation affecting tourism. The country has developed into a center of Islamic banking, and is the country with the highest numbers of female workers in that industry. Knowledge-based services are also expanding.
The Malaysian constitution guarantees freedom of religion while making Islam the state religion. According to the Population and Housing Census 2010 figures, ethnicity and religious beliefs correlate highly. Approximately 61.3% of the population practice Islam, 19.8% practice Buddhism, 9.2% Christianity, 6.3% Hinduism and 1.3% practice Confucianism, Taoism and other traditional Chinese religions. 0.7% declared no religion and the remaining 1.4% practiced other religions or did not provide any information.
All ethnic Malays are considered Muslim by law of the Constitution
The official language of Malaysia is Malaysian, a standardized form of the Malay language. Historically English was the de facto administrative language, with Malay becoming predominant after the 1969 race riots. English remains an active second language, and serves as the medium of instruction for math's and sciences in all public schools. Malaysian English, also known as Malaysian Standard English, is a form of English derived from British English
Malaysia has a multi-ethnic, multicultural, and multilingual society. The original culture of the area stemmed from indigenous tribes that inhabited it, along with the Malays who later moved there. Substantial influence exists from Chinese and Indian culture, dating back to when foreign trade began. Other cultural influences include the Persian, Arabic, and British cultures. Due to the structure of the government, coupled with the social contract theory, there has been minimal cultural assimilation of ethnic minorities.
The infrastructure of Malaysia is one of the most developed in Asia. Its telecommunications network is second only to Singapore's in Southeast Asia, with 4.7 million fixed-line subscribers and more than 30 million cellular subscribers. The country has seven international ports, the major one being the Port Klang. There are 200 industrial parks along with specialized parks such as Technology Park Malaysia and Kulim Hi-Tech Park. Fresh water is available to over 95 per cent of the population
Study In Malaysia And Get The Best Of Two Worlds
Malaysia is currently ranked the world's 11th most preferred study destination by UNESCO.
We have:
More than 30 years of experience in international education

2% of the international student population around the world

Close to 100,000 international students
The Malaysian government is committed to its vision of turning the country into a high quality education destination for students from all over the globe. The country's Ministry of Higher Education monitors all institutions to ensure they adhere to the highest standards.
As a result, many reputable foreign universities from countries like the United States, the United Kingdom, Australia and New Zealand have been inspired to come to Malaysia, either to set up branch campuses or to enter into collaboration with Malaysian institutions.
We offer:
A wide range of courses ranging from English language programmes and diplomas to degrees and post-graduate studies

A variety of study options in private higher educational institutions, foreign university branch campuses and public universities

Flexible external degree programmes that cater to different budgets and academic needs

Excellent internationally-recognized qualifications
If you opt to study in Malaysia, you can get the best of two worlds – a degree from a highly recognized international university, but at a much more affordable cost.
There are three ways to do this:
| | |
| --- | --- |
| | Study at a Malaysian Private University and earn a bachelor's degree or postgraduate degree that is recognized worldwide |
| | Study at a Foreign University Branch Campus in Malaysia at a lower cost and get a degree issued by the parent university |
| | Study at a Private College under a Split Degree programme or 3+0 Degree programmeatMalaysia |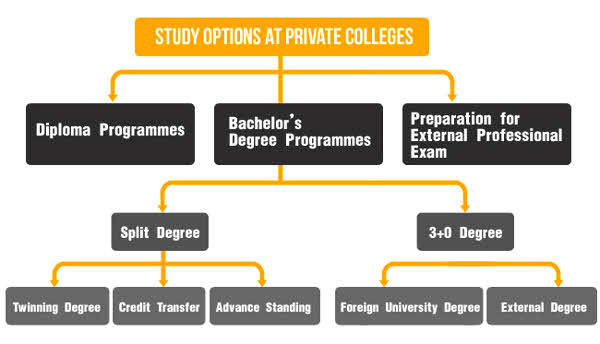 Here are some of the study options you'll find in Malaysian private colleges:
1. Preparation for External Professional Examinations
Many private colleges in Malaysia offer programmes with tutorial support to prepare students for external examinations set by local or foreign examination boards. Qualifications offered include those from the following globally recognized institutions:
External English Programmes (University of Cambridge Local Examinations Syndicate)

External Academic Programmes at post-secondary level (GCE 'A" level, UK; South Australian Matriculation; Canadian Pre-University)

Semi-Professional Examination Bodies (London Chamber of Commerce and Industry Examination Board, NCC, UK)

Professional Associations (Association of Chartered Certified Accountants, Chartered Institute of Management Accountants, Institute of Chartered Secretaries and Administrators)
2. Diploma Programmes at Private Colleges
You can sign up to do an internally-developed diploma programme at a private college which is recognized and use it to gain advance entry into the second or final year bachelor's degree programmes of many foreign universities in Australia, Canada, New Zealand, the UK, Germany and the US.
3. Bachelor's Degree Programmes
You can obtain a foreign bachelor's degree through a Malaysian college which has a collaborative arrangement with foreign universities in the UK, US, Australia, New Zealand, Canada, Germany and France. The most common of these are the Split Degree and 3+0 Degree arrangements
Studying in Malaysia offers you the opportunity to acquire an internationally recognized qualification of your choice within an affordable budget.
There are students from more than 100 countries studying in Malaysia, pursuing courses ranging from diplomas and degrees to Masters and PhDs at universities, colleges and foreign university branch campuses. Their choice of Malaysia as the place to acquire a globally recognized academic qualification is a strong indicator of their confidence in the country as an education hub.
For the past three decades, Malaysia has collaborated with reputable universities from the United Kingdom, United States, Australia, New Zealand and Canada to develop its own internationally recognized education programmes.
Over the past 15 years, Malaysia has also attracted world-class universities into setting up branch campuses here. These universities offer undergraduate and post-graduate degree programmes that are identical to their main campuses overseas. To date, the following foreign university branch campuses have been set up in Malaysia:
| | |
| --- | --- |
| Name of Branch Campus | Country of Origin |
| Monash University | Australia |
| Curtin University Sarawak Campus | Australia |
| University of Nottingham Malaysia Campus | UK |
| Swinburne University of Technology Sarawak Campus | Australia |
| Newcastle University Medicine Malaysia | UK |
| Netherlands Maritime College | The Netherlands |
| Manipal International University | India |
Other Universities that plan to open branch campuses here include UK's University of Southampton, Jaipur National University, University of Reading and Xiamen University
The advantage of studying at these university branch campuses in Malaysia is that you will get a degree identical with that of the main campus at a more affordable cost.
First of all, the tuition fees for the same course are lower at the Malaysian campus, resulting in substantial savings that could allow you to pursue a post-graduate degree. For example, you can acquire a UK engineering degree (3 years) in Malaysia at an estimated RM51, 000 (USD16, 000), whereas the tuition fee of the same degree programme at the host university in the UK is about RM144, 000 (USD45, 000) or £30,000. The degree you obtain will also be internationally recognized, allowing you to pursue post-graduate degrees in other foreign countries if you want to.
Second, Malaysia's cost of living is still relatively low compared with that of countries in Europe, the US and Australia.
Estimated Cost of Education in Malaysia
1. Preparatory Courses for English Proficiency Tests
| | | |
| --- | --- | --- |
| Type of Programme | Estimated Tuition Fees in USD | Duration |
| International English Language Testing System (IELTS) | 129 –229 | 2 months |
| Test of English as a Foreign Language (TOEFL) | 143 –229 | 2 months |
2. Pre-University Programmes
| | | |
| --- | --- | --- |
| Type of Programme | Estimated Tuition Fees in USD | Duration |
| GCE 'A' level, UK | 3,100 – 4,800 | 18 months |
| Western Australian Matriculation | 2,600 – 3,100 | 1 year |
| South Australian Matriculation | 2,600 – 3,900 | 1 year |
| Canadian Pre-University | 3,400 – 4,400 | 1 year |
| International Baccalaureate Diploma | 8,000 – 16,400 | 2 years |
| Malaysian Pre-University | 2,300 – 3,200 | I year |
3. Bachelor's Degree Programmes
Area of Study

Paths of Study

Cost in USD for Private College 3+0 Foreign Degree Programme (3 years)

Cost in USD for Foreign Branch Campus University Degree Programme (3 years)

Cost in USD for Malaysian Private University Degree Programme (3 years)

Business

11,100 –14,300

13,700 – 24,000

8,600 – 11,400

Engineering

13,000 – 15,000
(3 yrs., UK; 4yrs, Aust)

21,100 – 40,000 
(3 yrs., UK; 4yrs, Aust)

12,900 – 14,300 (4 yrs.)

IT

9,700 – 12,900

13,400 – 25,100

9,400 -12,300

Hospitality & Tourism

13,700 – 18,600

–

12,000 -14,300

Medicine

114,300 (5 yrs.)

62,900 -108,600
All figures are estimates
4. Preparation for External Professional Examinations
| | |
| --- | --- |
| Type of Programme | Estimated Tuition Fees in USD |
| Chartered Association of Certified Accountants (ACCA) | 3,300 – 4,300 |
| Chartered Institute of Management Accountants (CIMA) | 3,700 – 4,500 |
| Institute of Chartered Secretaries & Administration (ICSA) | 2,900 – 3,400 |
Cost of Living in Malaysia

Aside from affordable tuition fees, another great reason to study in Malaysia is the relatively low cost of living. Kuala Lumpur has been ranked one of the least expensive cities in the world to live in. Whether you choose to live on or off campus, you will find that it is quite possible to live very comfortably within a budget of USD5, 000 per year.
To give you an indication, here's a breakdown of living costs for students in Malaysia:
Your average monthly rental for a single room on a twin-sharing basis could be between USD100 and USD150, depending on the area, the type of accommodation and the facilities available.
You can have an immensely satisfying meal at a shop for just USD1.50, while three square meals can be enjoyed for under USD5 per day. So, if you're prudent, your food bill for a month can be contained within USD150.
The cost of washing and ironing your clothes can be from as low as USD20 per month if you lead a normal student lifestyle.
Telecommunication/Mobile Phone Bills and Utilities
Your costs in this area would depend on your usage charges and could be anything from USD10 onwards.
Students who stay on or near campus may not incur any travel costs going to and from classes. However, other travel costs could come up to USD15 per month
Be prepared to allocate an average of at least USD15 per month to cover medical and hospitalization insurance as well as for outpatient treatment at a private clinic in case you are taken ill.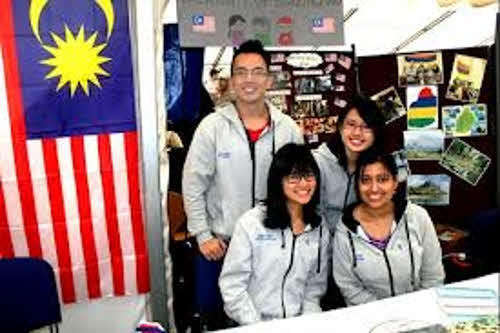 This would very much depend on your personal lifestyle. Your cost for toiletries, grooming, clothes and other necessities can start from as low as USD35 per month. Add another USD 20 for the occasional movie or social outing, and you can lead a decent student lifestyle.
Adding all of the above up, you have a figure of USD410 per month, or just short of USD5, 000 per year in living expenses if you are prudent.
Embark on an exciting student experience in Malaysia.