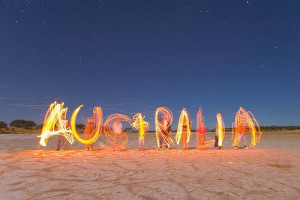 Australia is the biggest island on the earth and is the sixth-largest country in the world in land area. Canberra is the capital of Australia.  Australia has a stable, culturally diverse and democratic society with a skilled workforce and a strong economy. Australia is the only nation that is a continent. It has a population of more than 21 million. A highly developed country and one of the wealthiest, Australia is the world's 12th-largest economy and has the world's fifth-highest per capita income. Australia's military expenditure is the world's 13th-largest. With the second-highest human development index globally, Australia ranks highly in many international comparisons of national performance, such as quality of life, health, education, economic freedom, and the protection of civil liberties and political rights. From rainforest trails to fascinating museums, vibrant multicultural cities to a love of sport, Australia is unique. Australians enjoy quality of life which is rated one of the highest in the world. Australia's clean physical environment, health services, education and lifestyle combine to make it an attractive place to live. Australia offers modern transport systems, convenient telecommunications, cosmopolitan shopping complexes and excellent medical services. Australia has a very good health care system. Australia offers modern transport systems. Australia has an extensive public transport network that includes trains, buses, tramways, ferries, two major national airlines and a number of regional airlines.
Commonwealth of Australia


                            Flag                                                                          Coat of arms
Facts
Full name: Commonwealth of Australia

Population: 21.5 million (UN, 2009)

Capital: Canberra

Largest city: Sydney

Area: 7.7 million sq km (2.9 million sq miles)

Major language: English

Life expectancy: 79 years (men), 84 years (women) (UN)

Monetary unit: 1 Australian dollar = 100 cents

Main exports: Ores and metals; wool, food and live animals; fuels, transport machinery and equipment

GNI per capita: US $32,220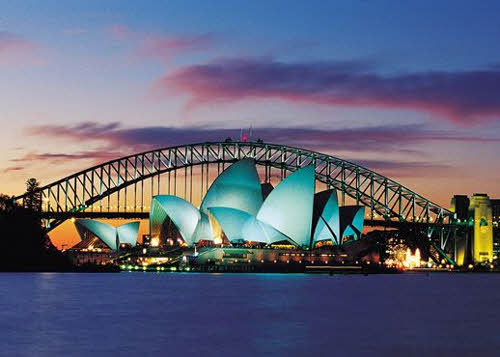 Sydney Opera House   
Climate in Australia
• Summer - Dec-Feb
• Autumn - March-May
• Winter – June-Aug
• Spring - Sep-Nov
Australia is temperate, where most of the country is receiving more than 3,000 hours of sunshine a year.  Relatively dry, ranging from temperate in the south to tropical in the north. The hottest region is the northern two-thirds of the continent, which experiences humid and wet conditions in summer. Further south summer is warm with occasional hot spells and mild nights. In winter, days are warm and nights mild in the northern areas, becoming cool and showery in the south (although there are still plenty of sunny days).
People, culture and lifestyle
Australia is a product of a unique blend of established traditions and new influences. The country's original inhabitants, the Aboriginal and Torres Strait Islander people, are the custodians of one of the world's oldest continuing cultural traditions. They have been living in Australia for at least 40,000 years and possibly up to 60,000 years.
The rest of Australia's people are migrants or descendants of migrants who have arrived in Australia from about 200 countries since Great Britain established the first European settlement at Sydney Cove in 1788. In 1945, Australia's population was around 7 million people and was mainly Anglo–Celtic. Since then, more than 6.5 million migrants, including 6,75,000 refugees, have settled in Australia, significantly broadening its social and cultural profile.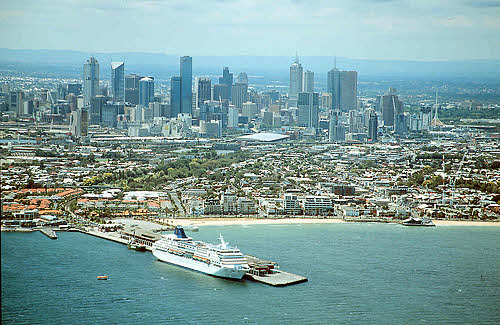 Melbourne
Today Australia has a population of nearly 23 million people. At 2009, about 25.6 per cent of the estimated resident population comprised those born overseas. Australian Bureau of Statistics projections from the 2006 census of the numbers of Aboriginal and Torres Strait Islander people suggest and Indigenous population of 5,75,552 people at 30 June 2011. Many of the people who have come to Australia since 1945 were motivated by a commitment to family, or a desire to escape poverty, war or persecution. The first waves of migrants and refugees came mostly from Europe. Subsequent waves have come from the Asia–Pacific region, the Middle East and Africa, Migrants have enriched almost every aspect of Australian life, from business to the arts, from cooking to comedy and from science to sport. They, in turn, have adapted to Australia's tolerant, informal and broadly egalitarian society.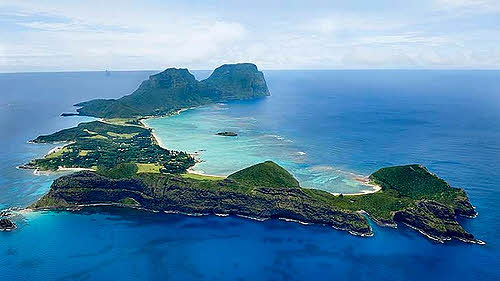 Mount Gower at Lord Howe Island, NSW
Shared values
The defining feature of today's Australia is not only the cultural diversity of its people, but the extent to which they are united by an overriding and unifying commitment to Australia.
Within the framework of Australia's laws, all Australians have the right to express their culture and beliefs and to participate freely in Australia's national life. At the same time, everyone is expected to uphold the principles and shared values that support Australia's way of life. These include:
respect for equal worth, dignity and freedom of the individual

freedom of speech and association

freedom of religion and a secular government

support for parliamentary democracy and the rule of law

equality under the law

equality of men and women

equality of opportunity

peacefulness
A spirit of egalitarianism that embraces tolerance, mutual respect, and compassion for those in need. Australia also holds firmly to the belief that no one should be disadvantaged on the basis of their country of birth, cultural heritage, language, gender or religious belief.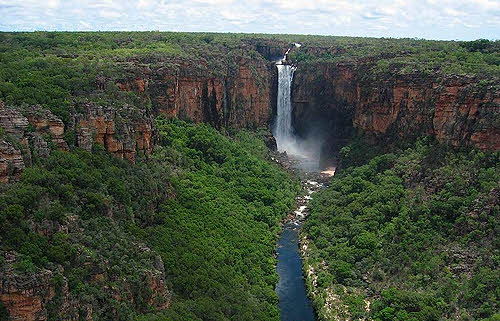 Kakadu National Park, Australia
Obeying the law
Community behaviour in Australia is governed by a combination of formal laws and informal social customs,
All people in Australia must obey the nation's laws or face the possibility of criminal prosecution or civil action. People are also expected to generally observe Australian social customs, habits and practices even though they are not normally legally binding. Smoking tobacco and drinking alcohol are not illegal, but there are many restrictions on their public use. It is against the law for any person to sell or supply alcohol or tobacco products to a person under the age of 18 years. There are also laws against mistreating or neglecting animals, carrying weapons such as knives or guns, littering, polluting or disposing of wastes without permission and creating excessive noise. There is no death penalty in Australia.
Language
All people in Australia are encouraged to learn English which is the national language and an important unifying element of Australian society. However, languages other than English are also valued. In fact, more than 15 per cent of Australians speak languages other than English at home. The most commonly spoken languages after English are Italian, Greek, Cantonese, Arabic, Vietnamese and Mandarin. Australians speak more than 200 languages, including Indigenous Australian languages.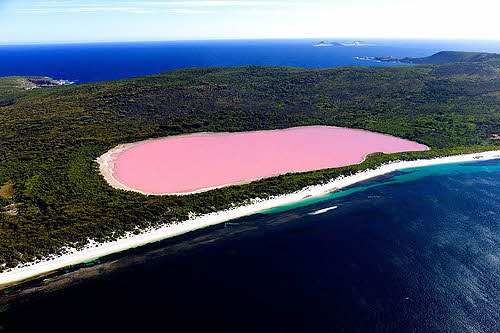 Lake Hillier, Australia
A sporting culture
Australians love their sports, both playing it and watching it. Australia has often achieved impressive results at the elite level. In the 2004 Athens Olympic Games, Australia ranked fourth overall in the medal tally behind the United States, China and Russia. In the 2006 Football World Cup, Australia reached the final 16. Australia is also ranked the top cricketing nation in the world.
But it's not just at this top level that Australians enjoy their sport. A recent national survey showed that more than 11 million Australians aged 15 or over participated at least once a week in physical activity for exercise, recreation and sports—a participation rate of almost 70 per cent. The 10 most popular physical activities were walking, aerobics/fitness, swimming, cycling, tennis, golf, running, bushwalking, football (often referred to as soccer in Australia) and netball. Other popular sporting activities include Australian football, rugby, hockey, basketball, baseball, car racing, horse racing, sailing and snow skiing.
The most watched sports in Australia include Australian Rules football, a uniquely Australian game with roots traceable to early forms of rugby and Gaelic football, rugby league, rugby union and cricket. The Australian Open, held in Melbourne, is one of tennis's four Grand Slam events. Australia has more than 120 national sporting organisations and thousands of state and local bodies.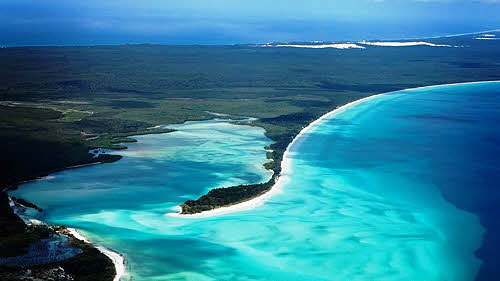 Fraser Island
National cuisine
Australia has one of the most diverse cuisines in the world, thanks to Asian and European migrant influences, a dining public that is happy to try innovative dishes and access to a plentiful supply of fresh and high–quality produce.
Australia, one of the world's most efficient agricultural nations, produces high–quality vegetables, fruit and grains, meat, poultry, seafood, and cheeses and other dairy products. In addition, many new industries have been established to accommodate the growing Australian taste for exotic foods, including Asian greens, nashi pears, lychees, olives and herbs. Aquaculture products such as farmed Atlantic salmon and southern blue fin tuna are now available as well as the great range of seafood that comes from the ocean surrounding Australia, including Moreton Bay bugs (shellfish), 'banana' prawns, barramundi fish and oysters.
Australians enjoy a huge range of food in restaurants and homes, reflecting the country's cultural diversity. Southern Europe has combined with Asia and the Pacific for new flavours and tastes. Italian, Chinese, Indonesian, Japanese, Greek, Thai, Malay, French and Vietnamese restaurants are common, particularly in the capital cities. Middle Eastern flavours are also rapidly emerging, with Moroccan and Lebanese flavours being used with local ingredients in mainstream cooking with notable success.
Traditional Australian bush tucker is also becoming more common, particularly in northern Australian restaurants, where kangaroo, buffalo, crocodile and emu can often be found on menus. Historically, there has never been a cuisine typically regarded as Australian. Instead, Australian fare has evolved with the distinct layers of flavours that each new culture has added. Homesick expatriate Australians sometimes hanker for Australian food such as lamingtons (a sponge cake square dipped in chocolate and coconut), Pavlovas (a meringue dessert named after the Russian ballet dancer Anna Pavlova) and vegemite (a commercially produced spread made from yeast products).
The Australian wine sector is recognised internationally as producing a full range of high-quality wine styles and varietals to match any dish, from full-bodied reds and deep fruity whites to sparkling, dessert and fortified wines.

Warm climate, informal people
Australia is so large that it experiences most climatic conditions, from tropical monsoons to hot, dry weather and snow. Generally, however, the climate is warm and temperate, particularly in the major coastal cities. This relatively benign climate has resulted in a country where people spend a good deal of time outdoors at beaches, in the countryside or on sporting fields as either spectators or participants.
Australians tend to be gregarious and outgoing. Most are relatively informal socially and in their relationships with acquaintances and work colleagues. In the workplace and among friends, Australians generally call each other by their first names. Australians queue or line up when waiting to be served in a shop, a bank, a government department, a cinema, or anywhere that a number of people are all seeking a service at the same time. Australians generally wait until it is their turn to be served or attended to. Being on time for meetings and appointments is important.
An outdoor lifestyle: beach and barbeques
With more than 80 per cent of Australians living within 50 kilometres of the coast, the beach has become an integral part of their famous laid-back lifestyle. From Saturday morning surf-club training for young 'nippers' to a game of beach cricket after a barbeque, they love life on sandy shores. They jostle for a spot on packed city beaches, relax at popular holiday spots. They go to the beach to enjoy the sun and surf or to sail, parasail, fish, snorkel, scuba and beach comb. It's where they socialise and play sport, relax and enjoy life. It's also the site for celebration.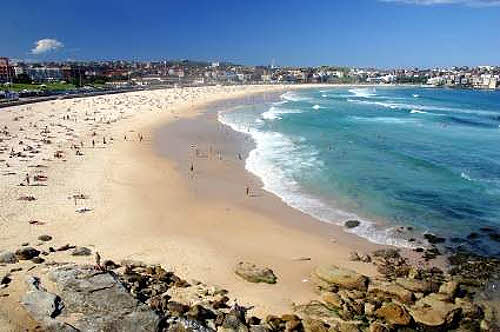 Nearly three quarters of Australians live in metropolitan cities and coastal areas. The beach is an integral part of the Australian identity.
On New Year's Eve, revellers dance in the sand and watch fireworks at Manly and Bondi beaches in Sydney and Glenelg in Adelaide. Many beaches host citizenship ceremonies on Australia Day  and on Christmas Day up to 40,000 international visitors converge on Bondi Beach wearing Santa hats. Australia's most famous beaches – Bondi and Manly in Sydney, St Kilda in Melbourne, Surfers Paradise on the Queensland Gold Coast, Cottesloe in Perth and Glenelg in Adelaide – attract locals as well as international tourists.
Multiculturalism: diverse food, festivals and faith
Since 1945 more than six million people from across the world have come to Australia to live. Today, more than 20 per cent of Australians are foreign born and more than 40 per cent are of mixed cultural origin. In homes they speak 226 languages – after English, the most popular are Italian, Greek, Cantonese and Arabic. Their rich cultural diversity is reflected in the food, which embraces most of the world's cuisines and artfully fuses quite a few of them. You'll find European flavours, the tantalising spices of Asia, Africa and the Middle East and bush tucker from their backyards on offer everywhere from street stalls to five star restaurants. Tuck into Thai takeaway, dine out on perfect Italian pasta, do tapas in city's Spanish strips and feast on dumplings in Chinatown. You can also embrace their melting pot of cultures in the many colourful festivals. See samba and capoeira at Bondi's Brazilian South American festival, dance behind the dragon parade during Chinese New Year or stroll through streets transformed into a lively piazza during the annual Italian celebrations.  As a nation, they embrace a rainbow of religious belief and you'll find Catholic and Anglican churches, Hindu, Sikh and Buddhist temples, mosques and synagogues lining the streets.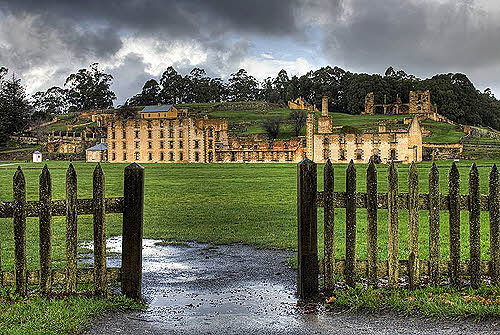 Port Arthur, Australia
Australian innovations: from the Hills Hoist to Penicillin
Australia's unique geography and relative isolation has made it a fertile ground for new ideas. In 1879, Australians developed a way for ice to be manufactured artificially, allowing them to export meat to Great Britain on refrigerated ships. In 1906, the surf lifesaving reel was designed so lifesavers could reach distressed swimmers with a rope attached to their vests. In 1929, Alfred Traeger built a pedal-powered radio as the communications for the Royal Flying Doctor Service.  Australians were also responsible for more everyday inventions such as notepads (1902), aspirin (1915), the pacemaker (1926), penicillin (1940) the Hills Hoist clothesline (1946), the plastic disposable syringe (1949), the wine cask (1965), the bionic ear (1978), dual-flush toilet flush (1980), anti-counterfeiting technology for banknotes (1992) and long-wearing contact lenses (1999).  Long before European colonisation, the Aboriginal people were already leading the world. They invented the aerodynamic boomerang and a type of spear thrower called the woomera. They were also the first society  to use ground edges on stone cutting tools and the first to use stone tools to grind seeds, everyday tools which were developed only much later by other societies.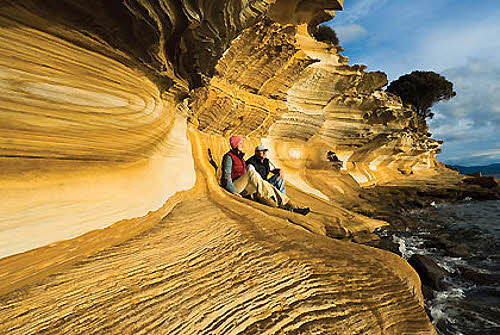 The painted cliffs at Maria Island
Culture cravings: theatre, film, books and visual art
From theatre to literature, Australians have a quiet love affair with the arts. They flock to the movies and their attendance at galleries and performing arts is almost double that for all football codes. Their cities play host to a huge array of cutting-edge cultural festivals, and offer music, theatre and dance performances and art exhibitions every day of the week. See traditional Aboriginal dance performance by the Bangarra Dance Theatre, throw yourself into the WOMADelaide international music festival in Adelaide and soak up theatre, ballet, opera and painting in Brisbane's huge cultural centre on South Bank. In smaller towns you can catch performances by local musicians and see hand-made art and craft.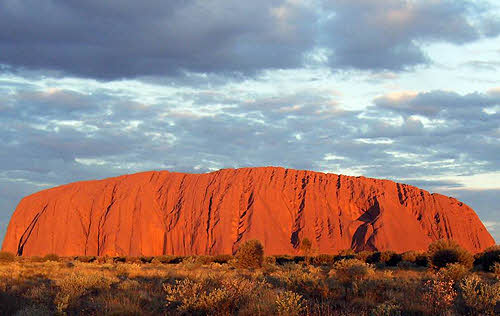 Uluru, Australia
Health and Safety
Australian people enjoy a high level of good health. The nation has quality housing, water and sanitation, and an adequate supply of food and medicines. Health care in Australia follows western traditions with technical and scientific skills used to prevent, examine and treat ill health. People coming to Australia have health checks before entering the country as another way to keep it a healthy nation.
Australia is generally a safe destination with travellers enjoying unhindered travel experiences in terms of their personal safety and security. Their stable political system, well-maintained roads, low crime rate and high standard of health make it a safe and easy country to explore. You can safely enjoy Australia's unique landscapes – from the vast outback to wild ocean beaches and pristine wilderness. However, as with all travel at home or away, you should observe the same precautions with your personal safety and possessions.
Travel Insurance & Medical Services
A travel insurance policy that covers you for theft, loss, accidents and medical problems before you leave home is highly recommended. If you plan on doing any adventure activities like scuba diving, bushwalking or travelling in remote areas, check that your policy fully covers these activities. Remember to bring your insurance policy details and emergency contact numbers with you.
Australia's public health care system is called Medicare and Australian hospitals provide world-class medical facilities and standards of care. The Australian Government has reciprocal healthcare agreements with some countries for medically necessary treatment while visiting Australia, however it is best to check your eligibility before you leave home and have appropriate travel insurance to cover your stay in Australia.
Housing
Australian cities offer a wide range of housing options. The range is from a single house on a block of land in the suburb of a big city or a flat in a high-rise block in an inner city area to a house on a large block of land in a rural area. Typically, Australians want to have their own house and land. They will often rent before they choose to buy a home or decide where to live. The price of housing will vary a lot between cities and within each city. Most people live in the suburbs of the state capital cities. They like to live close to where they work, go to schools, access community facilities and use leisure areas.
Country towns and regional cities are smaller and widely separated. Life in a country town is more relaxed and less expensive than in a big city. Housing is usually more available for people who choose to work and live in towns away from capital cities.
Work
Everyone in Australia has the right to share in and enjoy the Australian lifestyle. This includes the right to work and earn wealth. That wealth helps you to enjoy the pleasure of a free and equal society. We all expect each other to contribute to and share in Australia's wealth. The government taxes, the income that you earn to provide for the common good of all Australians.
The Australian labour market can be very competitive. How quickly you can find a job in Australia depends on economic factors, qualifications and skills, the type of work you are seeking, and particular circumstances which may affect the availability of certain types of work in different parts of the country.
The government sets laws on wages and work conditions. The laws ensure a fair and just work life. The laws are about the types of legal agreements that define the work relationship between employers and employees. They vary between collective bargaining of unions to individual common law contracts. The agreements determine the amount paid to an employee, the hours worked and conditions such as safety, leave, allowances, training, anti discrimination and more. Australia has a long tradition of strong support for work laws. This makes the work place fair, safe and productive so that both employers and employees earn rewards for their effort.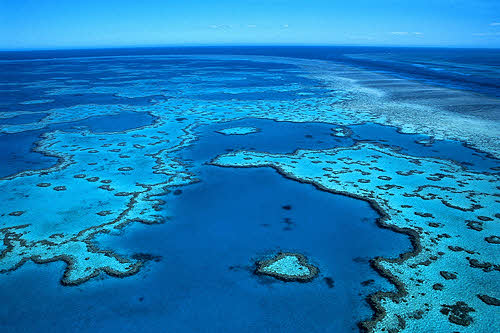 Great Barrier Reef
Transport
Australia is a vast nation with many of its cities and towns separated by large distance. Even within cities and towns, there is a need for transport to get from place to place. Public transport is transport that someone else owns and you pay to use it for a set journey. Many forms of public transport exist. They are easy to find, to access and at a good price. Private transport is transport that you own and use as you wish. Most Australians have cars and motor bikes that they use with their road system, for private transport. Walking and cycling are other options that you have.
Tourism
Tourism is an important industry for the Australian economy. In the financial year 2010/11, the tourism industry represented 2.5% of Australia's GDP at a value of approximately A$35 billion to the national economy. This is equivalent to tourism contributing $94.8 million a day to the Australian economy. Domestic tourism is a significant part of the tourism industry, and was responsible for 73% of the total direct tourism GDP. The 2010-11 financial year saw a record number of overseas arrivals in the financial year, with 5.9 million short-term visitor arrivals to Australia. Tourism employed 5,13,700 people in Australia in 2010-11. Tourism also contributed 8.0% of Australia's total export earnings in 2010-11.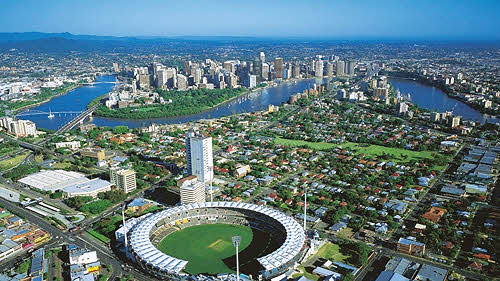 Brisbane  
Popular Australian destinations include the coastal cities of Sydney and Melbourne, as well as other high profile destinations including regional Queensland, the Gold Coast and the Great Barrier Reef, the world's largest reef. Uluru and the Australian outback are other popular locations, as is Tasmanian wilderness. The unique Australian wildlife is also another significant point of interest in the country's tourism.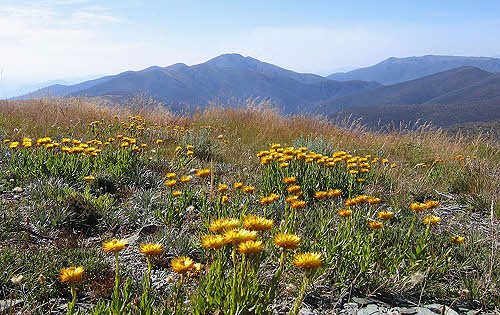 Everlastings on Mount Hotham, located in Victoria     
Cities: 
Adelaide, Brisbane, Melbourne, Sydney, Perth, Canberra, Darwin, Hobart.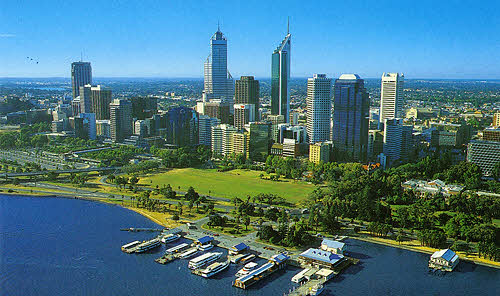 Perth
Education
Australian education is one of the best in the world and it is in the top 5 favourite study destinations for overseas students. Education in each state is administered by their state government. The various states education system is basically the same, except for a few minor differences in their education system.
Every year, thousands of overseas students come to Australia further their studies. And upon completing their course of study, many students went on to apply for their Australia PR (permanent residency). Learning and studying in Australia is the perfect way to launch your career.
Employment opportunities open up to those who have degrees from any one of the universities, whether they study in Sydney, Melbourne, Brisbane, Perth, Adelaide, or at any of the other higher-education institutions located around Australia.
Australia offers a unique experience for students. Apart from a world-class education system, the opportunities to get involved in daily life are endless: whether you're into the arts or sport, partying or book clubs, the great outdoors or cosy cafés, you'll find many ways to join in and have fun. So if you want to get an education and have a life, it really is the place to be. Australia is an internationally recognized source of high quality education as well as research excellence.
Australia has the third largest number of international students in the English-speaking world behind the USA and UK. Australian qualifications and institutions are recognized worldwide for their high quality and excellence.
Graduates from Australia are very successful in finding jobs and hold lead positions worldwide. Also, they are readily accepted for postgraduate study at leading international universities. Multicultural Australia is a safe, friendly, sophisticated and harmonious society in which students can learn and travel in an English speaking country.
Australia is a very safe country compared with almost anywhere in the world. Political unrest is limited in Australia, crime rates are low and strict gun control laws provide a safe environment.
Australia also offers excellent value for money and a high standard of living. Students from all over the world come to Australia to take advantage of the top-notch education and enjoy the friendly hospitality and cultural diversity.
Structure of Australian Education System
The structure of the Australian Education System can be represented by this diagram: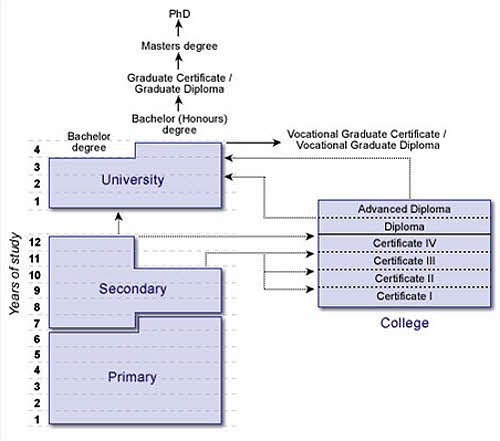 The diagram shows the study options that students have after completing different levels of education. Any further studies above the undergraduate level are called postgraduate qualifications.
COMPLETED LEVEL
STUDY OPTION(S)
Year 10
– Year 11 and then Year 12 (senior high school),
– A vocational (work training) program. These begin from the lowest level Certificate I to Certificate III depending on the ability of the student. The courses may be held in a school, at a TAFE college or at a Private College.
Year 11
– A one-year foundation studies course to prepare for University entry.
– A Certificate IV course.
Year 12
– A foundation program.
– A Certificate IV program.
– A University undergraduate program if the student has acceptable results.
– A Vocational Diploma.
Diploma
– A University undergraduate program in year 2. This depends on the recognition that the University provides to the Diploma program.
Advanced Diploma
– A University undergraduate program in year 3. This depends on the recognition that the University provides to the Diploma program.
Bachelor
Degree(Undergraduate)
– A one-year "Honours" degree (for students who have the ability).
– A postgraduate qualification.
Any further studies above the undergraduate level are called postgraduate qualifications. There are many courses available that vary in length and are ranked as follows (from the lowest to highest level):
Graduate Certificate (and Vocational Graduate Certificate),

Graduate Diploma (and Vocational Graduate Diploma),

Masters Degree (Coursework and Research),

Doctor of Philosophy Degree (PhD).
The diagram does not represent some types of courses such as:
     English language courses (ELICOS),
     Non-award, foundation and pathway courses. 
Education in Australia is primarily the responsibility of the states and territories. Each state or territory government provides funding and regulates the public and private schools within its governing area. The federal government helps fund the public universities, but was not involved in setting university curriculum. As of 2012, the Australian National Curriculum, under development and trial for several years, has already been adopted by some schools and will become mandatory soon. Generally, education in Australia follows the three-tier model which includes primary education (primary schools), followed by secondary education (secondary schools/high schools) and tertiary education (universities and/or TAFE colleges). The Programme for International Student Assessment (PISA) 2006 evaluation ranked the Australian education system as sixth for reading, eighth for science and thirteenth for mathematics, on a worldwide scale including 56 countries. The PISA 2009 evaluation ranked the Australian education system as sixth for reading, seventh for science and ninth for mathematics, an improvement relative to the 2006 rankings.
Education in Australia is compulsory between the ages of five and fifteen to seventeen, depending on the state or territory, and date of birth. Post-compulsory education is regulated within the Australian Qualifications Framework, a unified system of national qualifications in schools, vocational education and training (TAFE) and the higher education sector (university).
The academic year in Australia varies between states and institutions, but generally runs from late January/early February until mid-December for primary and secondary schools, with slight variations in the inter-term holidays and TAFE colleges, and from late February until mid-November for universities with seasonal holidays and breaks for each educational institute.
University is the highest level of study in Australia.
Study can be undertaken at an undergraduate level (Bachelor Degree) and/or a postgraduate level (Graduate Certificate, Diploma, Masters and PhD). Australia has 41 universities, 38 of which are government funded and three privately funded.
Vocational
Vocational institutions include skill-based courses which are closely linked to selected industries and give students practical skills and industry experience. Courses are provided at both government-funded Technical and Further Education (TAFE) institutes and private institutions. Many vocational institutes have links and agreements with universities.
Through these links, universities may offer up to one year of advanced standing into a Bachelor degree as well as guaranteed entry into your course when you achieve the required grades at your vocational institution. Many of the courses provide advanced standing into university degrees.
School
Australian schools are either government or privately funded. The schooling system is separated into two levels: primary and secondary. Primary school is undertaken by students between the ages of 6 and 12 years and secondary school is undertaken by students between the ages of 13 and 18 years. School is compulsory for children between the ages of 6 to 15 after which students may choose to continue their secondary study (up until the age of 18), leave secondary school to enter the workforce or enrol in vocational courses.
There are approximately 100 private English language centres in Australia. Courses in English can be taken for a variety of reasons including study, travel, immigration or business purposes. English courses can also be undertaken at some universities and TAFE institutions.
Australian Academic Year
The Australian academic year begins in early February for school students and late February/early March for vocational and university students. Most schools have three or four terms a year. Unlike the school system, universities and vocational institutes have two semesters with exams held at the end of each semester in June and November, followed by a two-to-four-week break. The long summer holiday break is from November to March.
WHY STUDY IN AUSTRALIA?
Excellence and skill development: Australian education is recognized as among the best and most innovative in the world. It enjoys an international reputation for excellence in all areas of education and training in many disciplines. The other BIG advantage includes paid internships while studying. Institutions deliver practical and career-oriented training so graduates can be confident they have the skills demanded by employers. It has played an important role in Australia's economic performance, by greatly increasing the skill of workers and contributing to improved productivity.
Innovation: Australia has a reputation for adopting new technologies at a faster rate than in most other countries with one of the highest rates of internet access in the world. Facilities for teaching, training and research are world- class in terms of very large state-of-the-art laboratories and classrooms, outstanding libraries and accessible modern technology.
Qualification recognition: Australian qualifications and the skills imparted are recognized by global employers and their degrees by leading educational institutions in many countries around the world. Most courses and training undertaken by international students in Australia are covered by Australian Qualification Framework (AQF), and authorized by the Australian government.
Quality assurances: Australia's national quality assurance system is unique both in its structure and its rigour. International students, and even their parents, enjoy an unparalleled level of service and financial protection. The country is committed to providing quality education to students — be it national or international.
Multicultural society: Australia is a safe, multicultural, friendly and harmonious society. Australians value the wealth of cultural diversity and social sophistication that international students bring to the campuses and communities. One's study plans are also not likely to be upset by political turmoil.
The education system in Australia is open to all people. It offers an opportunity for all age groups and levels of ability. You can get into any level of education if you have the entry requirements. If at first you do not reach the entry standard, then you can do other study to get to the standard. Help is available for all people who suffer disadvantage. School is compulsory for all children aged between five and fifteen years. These ages may vary slightly in some states. The government provides public schools. Churches and other groups provide private schooling. Public schooling is free and users pay fees for private schooling. Many employers provide training that helps their employees to do their job. You may do a study course for interest only. People living in Australia are encouraged to join in and gain more education throughout their life.
In addition to being conveniently located, campuses are equipped with modern style classrooms, library resources, student recreational areas including kitchen facilities and computer labs with free access to internet and email. Colleges regularly organise extra activities outside of class, which give students the opportunity to discover some of Australia's most beautiful places. Other activities include Conversation Club, Movie Club, Job Club and group sporting activities. The atmosphere at Australian Institutes is very student friendly. Teachers and student services staff are always happy to help students with any problems they may face and they work to make them feel at home in the Australian family.
Australian Institutions have executive management experience with a goal to deliver quality training by qualified personnel. Their aim is to fill the gaps in industry with skilled labour:
"The vision is to deliver the power of quality education to the students." 
The teaching and learning at is specifically designed with international students in mind, to ensure they get a competitive edge. They provide educational services to frequent (considerable) students from diverse backgrounds and walks of life. Colleges have all the advantages of a new generation, multi disciplinary school, with accredited courses and quality assurance.
International students currently studying at or who are getting graduated from Australian Colleges have come from India, China, France, Germany, Hong Kong, Singapore, South Korea, Sri Lanka, Philippines, Israel and many other areas of the world. Their courses are internationally recognised in all countries.
The Australian Cities are modern, vibrant and sophisticated, perfectly suited for students who enjoy a range of lifestyle options to compliment the importance of their studies. Their class sizes, accessible trainers and learning facilities provide the personal attention to support students in gaining their qualifications. Studying at Australia is an investment in your future:
Comfortable transition to studying and living in Australia

Accredited, nationally recognised programs, delivered in accordance with Commonwealth Education Services for Overseas Students Act

Personalised training

Value for money

Colleges' teamwork with industry partners ensuring relevant outcomes
Mission:
The mission of Australian Colleges is to provide an advantage to the students, parents, the community and the market with high quality human capital to meet the demands of the 21st century skill needs in Australia.
Colleges will work in partnership with parents, students and the community to provide a high quality and balanced educational program which equips each student for future studies, employment and life. It strives to enhance opportunities for education and career pathways of a globally competitive standard.
Vision:
Their passion is to provide education to make the students tomorrow skilled labour for Australia, and thus, society. They will achieve their vision by providing compassionate, skilled Training as per the industry standards by updating the continuous improvements for the organisational growth. They are driven to accomplish their vision by the knowledge that their calling will better the life of Students who will study at Australia.
Australian Institutions aim to deliver high quality teaching and learning through curricula that consistently emphasise:
Creativity and innovation

Enterprise and entrepreneurship

Industry relevance and employability

Professional excellence

Socially responsible, ethical professional practice

Fields of study
Courses in Australia are categorised into 'Fields of education', also called 'Fields of study'. It is a classification system used by Australian institutions to describe courses, specialisations and units of study.
Natural and physical sciences: 

'Natural and physical sciences' is the study of all living organisms and inanimate natural objects, through experiment, observation and deduction. The theoretical content of this field of study includes:

Atmospheric sciences

Biological processes

Chemical reactions

Geological composition and structures

Laboratory methodology

Mathematical and statistical techniques

Observation and measurement

Scientific method

Subatomic particles and quantum mechanics

Thermodynamics and entropy: 

The main purpose of this field of study is to develop an understanding of the workings of the universe, and to extend the body of scientific knowledge.

Information technology: 

Information technology is the study of the processing, transmitting and storage of information by computers. The theoretical content of this field of study includes:

Computation theory

Computer programming

Data format and coding

Management, storage and retrieval of information in a computer environment

Robotics programming and artificial intelligence

Systems analysis: 

The main purpose of this field of study is to develop an understanding of information systems, programming languages, information management and artificial intelligence, and the ability to apply them to solve problems.

Engineering and related technologies: 

Engineering and related technologies is the study of the design, manufacture, installation, maintenance and functioning of machines, systems and structures; and the composition and processing of metals, ceramics, foodstuffs and other materials. It includes the measurement and mapping of the earth's surface and its natural and constructed features. The theoretical content of this field of study includes:

Aeronautics

Engineering and manufacturing technology

Food technology

Land information technology and remote sensing

Materials science

Principles of design, drafting, planning and commissioning

Plant and machine maintenance: 

The main purpose of this field of study is to develop an understanding of the conversion of materials and energy, the measurement and representation of objects, and the operation of plant, machinery and transport systems.

Architecture and building: 

Architecture and building is the study of the art, science and techniques involved in designing, constructing, adapting and maintaining public, commercial, industrial and residential structures and landscapes. It includes the study of the art and science of designing and planning urban and regional environments. The theoretical content of this field of study includes:

Aesthetics and space dynamics

Building economics

Building science

Building techniques and technologies

Construction management

Architectural design and drawing

Town planning: 

The main purpose of this field of study is to develop an understanding of integrating structural and aesthetic elements in buildings and environments, and construction methods, techniques and materials.

Agriculture, environmental and related studies: 

Agriculture, environmental and related studies is the study of the theory and practice of breeding, growing, gathering, reproducing and caring for plants and animals. It includes the study of the interaction between people and the environment and the application of scientific principles to the environment to protect it from deterioration. The theoretical content of this field of study includes:

Crop production

Animal production and management

Environmental impact and assessment

Forest resource management

Soil and water conservation

Aquatic resource management: 

The main purpose of this field of study is to develop an understanding of the management and use of natural resources, and the production of primary agricultural products.

Health: 

Health is the study of maintaining and restoring the physical and mental wellbeing of humans and animals. The theoretical content of this field of study includes:

Disease processes and mechanisms

Restoration and maintenance of health

Diagnosis

Principles and practices of public health: 

The main purpose of this field of study is to develop an understanding of the principles and practices of identifying, treating, controlling and preventing injury and disease. It is also involves developing an understanding of the principles and practices of providing preventative, curative, rehabilitative and palliative care.

Education: 

Education is the study of the process of learning. It includes the theories, methods and techniques of imparting knowledge and skills to others. The theoretical content of this field of study includes:

Curriculum development

Processes of learning and skill acquisition

Teaching methods: 

The main purpose of this field of study is to develop an understanding of the processes and methods of teaching and learning in pre-schools, schools, tertiary educational institutions and other settings.

Management and commerce: 

Management and commerce is the study of the theory and practice of planning, directing, organising, motivating and co-ordinating the human and material resources of private and public organisations and institutions. It includes the merchandising and provision of goods and services and personal development. The theoretical content of this field of study includes:

Management and administration

Human and material resources management

Sales and marketing

Finance and financial management

Human behaviour and time management

Business management: 

The main purpose of this field of study is to develop an understanding of the theory and practice of decision making and policy formation, organisational development, planning, financial management, and the marketing and selling of goods and services.

Society and culture: 

Society and culture is the study of the physical, social and cultural organisation of human society and their influence on the individual and groups. The theoretical content of this field of study includes:

Belief and value systems

Cultural expression

Human development and behaviour

Human populations and their environments

Politics of power

Social organisation and structure

Social research methodology: 

The main purpose of this field of study is to develop an understanding of human behaviour and interaction, beliefs and values, cultural expression, and social structure and organisation.

Creative arts: 

'Creative arts' is the study of creating and performing works of art, music, dance and drama. It includes the study of clothing design and creation, and communicating through a variety of media. The theoretical content of this field of study includes:

Artistic and technical aspects of audio-visual communication

Artistic and technical aspects of creating and producing art and craft, photographs and fashion apparel

Artistic and technical aspects of creating, producing and performing music, dance and drama

History, development and theory of the visual and performing arts: 

The main purpose of this field of study is to develop an understanding of composition, performance, artistic production, choreography, design and creativity, and technical production.

Food, hospitality and personal services: 

Food, hospitality and personal services is the study of preparing, displaying and serving food and beverages, providing hospitality services, caring for the hair and body for grooming and beautification, and other personal services. The theoretical content of this field of study includes:

Application and use of skin care and cosmetic products

General beauty care

Hair cutting, styling, colouring and treatment techniques

Housekeeping

Hygienic work practices in relation to the food and hospitality industry

Preparation, display and service of food and beverages

Hospitality Commercial: 

The main purpose of this field of study is to develop an understanding of the preparation of food and beverages, and the provision of hospitality services including housekeeping, cleaning and food and beverage service. It also involves developing knowledge of beautification and beauty treatments.

Mixed field programmes: 

Mixed field programmes are programmes providing general and personal development education. The theoretical content of this field of study includes:

Literacy and numeracy skills

Personal, social and workplace relationships: 

The main purpose of this field of study is to develop a basic understanding of reading, writing and arithmetic along with an elementary understanding of other subjects such as history, geography, natural science, social science, art and music. It also involves developing an understanding of key competencies and skills that are needed for job search activities, employment and personal survival skills.

Flexible Starting Points and Packaged Programs
One of the reasons TAFE is so popular is that they have flexible starting points and pathways that suit each individual. For example, if you've only finished 11 years of school or 'O' levels, you might begin by doing a Certificate III. Or if you've finished 12 years of school or 'A' levels you may start at the Diploma level or Associate Degree. If your English needs improving before you start, you can begin by studying one of the intensive English language programs.
Employment Opportunities
Australia's fastest growing and strong economy has resulted in a low unemployment rate of 4% and a shortage of skilled labour across many industries. Therefore there are plenty of job opportunities for people with practical skills like those gained in TAFE Certificate & Diploma courses.
Internet and Computer Access:
There is shared access to computers and Internet for student use within the colleges. This use is limited to ensure all students are able to use the facility and Internet access. It will enable you to conduct research and access web based e-mails during college hours.
Other facilities:
Lecture rooms for classes

Computer laboratories designed to allocate one computer to each student during sessions where ever applicable.

Automotive Laboratories within the Campuses to show the tools and equipments

Kitchen Amenities nearby for meal breaks

Toilet Facilities on the same floor

Accessible books for referencing and Libraries.
Benefits by choosing Australia for your studies: 
a. Mentoring, academic counselling and career counselling: Colleges' staff can offer one-to-one advice and counsel on a range of academic and professional issues beyond the scope of a specific course. Colleges can organize local Advisers coming externally to provide academic and career-related counselling at no charge to students.
b. Colleges can organize student networking sessions in a particular field of study and opportunity to meet and mix with peers who share similar academic interests and goals. There is no cost to students.
c. Colleges can introduce students to the active local Organizations that include from a range of disciplines offer a chance to socialize or otherwise interact with peers representing a variety of backgrounds and experiences. (No cost to students)
WHY CHOOSE ASPPEN AS YOUR CONSULTING PARTNER FOR AUSTRALIA?
Pioneer in Australian education counselling and visa guidance.

India's 1st ISO certified International Educational Company.

High visa success rate.

Asppen promotes Quality Education.

Asppen is an authorized representative of many colleges in Australia.

Well trained advisers, directly supervised by Universities.

Asppen counsellors specialize in program selection, university choice, Application filling, guiding on statement of purpose, interview preparation and pre-departure orientation.

Assistance on Foreign Exchange, Ticket Bookings, and Fund transfers.
Asppen Services
We help you in:
Choosing the right Country
Attending College or University at International level still remains a big dream for many young individuals mainly because these advanced countries offer the best education in the world. A Degree from these Universities/Colleges is recognized worldwide and students who graduate from here have brilliant careers wherever they go. Therefore choosing the right country for study is very important.
Choosing the right University
Assistance to zero-in upon those Colleges / Universities that would best suit your personal, academic and   financial profile.
Choosing the right Program
What career should you be opting for? ASPPEN would guide you through the maze of questions, to find solutions that best suit your academic profile and/or constraints, helping you choose the best career pathway. 
Admission Services
Special attention is given to your application, highlighting the essential areas for a well presented and an error-free application. Asppen follows up with the chosen Universities and ensures positive and prompt response.
Visa Services
We help you with visa formalities like Applications, Financial Statements, Interviews and everything, right up to the last-stage details like pre-departure briefing, accommodation, post-arrival problem-solving. Special care is taken to counsel the parents regarding the services provided by us at each and every stage.
Placement Services
Asppen is developing a world class network of placement services for their students all over the world. We already have a huge number of students already working and well-settled overseas.
A customized service is provided to students after they have signed the agreement with Asppen and opted for a country of their choice to pursue further studies. International Student application forms for various colleges/universities are available at Asppen. Each case is taken on customized basis, once the student signs the agreement with us.
In case, the requisite score for IELTS/TOEFL is inadequate, students can still get admission in colleges/universities abroad. The only thing that they need to do is that they will have to join ESL (English as Second Language) classes prior to the commencement of their Academic session.

Asppen Advantages
We help students achieve their dream of pursuing higher education in accredited institutions around the world. We help you with visa formalities like Applications, Financial Statements, Interviews and everything, right up to the last-stage details like pre-departure briefing, accommodation, post-arrival problem-solving. We assist the parents to ensure the best services in each and every field.
APPLICATION STAGE
Career Selection: Personal, one-to-one guidance to help you choose courses that perfectly fit your career and personal goals.
Career Counseling: Asppen would guide you through the maze of questions to find solution that best suit your profile and/or concentrate, help you choose the best career pathway.
Guidance in opting for the right University/College: Assistance to zero-in on those institutes that would best suit your professional, academic and financial profile, and not limited to be university/college we represent.
Assistance in finding education loan through Bank Tie-up: We are associated with most of the leading banks and are able to help the student obtain a bank loan with these banks. Our services cover counseling, provisioning of important documents, and advice amount and type of loan.
We help students achieve their dream of pursuing higher education in our accredited institutions around the world. We help you in visa formalities like Applications, Financial Statements, Interviews and everything, right up to the last-stage details like pre-departure briefing, accommodation, post-arrival problem-solving. We assist the parents to ensure the best services in each and every field.
APPLICATION STAGE
Interview Preparation and Visa Documentation stage

We provide a comprehensive interview and visa documentation presentation. Following aspects are covered under this:

Full Interview Preparation

Specific attention to Important Facts of the Interview Process

Mock Sessions to ensure High Degree of Competence

Besides this, in countries whose visa is processed on the following is covered:

Full Comprehensive Preparation of file as per the Checklist

Specific Attention to Documents pertaining to different countries

Monitoring of deadlines and timely submission of file

Detailed analysis of finance and presenting these with Clarity

Full Support based on vast experience in the field of visa documents processing
Pre-Departure Assistance
Full Information and Co-ordination regarding all aspects of the client's departures to the college/university, the following services are covered under the pre-departure briefing:
Co-ordinate arrival with college/university authorized

Briefings on Overseas Insurance and Medical Cover

Briefing on Banking Facility and Money Transfer

Orientation on country, culture, clothing, attitude and language

Briefing on Security Aspects and Preparation for the Courses
Post-Landing Assistance
Full Co-ordination and briefing regarding arrival at destination and airport transfer

Briefing on Airport Arrival and Airport Documentation Formalities

Ensuring correct knowledge of Immigration/Visa Documents to be filled and Employmeny Stamp, these are co-ordinate with the college and university
Applying to study in Australia
To study in Australia you'll need to apply for both admission to an institution and also for a student visa from the Australian Government.

There are a number of steps you must go through including:

Deciding on your preferred course and institution.

Submitting your application to the institution.

Receiving and accepting a Letter of Offer.

Receiving your electronic Confirmation of Enrolment (eCoE).

Applying for your student visa.

There is a range of entry requirements that you will need to meet both for you institution application and your visa application. This can include:

Academic requirements.

English language requirements.

Evidence of funds to support your study.

Overseas student health cover.
Entry requirements
To begin studying in Australia, there are a range of entry requirements you may have to meet.

English language requirements

You will need to provide results of an English language test (IELTS). Min bands required for an Australian Student Visa are 6 bands (each module not less than 5.5).
Academic requirements
The academic requirements (including evidence of English language skills) you need to study in Australia will vary depending on the level of education you want to study.

Here is some general guidance on entry requirements for the different levels of study:

English language – Entry requirements vary between institutions, and according to the level of English language course you want to study.

Vocational education and training – In most cases there are no entrance exams for institutions. However, some courses may have specific pre-requisite subjects or work experience requirements.

Higher Education Undergraduate – To gain entry into an Australian undergraduate course you will need to have an Australian Senior Secondary Certificate of Education (Year 12), or the overseas equivalent. Some undergraduate courses may also have specific pre-requisite subjects.

Higher Education Postgraduate – As well as the satisfactory completion of at least one degree at undergraduate level, your institution may take research ability or relevant work experience into consideration.
Offer Letter Request Requirements
To apply for admission at college there are certain requirements that's varies according to college and courses. The major requirements are as follow:

Valid Passport

Photographs 4

IELTS score certificate (minimum requirement 6)

All Academic certificates from secondary to higher studies

Work Experience reference letter if applicable.
Admission will be forwarded to college along with above mentioned supporting documents. College will assess student's eligibility and send Letter of Offer that contains details of course and fees. There will be also description of minimum deposit of fees. When student deposits fees to college then the college issues COE (confirmation of enrollment).
Visa information
There are several classes of student visas for Australia – the one you need depends on the type of study (e.g.: English language course, graduate degree, vocational training, higher education, etc.) you are planning to undertake.

Student visa options

Below is the list of the student visas currently available. 

Independent ELICOS

Vocational Education and Training

Higher Education

Postgraduate Research
Visa requirements
The student visa you need depends on your chosen course of study. As a guide, the typical key requirements are:

Issued an electronic Confirmation of Enrolment (eCoE) certificate.

Meet the Genuine Temporary Entrant requirement.

Sufficient funds for airfares, course fees and living costs.

English language proficiency.

Meet health and character requirements.

Acceptable Overseas Student Health Cover (OSHC).
To get a visa or permit to study in Australia you must meet requirements for international students.
1. Passport having validity of at least 1 year on the date of submission of file
2.  Complete & Signed Student "VISA/PERMIT Application Form" along with photograph specified on   form.
3. SOP (statement of Purpose).
4. All Academic certificates from secondary to Higher Education.
5. IELTS score sheet
6. Letter of offer from education institution /COE (Confirmation of Acceptance)
7. Student's immediate family's verifiable evidence of funds to meet the educational and living expenses in Australia
8. No more than two immediate family members as financial guarantors
9. Verifiable Evidence of regular source of sufficient income of financial guarantors
10. Affidavit of support.
11. Intended course of study relevant to qualifications and/or work experience Demonstrated career progression opportunities
12. A gap year after study of no more than 12 months
13. Police Clearance Certificate if study is more than or equivalent to 2 years.
14. Full Medical Examination if study is more than or equivalent to 1 year.
IF ACCOMPANING BY DEPENDANTS
1. Proof of relationship with main applicant i.e. Marriage Certificate/Birth Certificate/Adoption Documents.
2. Complete application form of Visitor/Work/Study permits. Along with specified photograph.
3. All Academic certificates.
4. Work Experience Evidence if applicable (Work Reference letter, salary proof, ITRs detail).
5. Police Clarence Certificate for each accompanying dependant who is over 17 years old.
6. Medical Examination report of each accompanying dependant.
Overseas Student Health Cover
Australia has a special system of health cover for international students called Overseas Student Health Cover (OSHC). It will help you pay for medical or hospital care you may need while you're studying in Australia; it will also contribute towards the cost of most prescription medicines and an ambulance in an emergency. When studying in Australia, you will need OSHC for yourself, and any family travelling with you, before you arrive. It is a requirement of your student visa that you maintain OSHC for the duration of your time on a student visa in Australia.
Work while you study
Working while you study in Australia can help complement your study and living experience. There are a number of reasons you might want to undertake part time work while studying in Australia, including assisting with living expenses and gaining work experience in your study area.
Paid work
Australia has a wide range of industries and many have part time employment opportunities, including:
Retail – supermarkets, department and clothing stores.

Hospitality – cafes, bars and restaurants.

Tourism – hotels and motels.

Agricultural – farming and fruit-picking.

Sales and telemarketing.

Administration or Clerical roles.

Tutoring.
If you have existing qualifications and/or professional work experience, you may be able to secure casual or part time work in your field.
Internships-Paid or unpaid internships can be a great way to get exposure to the professional, financial and creative industries.
Volunteering
There are many charities and non-government organisations (NGOs) in Australia and they always need volunteers to help out. It can be a great way to meet friends, get some hands on work experience and give back to the community.
Finding Work
There are plenty of ways to find work that suits you, including:
Newspapers and online job sites.
Some institutions provide job notice-boards on campus and online. Contact your institution's international student support staff to find out what options your institution offers.
Register your details at a recruitment firm; many of them help place people in casual or short-term work.