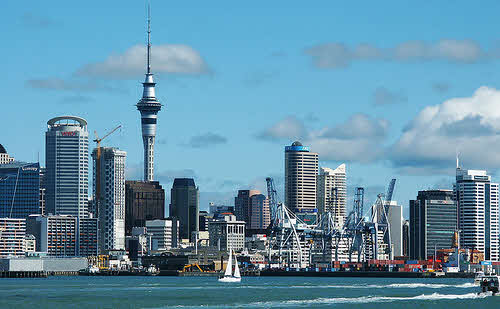 New Zealand's diversity – in landscape, climate, and people – has turned this small South Pacific country into a major destination far exceeding its global imprint.
On the international stage, New Zealand is a young country – the last habitable land mass on earth settled by humankind, a nation that's fresh, enthusiastic and prepared to give it a go, and a place to enjoy life as it should be.
On the international stage, New Zealand is a young country – the last habitable land mass on earth settled by humankind, a nation that's fresh, enthusiastic and prepared to give it a go, and a place to enjoy life as it should be.
From the inside, New Zealand's two main and countless off-shore islands offer vastly contrasting geographical and regional climatic conditions setting the scene for outdoor adventures and the unique Pacific lifestyle. 

Today's New Zealanders are the product of a diverse ethnic population – Māori, European, Pacific Island, and Asian for the most part – each different but together forming a rich cultural landscape that translates into an endless array of experiences and events.
New Zealand's North and South islands – the largest landmasses and home to most New Zealanders – are divided into 25 geographical regions, each with distinct physical attributes, diverse heritage and attractions. 

From New Zealand's sub-tropical far north – where you can stand on the tip of the North Island to witness the merging of two oceans, to the deep south of the South Island – the final land mass before the ice shelves of Antarctica – each region has its own character and stories to tell. 

Few countries in the world can boast New Zealand's range of natural features – from high peaks and glaciers in vast mountain ranges to sub-tropical rainforests, lush rolling farmland to geothermal activity, white and black sand beaches to desert-like plains, and unpopulated islands – all within one compact land.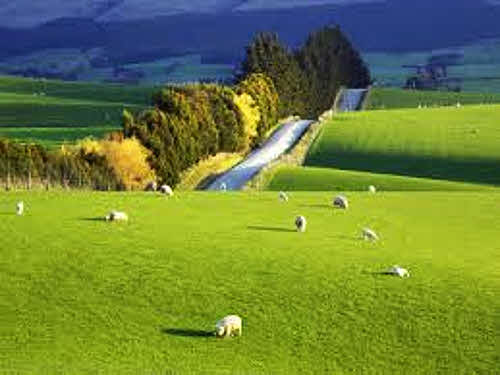 New Zealand geography & geology
Spectacular glaciers, picturesque fiords, rugged mountains, vast plains, rolling hillsides, subtropical forest, volcanic plateau, miles of coastline with gorgeous sandy beaches – it's all here. No wonder New Zealand is becoming so popular as a location for movies.
Lying in the southwest Pacific, New Zealand consists of two main islands – the North Island and the South Island. Stewart Island and many smaller islands lie offshore.

The North Island of New Zealand has a 'spine' of mountain ranges running through the middle, with gentle rolling farmland on both sides. The central North Island is dominated by the Volcanic Plateau, an active volcanic and thermal area. The massive Southern Alps form the backbone of the South Island. To the east of the Southern Alps is the rolling farmland of Otago and Southland, and the vast, flat Canterbury Plains.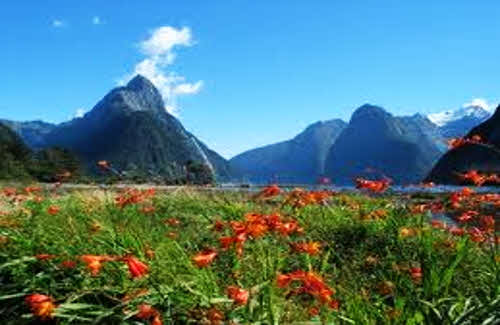 How it began
New Zealand's oldest rocks are over 500 million years old, and were once part of Gondwanaland. This massive super-continent started to split up about 160 million years ago, and New Zealand separated from it about 85 million years ago.
New Zealand sits on two tectonic plates – the Pacific and the Australian. Fifteen of these gigantic moving chunks of crust make up the Earth's surface. The North Island and some parts of the South Island sit on the Australian Plate, while the rest of the South Island sits on the Pacific. Because these plates are constantly shifting and grinding into each other, New Zealand gets a lot of geological action.
Geothermal areas and hot springs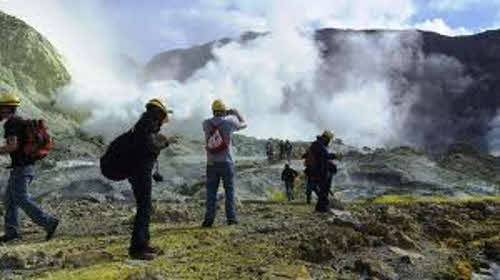 This subterranean activity blesses New Zealand with some spectacular geothermal areas and relaxing hot springs, as well as providing electricity and heating in some areas. Rotorua is the main hub for geothermal attractions, with plenty of mud pools, geysers, and hot springs in its active thermal areas — not to mention its trademark 'Sulphur City' smell. First settled by Maori who used the hot springs for cooking and bathing, Rotorua soon attracted European residents. The reputed health benefits of its hot pools quickly earned the area the name of 'Cureland'.
Beyond Rotorua, you can enjoy hot springs and other thermal activity in most regions of the North Island north of Turangi, as well as in Hanmer Springs and the West Coast in the South Island.
Gentle, sandy beaches to wild, rugged coastlines
New Zealand has over 15,000 kilometers of beautiful and varied coastline. In the Far North and on most of the East Coast of the North Island you'll find long sandy beaches perfect for swimming, surfing and sunbathing. The North Island's west coast has dark sandy beaches, with sand heavy in iron. The north of the South Island has some beautiful sandy beaches, while the coastline around the rest of the South Island tends to be wilder and more rugged.
Mountain ranges to fertile farmland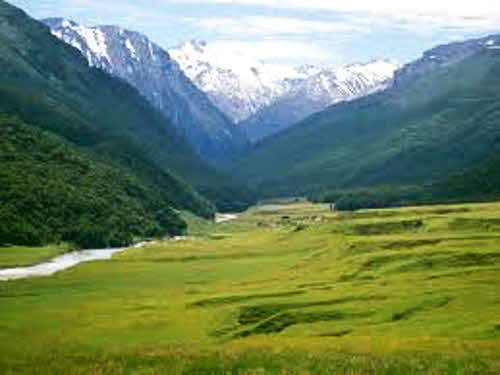 About a fifth of the North Island and two-thirds of the South Island are mountains. Stretching from the north of the North Island to the bottom of the South, these mountains are caused by the collision of the Australian and Pacific Plates.
Over millions of years, alluvial deposits (eroded from the mountains by rivers) formed the vast Canterbury Plains in the South Island and a number of smaller plains in the North. These alluvial plains contain some of New Zealand's most fertile and productive farmland.
Glaciers of grinding ice
New Zealand's Southern Alps have a number of glaciers, the largest being Tasman glacier, which you can view by taking a short walk from Mount Cook village. New Zealand's most famous glaciers are the Franz Josef and Fox on the South Island's West Coast. Gouged out by moving ice over thousands of years, these spectacular glaciers are easily accessible to mountaineers and hikers. You can walk up to the glaciers or do a heli-hike — fly up by helicopter and walk down.
Sunken Mountains
Over thousands of years, the process of subduction has seen parts of the New Zealand landscape become submerged. The Marlborough Sounds and Fiordland are examples of high mountain ranges that have 'sunk' into the sea, creating spectacular sounds and fiords. These areas provide some of New Zealand most picturesque scenery, with steep lush hills plunging down to the deep still bays below. Clear, deep still water surrounded by beautiful bush makes these areas ideal for boating and kayaking.
Nothing sets New Zealand apart from the rest of the world, more than its people – known colloquially as "Kiwis". 

Māori – the first to discover these islands – and European have most influenced the pervading culture and laid-back outdoor Kiwi lifestyle that combines the best of both cultures. 

The Māori traditions of kaitiakitanga / guardianship of the natural resources for future generations and manaakitanga / hospitality to other peoples have a significant influence on New Zealand life and how visitors experience the real New Zealand. 

Pacific Island culture has also infused the lifestyle. Auckland – home to the largest Pacific Island population in the world – is a melting pot of vibrant communities from the Cook Islands, Samoa and Tonga.
Since Maori, the indigenous people of New Zealand, named these islands Aotearoa or 'land of the long white cloud', the seasons have been of paramount importance to New Zealanders, many of whom make their living on or from the land and sea.
New Zealand has mild temperatures, moderately high rainfall and high sunshine hours throughout most of the country.
Two main geographical features, the mountains and the sea dominate the climate. It is subject to influences from east, west, south and north, and varies from day to day – it's not unusual to experience 'four seasons in a day' so visitors should be prepared for some variances.
The changing seasons create a series of adventure playgrounds in the landscape for a vast range of leisure and sporting activities.
New Zealand's varied geography changes as each season casts its own interpretation on the landscape, revealing spectacular adventure playgrounds for every recreational pursuit.
New Zealand climate and weather
New Zealand has a temperate climate with moderately high rainfall and many hours of sunshine. While the far north has subtropical weather during summer, and inland alpine areas of the South Island can be as cold as -10°C (14°F) in winter, most of the country lies close to the coast, which means mild temperatures.
Temperature
The average New Zealand temperature decreases as you travel south. January and February are the warmest months, and July is the coldest month of the year. In summer, the average maximum temperature ranges between 20-30ºC (70-90°F) and in winter between 10-15ºC (50-60°F).
You can check on weather conditions in New Zealand on the New Zealand Met Service website.
Seasons and clothing requirements
As New Zealand lies in the Southern Hemisphere, it has opposite seasons to those living in the northern half of the world.
Summer: December – February
Summer in New Zealand is moderate to hot, with temperatures hovering around 20-30 degrees Celsius. In most places you can wear shorts and a t-shirt or singlet during the day, adding a light jumper at night.
Autumn/Fall: March – May
Temperatures during this time are a little cooler than summer but the weather can be excellent. Suitable clothing includes light pants or shorts, and a t-shirt or long-sleeved top. It can cool off at night more during this season, so make sure you are prepared with a warm sweater.
Winter: June – August
Winter in New Zealand brings colder weather to much of the country, with snow in the south and rain in the north. You'll need jeans, long-sleeved tops and coats in most places, and if you're heading into the mountains thermals, gloves and thick sweaters are also a good idea.
Spring: September – November
Spring brings weather of all types – expect everything from cold, frosty, clear days to sunny and hot. Make sure you are prepared for this type of weather if you are visiting during this time. Jeans are good and layers work well on top, as they can be added and removed depending on what the weather brings.
Four Seasons in One Day
New Zealand weather can change unexpectedly. Be prepared for sudden changes in weather and temperature if you're going hiking or doing other outdoor activities.
Sunshine
Wear a shirt, sunscreen, a hat and sunglasses to protect yourself from the sun.
Most places in New Zealand receive over 2,000 hours of sunshine a year, with the sunniest areas – Bay of Plenty, Hawke's Bay and Nelson/Marlborough – receiving over 2,350 hours. As New Zealand observes daylight saving, during summer months daylight can last up until 9.30pm. New Zealand experiences relatively little air pollution compared to many other countries, which makes the UV rays in our sunlight very strong.
The sunlight here can quickly burn skin from September to April, especially between 10am and 4pm, even on cloudy days. Be 'Sun Smart' by using these three simple steps when you go outdoors:
Stay in the shade whenever possible.
Wear a shirt, hat and sunglasses.
Use SPF 30+ sunscreen. Reapply every 2 hours.
Rain
New Zealand's average rainfall is high and evenly spread throughout the year. Over the northern and central areas of New Zealand more rain falls in winter than in summer, whereas for much of the southern part of New Zealand, winter is the season of least rainfall. As well as producing areas of stunning native forest, the high rainfall makes New Zealand an ideal place for farming and horticulture.
Snow 
Snow typically appears during the months of June through October, though cold snaps can occur outside these months. Most snow in New Zealand falls in the mountainous areas, like the Central Plateau in the north, and the Southern Alps in the south. It also falls heavily in inland Canterbury and Otago.
What should you know before driving in New Zealand?
If you're used to driving in the city, you should take care when driving on New Zealand's open country roads. We have a good motorway system but weather extremes; the terrain and narrow secondary roads and bridges require drivers to be very vigilant.
A cost-effective alternative to air travel with daily scheduled passenger services available throughout the country. There's also a multitude of coach companies serving the main tourist routes.
This is a broad guide to the airlines that fly to New Zealand. Some of the airlines code share, a practice that allows them to share each other's aircraft. We recommend you contact the airlines directly for detailed information about flights.
Air New Zealand
Aerolineas Argentinas
Air China
Aircalin
Air Canada
Air Pacific
Air Tahiti Nui
Asiana
Air Vanuatu
American Airlines
British Airways
Cathay Pacific
China Eastern
China Southern
Emirates
JAL
Jetstar
KLM
Korean Air
LAN
Lufthansa
Malaysia Airlines
Qantas
Royal Brunei
Singapore Airlines
South African Airways
Thai Airways
United
Virgin Australia
Flying between towns and cities in New Zealand is easy. Our two major domestic carriers are:
International & Domestic Airports
New Zealand has a comprehensive network of international and domestic airports.
Bus and coach transport is ideal if you prefer to make your way around New Zealand without the hassle of self-driving. Sit back, relax and enjoy the views!
Hop on; hop off traveller's networks, where you buy a pass for unlimited travel, can move you around New Zealand's major destinations very effectively. In Auckland there are buses that circulate around key attractions, allowing you unlimited travel for a fixed price.
If you're travelling with a group, charter coach companies have the flexibility to adapt to your itinerary. The drivers are also guides, so you'll have the added benefit of a commentary if you want one.
For travellers who want the simplicity of a packaged tour, there are several companies running scheduled trips around the main tourist destinations in either or both islands. Accommodation and meals are often included in the tour price, and you're sure to make a few friends along the way.
New Zealand's unit of currency is the Dollar (NZ$).
There is no restriction on the amount of foreign currency that can be brought in or taken out of New Zealand. However, every person who carries more than NZ$10,000 in cash in or out of New Zealand is required to complete a Border Cash Report.
Foreign currency can easily be exchanged at banks, some hotels and Bureau de Change kiosks, which are found at international airports and most city centers.
All major credit cards can be used in New Zealand, with Visa and MasterCard accepted most widely, followed by American Express and Diners Club.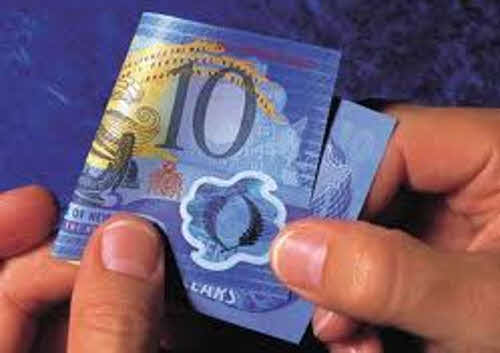 New Zealand accommodation options are diverse, with something for every level of comfort and budget.
From 5-star quality luxury lodges to back-to-nature camping, the selection of accommodation in New Zealand is varied and plentiful.
You'll find hotels, motels and boutique accommodation in most city centers and towns. In some of our more scenic and secluded locations, these are complemented by campsites, motorhomes and holiday homes.
Accommodation providers with the Qualm ark symbol have undergone rigorous assessment to earn their stars.
Motorhomes or campervans – whatever you call them – there is no doubt that they are the ultimate accommodation choice for flexibility on a driving holiday.
A home on the road gives you the freedom to take each day as it comes. Roam the country, finding beautiful and remote places to park and picnic.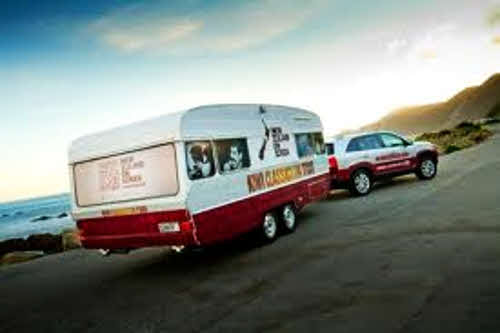 Overnight you'll find it convenient to book a powered site in a holiday park or camping ground. The kitchen, laundry and bathroom facilities are handy and many sites have great positions at the edge of a lake or by the beach. Free camping may be possible, but it's wise to check with the local information center before you park for the night as each district in New Zealand has different rules around where it is permitted.
Daily rental rates vary according to the season and are based on unlimited kilometers per day. Other costs include insurance and a bond that is refundable at the end of your holiday. For travel during summer and autumn, it's best to book your motorhome before you arrive in New Zealand. The usual minimum age to rent a motorhome is 21 years.
Car rental is favored by visitors wanting to self-drive in New Zealand. There are loads of choice and a wide range of vehicles available to suit any budget.
Self-drive is a great way to explore New Zealand. You'll have the flexibility to evolve your itinerary as you go along, and the freedom to explore places that are away from the usual tourist trails. Our roads are generally of a very high standard. All main routes are sealed and well signposted; beyond the cities, traffic is light.
Car rental companies come in all shapes and sizes. You'll find all the big names, as well as a wide range of local operators. In most cases the longer you hire, the cheaper the daily rate. If you need one-way hire between locations, choose one of the larger companies.
You can legally drive in New Zealand for up to 12 months if you have either a current driver's license from your home country or an International Driving Permit (IDP) – (Note: if your overseas license or permit isn't in English, you must carry an accurate translation. See NZ Transport Agency for more information). Commonly, you need to be 21 or older to rent a car in New Zealand.
New Zealand rail travel is an exercise in relaxation. The main reason to choose a train journey? Spectacular scenery you simply can't see from the road.
New Zealand's challenging landscapes demanded some remarkable feats of early railway engineers. While our rail network isn't vast, thanks to their skill and determination, there are some incredible voyages available.
Our great train trips travel through remote national parks, across spectacular volcanic landscapes, over braided river valleys and alpine passes and along rugged coastlines with steep mountains on one side and the Pacific Ocean on the other.
Kiwi rail Scenic Journeys
In the North Island, the Northern Explorer links Wellington and Auckland. A remarkable 12-hour journey through the volcanic heart of the North Island with highlights including Tongariro National Park and the famous Raurimu Spiral, an amazing feat of railway engineering.
APPLICATION PROCESS
In Order to Visit New Zealand For Tourism you need to Apply for a Tourist Visa at the Nearest New Zealand High Commission or Embassies as Applicable and as per your Approachable Vicinity
Documents Required to File a Tourist Visa:
When you apply for a visitor visa, we need to know that:
You are in good health
You are of good character, and

A visitor visa fits your purpose for coming to New Zealand.
Your passport
You will need to provide your passport with your application. The passport must be valid for at least three months past the date you are to leave New Zealand, or one month past the date you intend to leave if the government issuing your passport has consular representation in New Zealand.
Proof that you plan to leave New Zealand
You will need to show us that you intend to leave within the period of your visa. For example:
Travel tickets (confirmed or open-dated) out of New Zealand to a country which you have the right to enter; or
Written confirmation from an airline or travel agency that onward travel has been booked and paid for; or
Evidence of sufficient funds to purchase a ticket to a country, which you have, the right of entry.
Proof of funds

You will also need to show us proof that you have enough money to support yourself during your stay. This means you have a minimum of:
NZ$1000 per person per month of the visit, or
NZ$400 per person per month if accommodation has already been paid for – we will require proof of prepayment, such as hotel prepaid vouchers.
Sufficient funds can be in the form of:
Cash
Travellers' cheques
Bank drafts
Recognized credit cards with sufficient credit available – we recommend that visitors have an up-to-date credit card statement.
We will also accept a declaration by an acceptable sponsor that they will pay for your accommodation and maintenance
The maximum stay under a visitor visa is nine months.
We usually only allow visitors to stay for nine months in an 18-month period.
To work this out, we:
Look at the last day that you intend to be in New Zealand (eg 1 July 2012)
Count back 18 months from that date (eg 1 January 2011)
check that you will not be spending more than nine months in New Zealand during this time (eg 1 January 2011 to 1 July 2012).
IF ACCOMPANIED BY DEPENDANTS
Your application can cover your partner, and any dependent children up to the age of 19. Children over 20, and non-dependents, will need to make their own application.
Proof of relationship with main applicant i.e. Marriage Certificate / Birth Certificate / Adoption Documents.
Complete application form of Visitor / Work / Study permits. Along with specified photograph.
Valid Visa Application Fees. INR 6800.
All Academic certificates.
Work Experiences Evidence if application (Work Reference Letter, Salary Proof, ITRs detail).
Police Clarence Certificate for each accompanying dependent that is over 17 years old.
Medical Examination report of each accompanying dependent
Medical insurance

We recommend that you have comprehensive medical insurance for the duration of your visit. If you are from the United Kingdom or Australia, you will get the same immediate medical coverage as a New Zealand citizen or resident, thanks to our Reciprocal Health Agreements.
If you are granted a visitor visa you need to meet certain conditions during your stay.
You may not work while you are in New Zealand (unless you are granted a work visa).
You may not study for more than three months while you are in New Zealand (unless you are granted a student visa).
You must keep within New Zealand's laws.
You must only stay in New Zealand for the time allowed by your visa.
If you breach any of these conditions you may become liable for deportation.