Ireland is an island to the north-west of continental Europe. It is the third-largest island in Europe and the twentieth-largest island on Earth. To its east is the island of Great Britain, from which it is separated by the Irish Sea. Having developed from being a predominantly agricultural economy in the 1950s Ireland is now a thoroughly modern nation with well developed manufacturing and international services sectors and has the highest economic growth rate in the E.U. – hence the title 'The Celtic Tiger'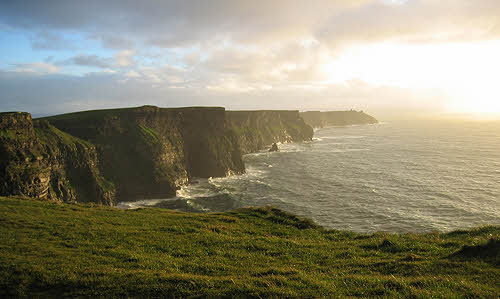 The Cliffs of Moher in County Clare attracts around 1 million visitors each year.
Ireland is a dynamic, lively and modern country with a young population and a successful, technologically orientated economy but it remains a country where music, conversations, culture, tradition, time to relax and making friends matter. It is a country with cultured, cosmopolitan cities renowned for its beautiful, unspoiled countryside and scenery. The capital of Ireland is Dublin. The official currency of Ireland is Euro. Ireland is renowned worldwide for its friendliness and its welcome to visitors. A strong sense of community abounds. Ireland is a highly developed democracy with a modern economy. The Irish economy is particularly strong in the areas of software development, pharmaceuticals, manufacturing and international services.
Geography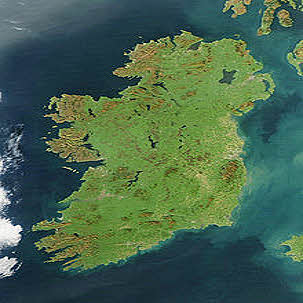 Irish culture has had a significant influence on other cultures, especially in the fields of literature, science and education. Alongside mainstream Western culture, a strong indigenous culture exists, as expressed for example through Gaelic games, Irish music, and the Irish language. The culture of the island has also many features shared with Great Britain, including the English language, and sports such as association football, rugby, horse racing and golf. Ireland today ranks amongst the wealthiest countries in the world in terms of GDP per capita] and in 2011 was ranked the seventh most developed nation in the world by the United Nations' Human Development Index.
Ireland is beautiful – much of the countryside remains unspoilt providing an excellent natural habitat for a flourishing flora and fauna. Ireland's landscape provides a rich environment for the many outdoor leisure pursuits for which it is famous. Watersports, hill walking, rocking climbing and caving are just
a few of the many activities which can be enjoyed when taking a break from study. Winters are very soggy and damp and showers are common all year round. The wettest month is December. Summers are cool and pleasant, the most sunshine being experienced in May and June. Winters, apart from being wet, are mild with the mercury rarely dropping to freezing point. Snow is unlikely.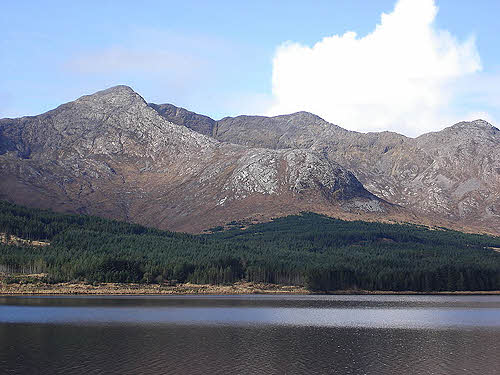 The rugged hills of Connemara, County Galway
There are three World Heritage Sites on the island: the Brú na Boinne, Skellig Michael and the Giant's Causeway. A number of other places are on the tentative list, for example the Burren, the Ceide Fields and Mount Stewart. Some of the most visited sites in Ireland include Bunratty Castle, the Rock of Cashel and Blarney Castle. Historically important monastic sites include Glendalough and Clonmacnoise, which are maintained as national monuments in the Republic of Ireland. Dublin is the most heavily touristed region and home to several of the most popular attractions such as the Guinness Storehouse and Book of Kells. The west and south west, which includes the Lakes of Killarney and the Dingle peninsula in County Kerry and Connemara and the Aran Islands in County Galway, are also popular tourist destinations.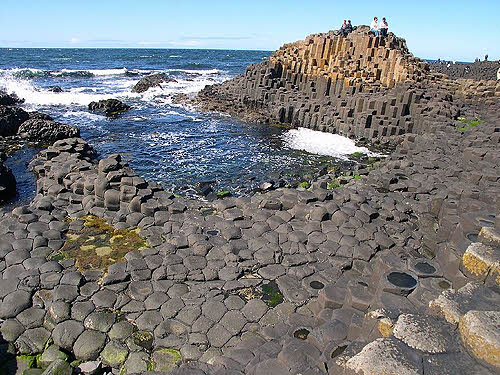 Giant's Causeway, County Antrim
Science
The Irish philosopher and theologian Johannes Scotus Eriugena was considered one of the leading intellectuals of his early middle Ages. Sir Ernest Henry Shackleton, an Irish explorer, was one of the principal figures of Antarctic exploration. Robert Boyle was a 17th-century natural philosopher, chemist, physicist, inventor and early gentleman scientist. He is largely regarded one of the founders of modern chemistry and is best known for the formulation of Boyle's law. 19th century physicist, John Tyndall, discovered the Tyndall effect, which explains why the sky is blue. Other notable Irish physicists include Ernest Walton, With Sir John Douglas Cockcroft, William Thomson, Sir Joseph Larmor, George Johnstone Stoney.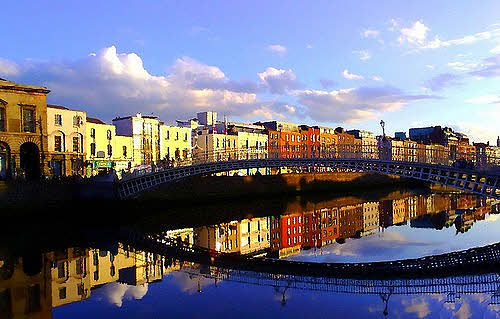 Dublin City in Ireland
Tourism in the Republic of Ireland is one of the biggest contributors to the Economy of the Republic of Ireland, with over 6.2 million people visiting the country in 2011, about 1.4 times Ireland's population. Each year about €5bn in revenue is made from economic activities directly related to tourists, accounting for about 4% of GNP and employing over 200,000 people. In 2011 alone, Ireland was voted 'Favourite holiday destination in the World' by readers of Frommer's Guide, Lonely Planet listed Ireland as the world's friendliest country and Cork City as one of the top ten cities in the world and the Irish tourist boards website, DiscoverIreland.com, was named the best tourist board website in the world. Most tourists visiting Ireland come from the United Kingdom, the United States, Germany and France.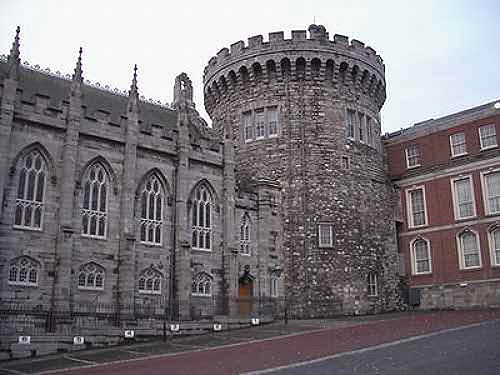 Dublin Castle, the former seat of British Rule in Ireland
Living in Ireland
Ireland at the start of the 21st century is an exciting place to live and study. Their blend of tradition and contemporary life is unique. They are proud and protective of their ancient culture, yet they have embraced their role as a centre for the digital revolution and international trade. Over 4.1 million people enjoy the mild, oceanic climate and a landscape that stretches across lakes and mountains, and more than 2,000 miles of coastline which attracts over 8 million tourists to the shores of Ireland yearly. In recent years Ireland has become a global centre for the telecommunications, pharmaceutical and software industries. With an impressively high quality of life and a well-educated workforce, many international companies have set up their European headquarters in the country. Their long and impressive academic tradition has been established over many years and today the country offers one of the highest standards of education in the world.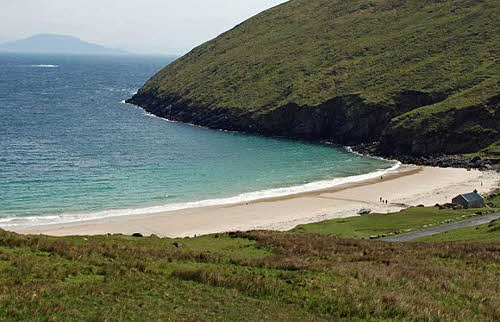 Ireland has many beaches and Seaside resorts
The island of Ireland is divided into two countries – the south which is officially known as The Republic of Ireland and Northern Ireland, which is part of the United Kingdom, on the northern end of the island.  The entire island of Ireland is divided into four provinces and 32 counties of which 26 belong to the republic and six make up the country of Northern Ireland. Throughout history the Irish have had a thirst for knowledge and have made major contributions to the world. Their education system reflects this and is probably one of the best in the world. The 26 counties that make up the Republic are as varied as individual countries. Each has its own spectacular features and a rich history that, woven together, form the fabric of the country we know as Ireland.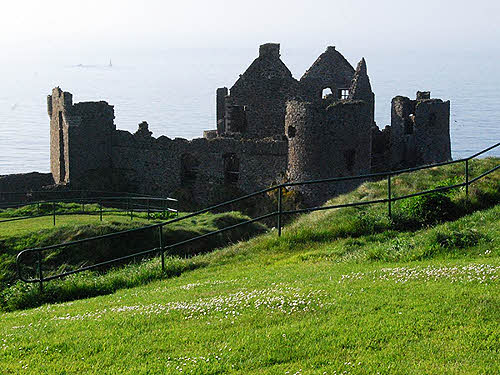 Dunluce Castle
Ireland has several distinct regional cultures rather than a single national one; moreover, the daily lives of city dwellers are in some ways much different from those living in the countryside. For example, whereas Dublin is one of Europe's most cosmopolitan cities, the Blasket Islands of Dingle Bay, off Ireland's south-western coast, seem almost a throwback to earlier centuries. Wherever they live, the Irish maintain a vibrant and lively folk culture. Thousands participate in the country's numerous amateur musical, dance, and storytelling events. A great many also engage in a variety of craft-based industries, producing items such as glass, ceramics, ironwork, wood-turning, linens, embroidery, and knitwear, served by the Crafts Council of Ireland (based in Kilkenny) and an annual trade fair in Dublin. Irish fashion has advanced beyond the still-popular Aran sweater, with various designers establishing fashion trends that have broad appeal both nationally and internationally.
A move to Ireland may be triggered by business relocation, a study opportunity or a family move and brings with it the chance to improve the quality of life and explore new activities. Ireland is a country full of rich traditions, beautiful countryside and is renowned for the quality of its entertainment. The rich heritage and diverse landscape of the country allow for a wide range of activities, from visiting historic monuments and national parks to exploring the many villages, coastal areas, rivers and lakes. Most expats about to move to the "Emerald Isle" may have developed an idea of living in Ireland that includes green meadows, lots of rain, rough – but cordial – conduct, and moderate pace in all things imaginable. While you will find all of these aspects to some extent, you will quickly discover that living in Ireland is strikingly similar to life in other industrialized nations. Still, even as the highly globalized and technophile nation that it is today, life in Ireland has retained that special flavour that gives it a distinctive touch.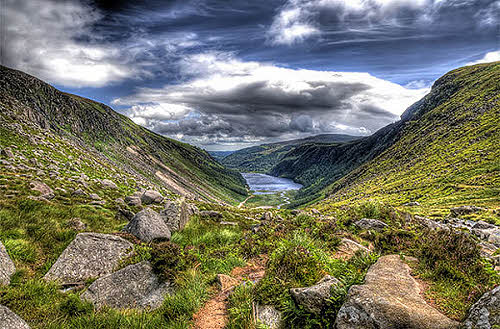 Glendalough, County Wicklow
Culture in Ireland
Ireland culture  includes customs and traditions,  language,  music,  art,  literature, folklore, cuisine and sports associated with Ireland and Irish people. However, the culture of the people living in Ireland is not homogeneous. There are notable cultural divides between urban and rural, Catholic and Protestants, Irish-speakers and English-speakers, immigrants and native population, and between the Travellers and settled population.
Although most Irish people are of Gaelic descent, Ireland is an ethnically diverse country as a result of large-scale immigration from many different countries throughout its history. Also, due to emigration of the Irish people themselves overseas, Irish culture has a global reach and festivals such as St. Patrick's Day and Halloween are observed and celebrated all over the world.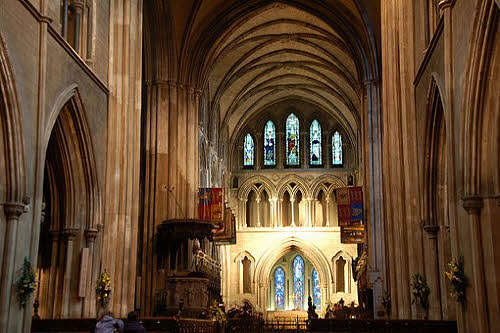 St Patrick's Cathedral
Food and Drink
Irish cuisine, from staple foods such as bread and potatoes to the renowned Irish farmhouse cheeses. Also Irish drinks such as stout and whiskey…
Ireland has a number of traditional dishes and drinks, and the quality of food has improved considerably in recent years.
Exotic foods can be found more easily in shops and restaurants and dining out, once reserved for special occasions, is more and more frequent. In major towns and cities, there is a wide choice of foreign restaurants serving Indian, Chinese, European, Mediterranean and oriental cuisine among others.
With 20 percent of its land use devoted to agriculture, Ireland has a number of farmers markets and food markets in city centres. Shoppers can choose from a wide variety of locally produced fruit, vegetables, cheese, flowers, meat and fish.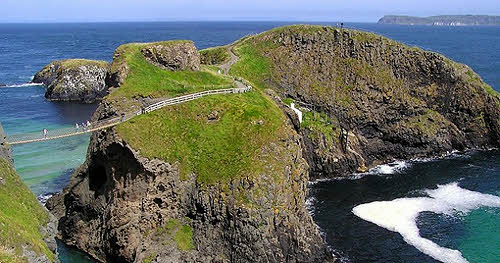 Carrickarede rope bridge, Dursey Island
Language
Ireland has two official languages, Gaelic and English.
English is the everyday language used by the vast majority of the population. English is the most widely spoken language on the island overall, and Irish is spoken as a first language only by a small minority, primarily, though not exclusively, in the government-defined Gaeltacht regions. A larger minority speak Irish as a second language, with 40% of people in the Republic of Ireland and 10% of people in Northern Ireland being Irish speakers. Article 8 of the Constitution states that Irish is the national and first official language of Ireland. English in turn is recognised as the state's second official language. Hiberno-English, the dialect of English spoken in Ireland, has been greatly influenced by Irish.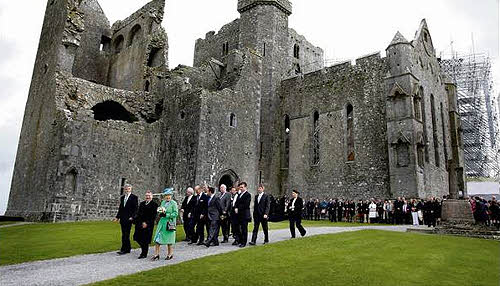 The Rock of Cashel
Several other languages are spoken on the island, including Shelta, a mixture of Irish, Romany and English, spoken widely by Travellers. Two sign languages have also been developed on the island. Some other languages have entered Ireland with immigrants – for example, Polish is now the second most widely spoken language in Ireland after English, Irish being the third most commonly spoken language.
Dublin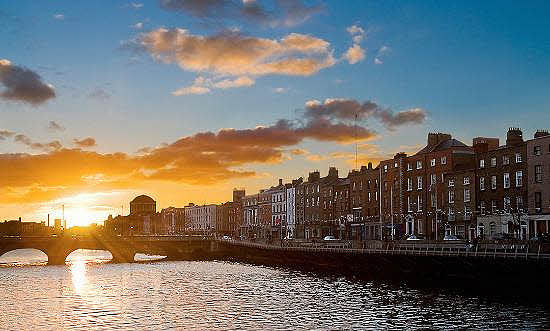 Dublin, the capital and largest city in Ireland, is the cultural and economic heart of the nation. The Greater Dublin area is home to 1.8 million people, which corresponds to about 40% of the total population. The number of expats choosing to live in Ireland's capital is, of course, substantial.
As the overwhelming majority of offers on online job portals are in Dublin, the lure of moving to Ireland's unrivalled focal point is immense.
Cork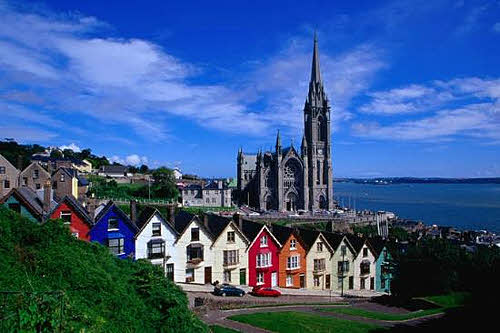 Ireland's second largest city and metropolitan area (with circa 120,000 residents in 2011), Cork, is a great choice for expats looking for work in the industry sector. Located in the southwest of the country, it is the heart of the local industry, specifically of pharmaceutical companies and IT.
Global players such as Pfizer and Apple have subsidiaries and even European headquarters here, making Cork a good option for expats who contemplate relocating to Ireland. Other major companies from ICT and healthcare located in or around Cork include Novartis, Amazon, Johnson & Johnson, and Logitech.
For people occupied in the oil industry, moving to Ireland's oil refinery and storage facility in County Cork might be of interest. The city is also home to one of the country's main airports, which should make moving to southern Ireland a smooth and convenient matter.
Limerick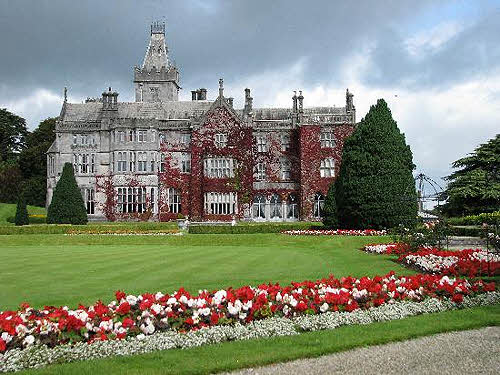 Adare Castle, Limerick
Limerick in Western Ireland is a major economic hub, mainly due to the importance of the Shannon Free Zone, Business and Technology Park. The attractive taxation terms in this free trade zone prompted many international corporations to set up shop in Ireland's heartland. Over 100 foreign companies are located within the park. Its location adjacent to the second busiest airport in the country, Shannon Airport, makes moving to Ireland's premier free trade zone a breeze.
Apart from the FTZ's advantages for companies, Ireland's third largest metropolitan area also proved attractive for many employees in key sectors like ICT, aviation, engineering, and medical care. Large employers include Cook Ireland (medical devices), Vistakon, and Dell.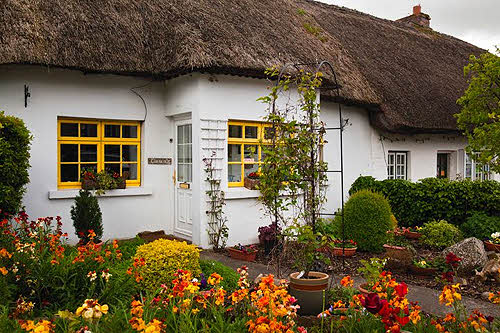 Adare village thatch cottage County Limerick Ireland

Ireland – linked to the world
Ireland is an English-speaking country with close cultural, economic and educational links with the English-speaking world, especially with the UK and with the USA, where Irish Americans form a high proportion of the population.
Part of the EU family of nations and cultures and of the increasingly integrated European Education Area.
Ireland is Global in outlook – for several centuries Irish people have emigrated to and settled in many countries around the globe and today Irish welcome people to Ireland from all over the world.
Ireland a dynamic, lively, modern country with a young population and a successful, technologically orientated economy …. but it remains a country where music, conversation, culture, traditions, time to relax, listen and make friends … matter. It is a country with cultured, cosmopolitan cities renowned for its beautiful, unspoiled countryside and scenery.
Sports and Leisure in Ireland
Whether you like to play or observe sports, Ireland has a busy sporting calendar with major events in rugby, golf and horse racing taking place throughout the year. Whatever your tastes, you will have the opportunity to watch or take part in a wide range of sporting activities including traditional Irish sports such as hurling and Gaelic football.
Many people spend their leisure time walking, fishing and sightseeing, relaxing with friends over a meal at a pub or restaurant or visiting the cinema or art galleries.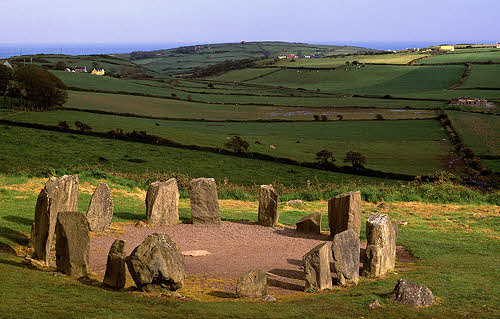 Drombeg Stone Circle, County Cork, Ireland
Health in Ireland
Ireland's healthcare system is delivered by the Health Service Executive and is available to everyone. The quality of healthcare is high in Ireland. Ireland's public health care system is delivered by the Health Service Executive (HSE). It is funded by general taxes and is available to all. Eligibility to free health care is based on residency and means rather than social insurance contributions or tax payments. Many residents in Ireland choose to take out private health insurance.
Eligibility
Anybody who is classed as an Ordinary Resident by the HSE is entitled to full eligibility health care (Category 1: medical card holders) or limited eligibility (Category 2). An Ordinary Resident is someone living in Ireland, or intending to remain for at least one year.
To meet the criteria to qualify as an Ordinary Resident and become eligible for publically funded health care, the following information must be provided:
Proof of purchase or rental of property and evidence that this is the principal residence

Evidence of transfer of funds, bank accounts, pensions and so on

A residence permit or visa and/or a work permit or visa

The applicant may have to sign a sworn statement (affidavit)
Although a non-EU national may establish eligibility for health services as an Ordinary Resident, their dependants are not automatically entitled to the same cover.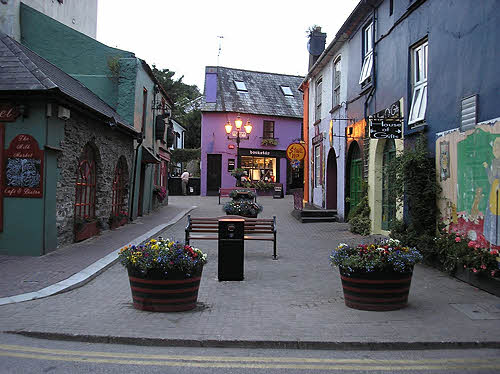 KINSALE STREET, CORK, IRELAND
Transport In Ireland
Getting around the country…
Whether driving a car, riding a bike or using public transport, you'll need to get around the towns and countryside of Ireland. Here's the information you need regarding the legalities and practicalities of doing just that.
Ireland has a good infrastructure of road, rail and air transport providing relatively easy travel to, from and around it.
Importing a Foreign Vehicle to Ireland
All vehicles imported into Ireland are subject to Vehicle Registration Tax (VRT) and must be registered with the Revenue Commissioners. The only vehicles not subject to this regulation are those brought into the country on a temporary basis (less than 12 months). The same importation criteria apply for the importation of cars and motorcycles/scooters.
Driving Cars and Bikes
Rules and Regulations
Drive on the left in Ireland

The legal age for driving a car in Ireland is 17 years (16 years for a work vehicle such as a tractor)

Drivers must have a valid driving licence or learner permit for the vehicle they are driving

The use of mobile phones while driving is prohibited

Seatbelts are compulsory in both the front and back seats

Children under the age of 12 are not permitted to travel in the front seat of a vehicle

Motor insurance is compulsory

Motorcyclists must wear helmets

Safe road usage
When at a crossroads with all roads of equal importance, traffic must give way to the right

At roundabouts traffic must give way to the right

Traffic on priority roads have right of way over other traffic

Dipped lights must be used in poor visibility

Drivers must yield to emergency vehicles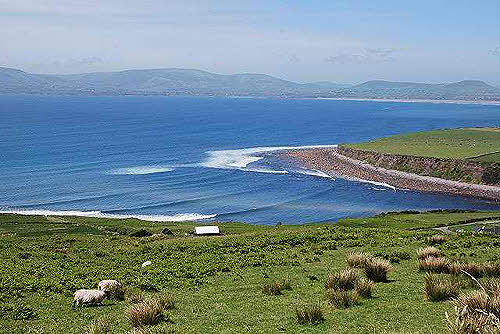 Ring of Kerry, County Kerry
Housing in Ireland
Whether your plan is to rent a flat or house, or buy a property, it is useful to know what to expect before beginning your search. Then, when setting up home, you need to know how to get water, electricity, gas, telephone and the Internet set up.
Renting Accommodation: Types of Property
Renting property is straightforward in Ireland and it is easy to find and readily available across the country. There are a number of options for renting property when first arriving in Ireland: rent a bedsit, an apartment (or flat), share a house or rent a family home.
Bedsit: This is normally only for one or two people; while cheaper than apartments, they tend to have less space and usually consist of just one room. Some have a separate bathroom, while in others bathrooms are shared with other tenants.
Apartment/flat: These are usually for more than one person and can include a separate kitchen, living area and bathroom. The size of the flat depends on the property and can be anything from one bedroom upwards.
House sharing: This offers good value for money as tenants have more space in a house and access to more facilities while sharing the cost. However, it does mean that living spaces such as bathrooms, kitchens and living areas are shared.
Lodgings: This is where an individual rents a room in a host family's house and shares all living facilities.
House: Generally a two storey house, including kitchen, bathroom, living areas and bedrooms. The number of bedrooms depends on the size of the property but is usually two or more, suitable for families.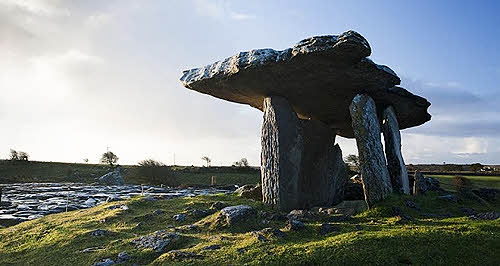 Ballyvaughan, Co Clare
Furnished or unfurnished
Both furnished and unfurnished properties are available for long-term rental. Furnished rentals should include beds, chairs, tables, oven, lamps, refrigerator, curtains, kitchen crockery, utensils and cutlery. Unfurnished rentals might include an oven, refrigerator and washing machine.
Setting Up Home in Ireland
Connecting utility supplies to a new home in Ireland is straightforward.
New owners/tenants should ask the landlord or previous occupants which utility providers they used for gas and electricity when moving into a new home, and then transfer the accounts into their name to save reconnection charges. The majority of homes in Ireland have gas heating (although some use oil).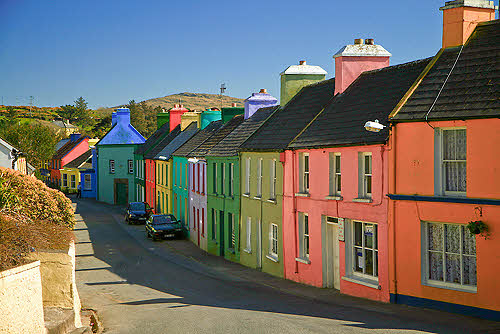 Pastel village, Eyeries Berra Peninsula, County Cork, Ireland
Accommodation for Students
English Language Students:
Most English Language Institutes include accommodation in their fees and have it arranged for the student upon arrival, often with a host family.
Host Families
Most English language students visiting Ireland stay with Irish host families. This gives a perfect opportunity to integrate fully into Irish life, while enjoying the friendliness, warmth and sincerity for which Ireland is renowned. The informal atmosphere of family life also helps greatly in absorbing the language in everyday situations. Students are placed with host families in safe residential areas. Student guests are treated as one of the family and are included in family outings and social occasions.
All host families are carefully selected, individually inspected and continually monitored!
Residential School Accommodation
Residential school accommodation is another form of accommodation for English language students. This is mostly available during the summer months, but also throughout the year in some schools. Residential school accommodation offers students the benefits of "student village life".
Third level students:
Third level students have a number of accommodation options available to them. Most third level institutions have on-campus student residences, often resembling small villages with on-site facilities such as shops, laundrettes, restaurants etc.
Another popular option, particularly in the main cities is self-catering rented accommodation, often shared with other students. Students opting for this kind of accommodation are advised to arrive in the country two or three weeks prior to the start of the academic year in order to secure a place in a house/apartment.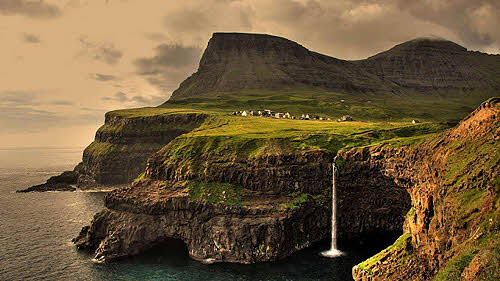 Dingle Peninsula, County Kerry
Third Level Students
Some third-level students opt for host family accommodation. This can be a good option for those leaving home for the first time as it helps to integrate them into the local community and the Irish way of life. Students are normally provided with their own room and with morning and evening meals.
Education
The levels of education in Ireland are primary, secondary and higher (often known as "third-level") education. In recent years further education has grown immensely. Growth in the economy since the 1960s has driven much of the change in the education system. In the English-speaking regions of Ireland (most of the state).
English is the primary medium of instruction at all levels. Universities also offer degree programmes in diverse disciplines, taught mostly through English, with a few in Irish. Some universities also offer some courses partly through other languages such as French, German or Spanish. Ireland has nine universities, seven in the Republic of Ireland and two in Northern Ireland, as well as numerous third-level colleges and institutes. Ireland is an increasingly popular destination for students from all over the world.
The friendliness and hospitality for which Irish people are renowned, contribute to the ease with which overseas students adapt to the way of life and in particular, student life. The educated workforce produced in Ireland by the education system has been a key factor in attracting international investment to the country and in the growth of the modern technological industries which have helped make Ireland one of the fastest growing economies in the world.
The international dimension of education is important in Ireland, which has one of the most trade dependent economies in the world. The Irish Government has invested in the internationalisation of our education system, both to promote the international activities and linkages of our colleges and to encourage students from overseas countries to study in Ireland. Higher education in Ireland is judged by international standards and the employment market for graduates is a global one. Overseas students receive a quality education in a friendly environment.
They in turn enrich the educational experience of our own students and bring an international dimension to our campuses. Lifelong friendships and networks are formed between Irish and overseas students which later enhance the cultural and trade relationships between our countries. Higher Education in Ireland consists of the universities (with associated colleges of education), institutes of technology, and a number of private independent colleges.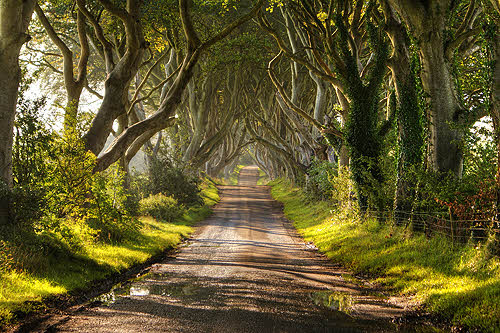 Dark hedges, County Antrim, Northern Ireland
INSTITUTION TYPES & CREDENTIALS
Types of higher education institutions:

University

College

Institute of Technology

School

School leaving and higher education credentials:
Leaving Certificate (Ardteistmeireacht)

Leaving Certificate Applied Programme

Leaving Certificate Vocational Programme

National Certificate

National Diploma

Diploma

Bachelor's Degree

Bachelor's Degree (Honours)

Graduate Diploma

Master's Degree

Master's Degree (Honours)

Doctor's Degree
STRUCTURE OF EDUCATION SYSTEM
Pre-higher education:
Duration of compulsory education:
Age of entry: 4
Age of exit: 16

Structure of school system:

Primary
Type of school providing this education: Primary School
Length of program in years: 8
Age level from: 4 to: 12
Junior Secondary
Type of school providing this education: Junior Secondary School
Length of program in years: 3
Age level from: 12 to: 15
Certificate/diploma awarded: Junior Certificate (Teastas Sóisearach)
Senior Secondary
Type of school providing this education: Senior Secondary School
Length of program in years: 2
Age level from: 15 to: 17
Certificate/diploma awarded: Leaving Certificate Vocational Programme (LCVP)
Senior Secondary
Type of school providing this education: Senior Secondary School
Length of program in years: 2
Age level from: 15 to: 17
Certificate/diploma awarded: Leaving Certificate (Ardteistiméireacht)
Vocational
Type of school providing this education: Vocational Secondary School
Length of program in years: 2
Age level from: 16 to: 18
Certificate/diploma awarded: Leaving Certificate Applied
School education:
Children do not have to attend school until the age of six but it is usual for children to begin school the September following their fourth birthday. Four-year-olds and five-year-olds are enrolled in the junior or senior infant classes. Primary education lasts for eight years. Secondary school lasts for five to six years. It is divided into a three- to four-year junior secondary cycle, followed by a two-year senior secondary school cycle leading to the award of the Leaving Certificate. Vocational secondary schools offer two-year courses leading to the Leaving Certificate Vocational Programme and the Leaving Certificate Applied. Primary schools in Ireland are analogous to elementary schools in the United States. They are intended to give students a firm educational foundation that will prepare them for more advanced study during their secondary education. Students end their primary education at about the age of twelve.
The curriculum for primary education covers the following key areas:
Language, mathematics, social, environment and scientific education, arts education including visual arts music and drama, physical integration, social personal and health education.
Primary schools are generally privately owned by religious communities (or boards of governors) but are State-funded.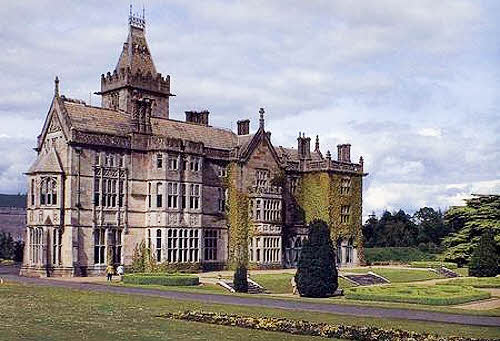 Adare Manor County Limerick Ireland
Second-level education
Second-level education is provided by different types of post-primary schools. That is, secondary, vocational, community and comprehensive schools. Secondary schools are privately owned and managed. In most cases the trustees are religious communities or boards of governors. Vocational schools are established by the State and administered by vocational education committees. Community and comprehensive schools are managed by boards of management of differing compositions.
Second-level education consists of a three-year junior cycle followed by a two-year or three-year senior cycle depending on whether an optional Transition Year is taken following the Junior Certificate examination. Students generally commence the junior cycle at the age of 12. The Junior Certificate is taken after three years.
Transition Year follows the Junior Certificate examination. This year is free from formal examinations and allows students to experience a wide range of educational inputs, including work experience. During their final two years in the senior cycle, students take one of three programmes, each leading to a State examination – the established Leaving Certificate, the Leaving Certificate Vocational Programme or the Leaving Certificate Applied.
The established Leaving Certificate is the main basis upon which places in universities, institutes of technology and colleges of education are allocated. The Leaving Certificate Vocational Programme differs from the established Leaving Certificate in placing a concentration on technical subjects and including additional modules which have a vocational focus.
The Leaving Certificate Applied Programme has as its primary objective the preparation of participants for adult and working life through relevant learning experiences. These aims to develop the following areas of human endeavour: spiritual, intellectual, social, emotional, aesthetic and physical. The Leaving Certificate Applied is not recognised for direct entry to third-level courses but it can enable students to take Post-Leaving Certificate courses.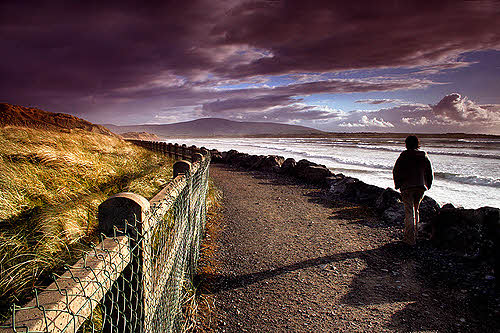 Sligo, Ireland
Third-level education/ Higher education:
Third-level education is made up of a number of sectors. The university sector, the technological sector and the colleges of education are substantially funded by the State. In addition there are a number of independent private colleges.
Approximately half of all Irish students go into third-level schools (or colleges) by the age of 18. There are four main types of colleges in Ireland: universities, technical colleges, teacher training colleges, and privately-owned colleges.
There are seven universities in Ireland, which are autonomous and self-governing. They offer degree programmes at bachelor, masters and doctorate level. University College Cork; University College Dublin; National University of Ireland, Galway; National University of Ireland, Maynooth; Trinity College, Dublin; University of Limerick; and Dublin City University. Approximately 59 percent of third-level students are enrolled in one of these seven universities.
There are also eleven technical colleges, in addition to the Dublin Institute of Technology, the hub of Ireland's technical colleges. Roughly 39 percent of third-level students are enrolled in these colleges. The remaining two percent of third-level students are either enrolled in one of the five colleges of education for primary teachers or in one of the privately owned third-level schools. The technological sector includes institutes of technology which provide programmes of education and training in areas such as business, science, engineering, linguistics and music to certificate, diploma and degree levels.
The Department of Education and Skills has overall responsibility for the sector. The colleges of education specialise in training for first-level teachers. They offer a three-year bachelor of education degree and a postgraduate diploma. The training of second-level teachers usually involves completing a primary degree in university or other third-level institution followed by a one-year higher diploma in education. In addition, there are colleges of education that specialise in the training of second-level home economics teachers, teachers of religion and physical education.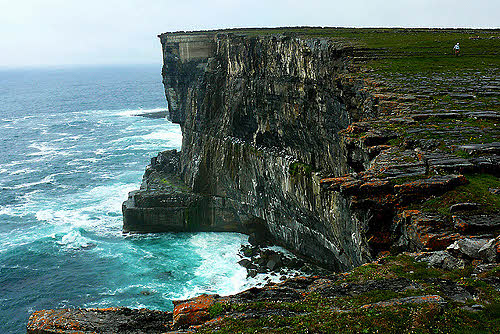 Aran Islands
Further and adult education
Further education comprises education and training which takes place after second-level schooling but which is not part of the third-level system. It includes programmes such as Post-Leaving Certificate courses; the Vocational Training Opportunities Scheme (second-chance education for the unemployed); programmes in Youth reach for early school-leavers; other literacy and basic education; and self-funded evening adult programmes in second-level schools.
Special needs education for students with disabilities
Educational provision for students with special educational needs ranges from additional support in mainstream schools to specialist support in special schools. A student with a disability may be enrolled in a:
Mainstream class with additional support

Special class in a mainstream school or

Special school which caters for the students with his or her category of disability.
Academic year:
Classes from: Oct to: Jun
Languages of instruction: English, Irish
Stages of studies:
Non-university level post-secondary studies (technical/vocational type):
Non-university level:
Higher technical and vocational education is offered by Institutes of Technology (formerly Regional Technical Colleges) and specialized colleges. They offer two-year Certificate, three-year Diploma and four-year Degree programmes in the applied fields of Engineering, Science and Business Studies, as well as some postgraduate courses.
University level studies:
University level first stage: Bachelor's Degree:
The main stage of higher education leads to a Bachelor's Degree, which may, in certain cases, also be a professional qualification (Professional Degree). The length of study generally varies between three and four years. The Bachelor's Degree may be awarded as a General Degree, an Honours Degree and a BA (Special) Degree. In Veterinary Medicine, Architecture and Dentistry studies last for five years. Medicine takes six years.
University level second stage: Master's Degree:
The second stage of higher education consists of more advanced (graduate) studies and leads to the Master's Degree. These studies last for a minimum of one year after the award of the Bachelor's Degree. Candidates who attend a course of study and/or present a thesis based on research are awarded a Master's Degree.
University level third stage: Doctorate:
A further two years' study after the Master's Degree is normally required for the PhD Degree.
University level fourth stage: Higher Doctorate:
A Higher Doctorate may be awarded, after a minimum of five years (usually longer), following the award of the first Doctorate, for original work already published.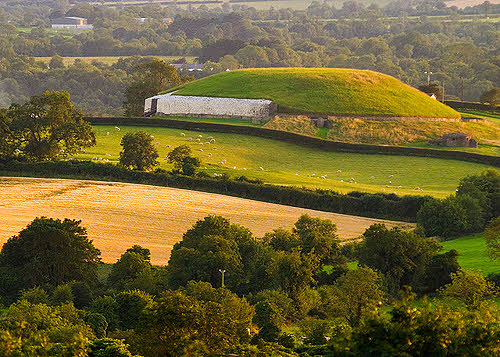 Brú-na-Boinne

Teacher education:
Training of pre-primary and primary/basic school teachers
Primary school teachers are trained at five colleges of education where they follow a three-year course leading to the Bachelor of Education (B.Ed.). Each college of education works in partnership with a university which awards the degree.
Training of secondary school teachers
Secondary school teachers take a one-year university course culminating in the Higher Diploma in Education. Training for teachers of specialized subjects is available at the University of Limerick where candidates follow a four-year degree programme. Teachers of Home Economics take a four-year Bachelor of Education (Home Economics) and art teachers take a degree or diploma course at a recognized college followed by a one-year Post-Diploma/Degree course.
Non-traditional studies:
Distance higher education
Oscail -The National Distance Education Centre – is located on the campus of Dublin City University and offers a range of undergraduate, postgraduate and continuing professional education programmes.
Lifelong higher education
Short and sandwich courses are provided in the Institutes of Technology and the colleges of technology for people at the "apprentice" stage in certain careers (for instance, medical laboratory technicians and trainees in technological employment).
Why study in Ireland?
Irish education is of the highest international quality

It prepares people for success

It has close links to industry and is characterised by creativity, flexibility, agility, pragmatism and informality

Education was a key factor in making Ireland one of the fastest growing economies in the world over the past decade

Irish Institutions are fully recognised internationally and lecturers are experts and practitioners in their respective fields.

Investment in research and "4th level" education is a key plank in developing Ireland as a knowledge society  in the new global economy
Above all, Ireland has one of the best education systems in the world according to the independent IMD World Competitiveness Yearbook 2009.
Programmes of Study Offered At Ireland Institutions:
Business

Computing

Accountancy

Engineering

Software Development

Physiology and Health science

Human Resource Management

MBA

Law

Media

Hospitality

Industrial Design

Office Management

Photography

Music

Fashion Design

Interior Design

Early Childhood Education and Care

Social and Community Studies
Business
Bachelor of Arts (Honours) in Accounting

Bachelor of Business (Honours) Business with Law

Bachelor of Business (Honours) in Human Resources Management

Bachelor of Business (Honours) in International Business

Bachelor of Business (Honours) in Business Management

Bachelor of Business (Honours) in Supply Chain Management

Bachelor of Business

Higher Certificate in Accounting

Higher Certificate in Business

Higher Certificate in Business with Law

Higher Certificate in Business in Office Management

Extended Diploma in Strategic Management and Leadership

Master of Business (MB)

MBA in International Business Management

MSc in Accounting and Finance Management

MSc in Global Brand Management

MSc in International Tourism and Hospitality Management

MSc in International Media Management

Professional Certificate in International Business Management

Humanities
Bachelor of Arts (Honours) in Applied Social Studies – Professional Social Care

Bachelor of Arts (Honours) in Early Childhood Education & Care

Bachelor of Arts (Honours) in Law

Bachelor of Arts (Honours) in Product Design Innovation

Bachelor of Arts (Honours) in Social and Community Studies

Bachelor of Arts in Applied Social Studies – Social Care

Bachelor of Arts in Industrial Design

Higher Certificate in Legal Studies

Bachelor of Arts (Honours) Youth and Community Work

Sports, Media and Marketing
Bachelor of Arts in Sport & Exercise (GAA)

Bachelor of Arts (Honours) in Sports Management & Coaching

Bachelor of Arts in Sport & Exercise (Rugby)

Bachelor of Arts in Sport & Exercise (Soccer)

Bachelor of Arts (Honours) in Media & Public Relations

Bachelor of Business (Honours) in Marketing
Computing and Networking
Types of Computing Courses:

Cloud Computing

Networking

Software Development

Web Development

Mobile Application

Bachelor of Science (Honours) in Computer Games Development

Bachelor of Science (Honours) in Computing Systems Management

Bachelor of Science (Honours) in Software Development

Bachelor of Science in Computer Systems Management

Bachelor of Science in Software Development

Higher Certificate in Science in Computing

Higher Diploma in Science in Computing

Master of Science in Information Technology Management

Science and Health
Bachelor of Science (Honours) in Biosciences with Bio forensics or Biopharmaceuticals

Bachelor of Science (Honours) in Environmental Science

Bachelor of Science (Honours) in Sports Rehabilitation & Athletic Therapy

Bachelor of Science (Honours) Sport Science

Bachelor of Science in Analytical & Forensic Science

Bachelor of Science in Biosciences

Higher Certificate in Science – Applied Biology or Applied Chemistry

Higher Certificate in Science – Pharmacy Technician Studies

Higher Certificate in Science – Physiology & Health Science

Bachelor of Science (Honours) Strength and Conditioning
Built Environment
Bachelor of Engineering (Honours) in Civil Engineering

Bachelor of Engineering in Civil Engineering

Bachelor of Science (Honours) in Architectural Technology

Bachelor of Science (Honours) in Construction – Facilities & Energy Management

Bachelor of Science (Honours) in Construction – Quantity Surveying

Bachelor of Science in Construction – Buildings and Services Management

Bachelor of Science in Construction in Architectural Technology

Apprenticeship Courses

Higher Certificate in Engineering – Civil Engineering

Higher Certificate in Science – Construction

Bachelor of Engineering (Honours) Civil Engineering
Electronic, Mechanical and Aerospace Engineering
Bachelor of Science (Honours) in Pilot Studies

Bachelor of Engineering (Honours) Aerospace Engineering

Bachelor of Engineering (Honours) in Electronic Systems

Bachelor of Engineering (Honours) in Mechanical Engineering

Bachelor of Engineering in Aircraft Systems

Bachelor of Engineering in Electronic Engineering

Bachelor of Engineering in Mechanical Engineering
Bachelor of Science in TV and Media Production


Accountancy
ACCA 

CPA

CIMA

Accounting Technicians Ireland 

Multimedia
BA in Music Production 

MSc in Applied Digital Media 

Diploma in Media Techniques (TV & Video)

Diploma in Sound and Music Technology 

BA in Journalism & Visual Media 

Certificate in Music Production for Games

English Language
General English    

Business English

Conversational English 

IELTS Preparation 
Short Courses
Business courses include Management Courses, Marketing Courses, Public Relations, Sales, Online Marketing and Digital Strategy, Human Resource Management, Office Skills and many others.

Professional Development courses include Digital and Social Media Marketing Workshops, Effective Public Speaking, and Project Management.

Psychology courses include Positive Psychology at Work, Counselling courses and Counselling / Psychotherapy courses.

Computer courses range from training for beginners in Microsoft Office end-user applications to Professional Technical Training Courses such as Microsoft and Cisco, Design Courses, Web Design, AutoCAD and Desktop Publishing.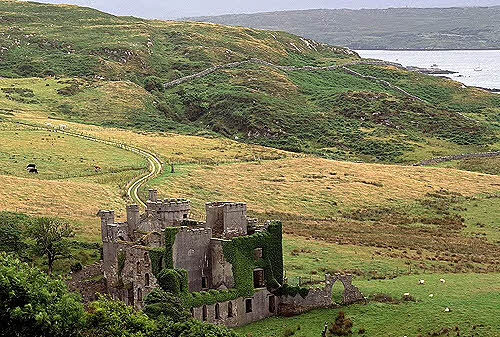 Clifden Castle, County Galway, Ireland
Ireland – where education and learning count
From the mediaeval monastic centres, to the "hedge schools" of the 17th – 19th centuries, to the schools and colleges of today

From the Irish scholar monks in Europe in the middle ages, to the missionary teachers of the 19th and 20th century in Asia, Africa and the America, to the international scholars and researchers of today..

From the 8th century Book of Kells to Joyce, Beckett, Shaw…

From the traditional, cultural and literary learning to leading-edge, 21st science and technology
Ireland – where education and industry meet
Irish education is of the highest international quality.

It prepares people for success

It has close links to industry and is characterised by creativity, flexibility, agility, pragmatism and informality.

Education was a key factor in making Ireland one of the fastest growing economies in the world over the past decade.

Investment in research and "4th level" education is a key plank in developing Ireland as a knowledge society in the new global economy.
A friendly, safe country
And it is not just us saying it! Ireland was voted by Lonely Planet as the world's friendliest country in 2008 and 2010 and was ranked 12th in the 2009 Global Peace Index. International students enrich campus communities countrywide and their hospitable nature coupled with an unrivalled sense of fun ensures living in Ireland is an unforgettable experience. The island's varied environment is ideal for many outdoor pursuits such as climbing, water sports and all kinds of ball and team sports. It's easy to explore Europe from an Irish base with low-cost, frequent flights making trips affordable.
English-speaking country
Ireland is an English-speaking country with close cultural, economic and educational links with the English-speaking world, especially with the UK and the USA. With 36% of the population under the age of 25, Ireland is one of the most exciting places in the English-speaking world to be a student.
Internationally recognised qualifications and extensive choice
Irish higher education institutions and qualifications are recognised worldwide for excellence, delivering world-class innovative learning in many disciplines. Students can choose from an extensive range of courses to meet their needs in highly respected business schools, centres of scientific and technology excellence as well as renowned language, humanities and arts faculties.

Supportive learning environments
Dedicated international offices work closely with administrative, academic and specialist staff to fully support students throughout their time in Ireland. Through these specialist support structures, students receive direct access to information, facilities, services and staff.
Innovative and creative culture
Ireland is a land rich in cultural heritage with a history of world-leading innovation. From the flamboyance of Oscar Wilde to mould-breaking James Joyce from the pioneering quantum physics of John Bell to Nobel Laureate Ernest Walton, Ireland's unique innovative and creative culture is an integral part of the Irish experience.
Distinguished graduates
Ireland's graduates are innovators in their fields, leaders in their communities and ambassadors for excellence all around the world. Qualifications earned and connections made in Ireland deliver a passport to success.
Leading global companies in Ireland
Companies who require a skilled, educated and highly capable workforce to drive their success choose to locate in Ireland. Recently, Ireland welcomed Google, Facebook, Pfizer, Apple, Intel to name just a few  – all of whom chose Ireland as their European base. Take the first step to join the growing number of international students choosing Ireland to fulfil their potential.
Whether you are considering spending a summer, a semester or a full academic year studying at an Irish university you are sure to encounter a unique and enriching educational and cultural experience. Irish universities offer a wide selection of Study Abroad Programmes allowing credit transfer arrangements with overseas universities and colleges.
A friendly and hospitable country, Ireland has a very special welcome for visitors from North America with whom it has a tradition of strong links.  Every year the Irish experience is spoken of with enthusiasm by a growing number of North American and other overseas students.  Some come because of their Irish descent and their interest in learning more about the history and culture of their forbears.  Others come for an introduction to European politics, economics and society and to bring a European dimension to their studies.  All comment on the ease with which they settle into student life in Ireland, the friendliness of the people, the physical beauty of the country, the vibrant social and cultural life and the opportunity studying in Ireland offers for both academic and personal growth.
The quality and excellence of education
Irish Institutions provide quality education in a caring and friendly environment. Due to its outstanding modern facilities students in Ireland experience effective and enjoyable learning methods which highly contribute to their success. Colleges' staff is experienced and qualified, including lecturers holding MBA, PhD and other relevant qualifications in their fields from British Universities and other internationally recognized institutions. Bringing their experience to classes, lecturers and teachers implement a practical approach into theoretical bases. As a result of this, our students undergo a learning process, which from the outset prepares them for employment.
Meeting the needs of students and the industry
Any Further and Higher Education Institution plays an inevitable part in achieving an eventual goal for its students: good employment opportunities as well as a better quality of life. It is evident that employers are looking for a workforce which does not simply rely on academic mastery, but also possesses the required practical skills. The courses offered by the college are meant to address the exact needs of employment. All courses are 'real life based', i.e. students apply their academic learning to real life situations. Business students, for example, are asked to develop business plans or even create full company accounts. Having this kind of experience, the graduates find it much easier to obtain work placements and commence successful careers in some of the world's leading brand name firms.
Irish Institutions' mission is "the provision of a first class learning experience that will equip the student with the skills, ability and knowledge to successfully compete in their chosen discipline." This statement clearly shows that it is of prime importance to the Colleges to provide high quality learning at an internationally recognised level.
The Irish Institutions' procedures for assuring quality in teaching and learning are reflected through the following:
Adhering to the mission statement

Maintaining an effective Quality Assurance System that complies with national and international best practice

Achieving and maintaining a level of quality which enhances the College's reputation with students, staff and validating bodies

Enabling departments to develop and monitor their own quality assurance procedures in compliance with requirements set by the course awarding bodies

Empowering all staff to contribute to the quality of their work through lifelong learning and continuous staff development initiatives.

Ensuring compliance with relevant statutory and safety regulations

endeavouring, at all times, to maximize student, staff and all validating bodies satisfaction with the learning environment created by Irish Institutions
Working in Ireland
Employed in Ireland, looking for a job, starting a business?
For many people a move to Ireland is triggered by a change in employment – a new job, or a posting within a company. Many of the employment-related matters may be handled by the employer, but it still helps to understand the system.
Regardless of the reason for the move, whether it be for family reasons, for study or a lifestyle choice, it's useful to understand what's involved in looking for work, types of job contract – and, for those with an entrepreneurial streak – how to set up a business of your own, whether as a small, family concern or a much grander project.
Job Seeking in Ireland
There are many resources in Ireland which can help with job seeking. A good command of English for both professional jobs and many unskilled jobs is needed. English and Irish are Ireland's official languages, but the majority of jobs require English.
Starting a Business
The idea of becoming self-employed or starting a business in Ireland is appealing, and often considered by those planning to live there. Irish people aren't traditionally entrepreneurial and there isn't an ingrained enterprise culture. Most people work nine to five for a large company – going-it-alone, which often involves working up to 18 hours a day, isn't seen as an attractive proposition. Nevertheless, since the mid-'90s, a more entrepreneurial attitude has spread throughout the country and a wide range of small businesses have been started, Ireland now being ranked second in the EU and seventh among OECD countries for entrepreneurial activity.
It's estimated that there are over 200,000 small and medium-size businesses (called SMEs) in Ireland and that the number is increasing by 10 per cent a year. Some 7.7 per cent of the adult population (almost 200,000 people) are currently planning to establish or are in the process of establishing a business.
Of course, starting a business and making a success of it are two quite different things, and the new business failure rate is as high in Ireland as in any other country. Generally speaking, it isn't wise to start or buy a business in which you don't have previous experience. Setting up a restaurant or a B&B may seem like a good idea at the time, particularly if your only experience of Ireland is a holiday, but it's rarely as simple as it appears. That said, there's still room in Ireland's booming economy for specialist service businesses and many of them do very well.
As a self-employed person you don't have the protection of a limited company should your business fail, although there are certain tax advantages. Always obtain professional advice before deciding whether to operate as a sole trader or form a company in Ireland, as it has far-reaching social security, tax and other consequences. All self-employed people must register for income tax and Pay-related Social Insurance (PRSI). There's considerable (though fragmented) state support for enterprise in Ireland.