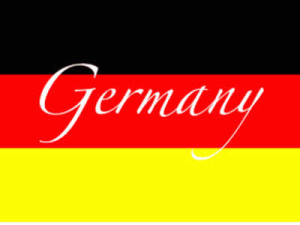 Germany, officially the Federal Republic of Germany is a federal parliamentary republic in western-central Europe. The country consists of 16 states and its capital and largest city is Berlin. Germany covers an area of 357,021 square kilometers and has a largely temperate seasonal climate. With 80.3 million inhabitants, it is the most populous member state in the European Union. Germany is the major economic and political power of the European continent and a historic leader in many theoretical and technical fields. Various Germanic tribes occupied what is now northern Germany and southern Scandinavia since classical antiquity. A region named Germania was documented by the Romans before AD 100. During the Migration Period that coincided with the decline of the Roman Empire, the Germanic tribes expanded southward and established successor kingdoms throughout much of Europe. Beginning in the 10th century, German territories formed a central part of the Holy Roman Empire. During the 16th century, northern German regions became the centre of the Protestant Reformation. Occupied during the Napoleonic Wars, the rise of Pan-Germanism inside the German Confederation resulted in the unification of most of the German states in 1871 into the German Empire, which was dominated by Prussia.
Germany has the world's fourth-largest economy by nominal GDP and the fifth-largest by purchasing power parity. As a global leader in several industrial and technological sectors, it is the second-largest exporter and third-largest importer of goods. It is a developed country with a very high standard of living, featuring comprehensive social security that includes the world's oldest universal health care system. Known for its rich cultural and political history, Germany has been the home of many influential philosophers, music composers, scientists, and inventors. Germany was a founding member of the European Community in 1957, which became the EU in 1993. It is part of the Schengen Area, and has been a member of the euro zone since 1999. Germany is a great power in regional and global affairs, and is a member of the United Nations, NATO, the G8, the G20, the OECD and the Council of Europe.
Federal Republic of Germany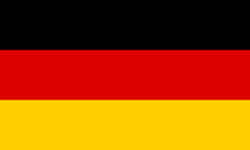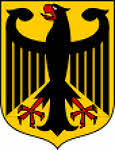 Flag                                             Coat of arms
Motto:
"Unity and Justice and Freedom"
Geography
Germany is in Western and Central Europe, with Denmark bordering to the north, Poland and the Czech Republic to the east, Austria and Switzerland to the south, France and Luxembourg to the southwest, and Belgium and the Netherlands to the northwest. It lies mostly between latitudes 47° and 55° N (the tip of Sylt is just north of 55°), and longitudes 5° and 16° E. The territory covers 357,021 km2 (137,847 sq mi), consisting of 349,223 km2 (134,836 sq mi) of land and 7,798 km2 (3,011 sq mi) of water. It is the seventh largest country by area in Europe and the 62nd largest in the world.
Elevation ranges from the mountains of the Alps (highest point: the Zugspitze at 2,962 meters or 9,718 feet) in the south to the shores of the North Sea (Nordsee) in the northwest and the Baltic Sea (Ostsee) in the northeast. The forested uplands of central Germany and the lowlands of northern Germany (lowest point: Wilstermarsch at 3.54 meters or 11.6 feet below sea level) are traversed by such major rivers as the Rhine, Danube and Elbe. Glaciers are found in the Alpine region, but are experiencing deglaciation. Significant natural resources are iron ore, coal, potash, timber, lignite, uranium, copper, natural gas, salt, nickel, arable land and water.
Climate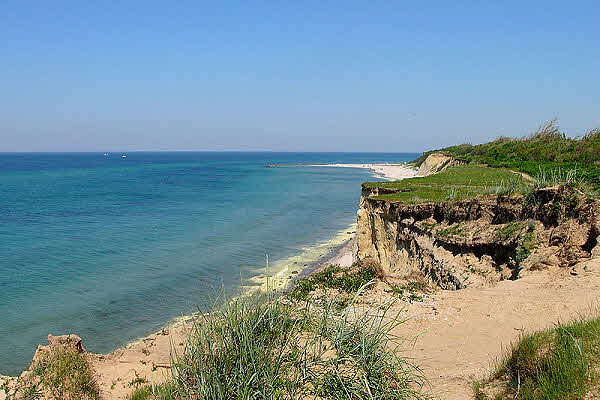 Typical coastal landscape in Northern Germany: Steep coast at Darss West Beach (Western Pomerania)
Most of Germany has a temperate seasonal climate in which humid westerly winds predominate. The country is situated in between the oceanic Western European and the continental Eastern European climate. The climate is moderated by the North Atlantic Drift, the northern extension of the Gulf Stream. This warmer water affects the areas bordering the North Sea; consequently in the northwest and the north the climate is oceanic. Germany gets an average of 789 mm (31 in) precipitation per year. Rainfall occurs year-round, with no obligatory dry season. Winters are mild and summers tend to be warm, temperatures can exceed 30 °C (86 °F). The east has a more continental climate; winters can be very cold and summers very warm, and longer dry periods can occur. Central and southern Germany are transition regions that vary from moderately oceanic to continental. In addition to the maritime and continental climates that predominate over most of the country, the Alpine regions in the extreme south and, to a lesser degree, some areas of the Central German Uplands have a mountain climate, characterized by lower temperatures and greater precipitation.
Economy
Germany has a social market economy with a highly skilled labour force, a large capital stock, a low level of corruption, and a high level of innovation. It has the largest and most powerful national economy in Europe, the fourth largest by nominal GDP in the world, the fifth largest by PPP, and was the biggest net contributor to the EU budget in 2011. The service sector contributes approximately 71% of the total GDP, industry 28%, and agriculture 1%. The official average national unemployment rate in June 2013 was 6.6%. However, the official average national unemployment rate also includes people with a part-time job that are looking for a full-time job. The unofficial average national unemployment rate in 2011 was 5.7%. Germany is an advocate of closer European economic and political integration. Its commercial policies are increasingly determined by agreements among European Union (EU) members and by EU legislation. Germany introduced the common European currency, the euro, on 1 January 2002. Its monetary policy is set by the European Central Bank, which is headquartered in Frankfurt. Two decades after German reunification, standards of living and per capita incomes remain significantly higher in the states of the former West Germany than in the former East. The modernization and integration of the eastern German economy is a long-term process scheduled to last until the year 2019, with annual transfers from west to east amounting to roughly $80 billion. In January 2009 the German government approved a €50 billion economic stimulus plan to protect several sectors from a downturn and a subsequent rise in unemployment rates. Of the world's 500 largest stock-market-listed companies measured by revenue in 2010, the Fortune Global 500, 37 are headquartered in Germany. 30 Germany-based companies are included in the DAX, the German stock market index. Well-known global brands are Mercedes-Benz, BMW, SAP, Siemens, Volkswagen, Adidas, Audi, Allianz, Porsche, Bayer, Bosch, and Nivea. Germany is recognized for its specialized small and medium enterprises. Around 1,000 of these companies are global market leaders in their segment and are labelled hidden champions.
Infrastructure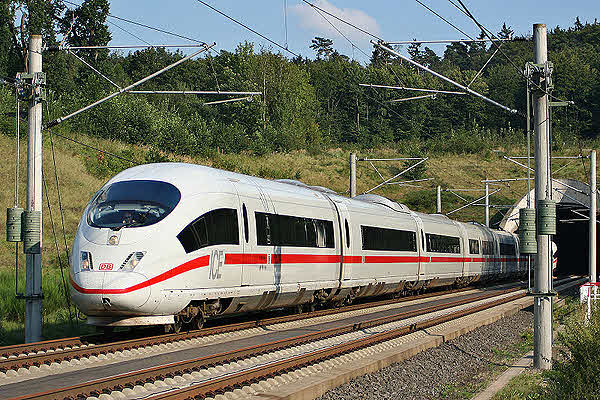 The ICE 3 on the Cologne–Frankfurt high-speed rail line
With its central position in Europe, Germany is a transport hub. This is reflected in its dense and modern transport networks. The motorway (Autobahn) network ranks as the third-largest worldwide in length and is known for its lack of a general speed limit. Germany has established a polycentric network of high-speed trains. The Intercity Express or ICE network of the Deutsche Bahn serves major German cities as well as destinations in neighboring countries with speeds up to 300 kph (186 mph). The largest German airports are Frankfurt Airport and Munich Airport, both hubs of Lufthansa, while Air Berlin has hubs at Berlin Tegel and Düsseldorf. Other major airports include Berlin Schönefeld, Hamburg, Cologne/Bonn and Leipzig/Halle. Both airports in Berlin will be consolidated at a site adjacent to Berlin Schönefeld, which will become Berlin Brandenburg Airport.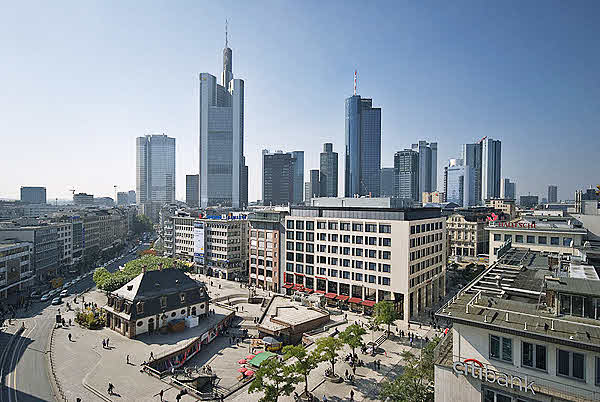 Frankfurt is the financial center of Germany and Continental Europe 
In 2008[update], Germany was the world's sixth-largest consumer of energy, and 60% of its primary energy was imported. Government policy promotes energy conservation and renewable energy commercialization. Energy efficiency has been improving since the early 1970s; the government aims to meet the country's electricity demands using 40% renewable sources by 2020 and 100% by 2050. In 2010, energy sources were: oil (33.7%); coal, including lignite (22.9%); natural gas (21.8%); nuclear (10.8%); hydro-electric and wind power (1.5%); and other renewable sources (7.9%). In 2000, the government and the nuclear power industry agreed to phase out all nuclear power plants by 2021. Germany is committed to the Kyoto protocol and several other treaties promoting biodiversity, low emission standards, recycling, and the use of renewable energy, and supports sustainable development at a global level. The German government has initiated wide-ranging emission reduction activities and the country's overall emissions are falling. Nevertheless the country's greenhouse gas emissions were the highest in the EU in 2010[update].
Religion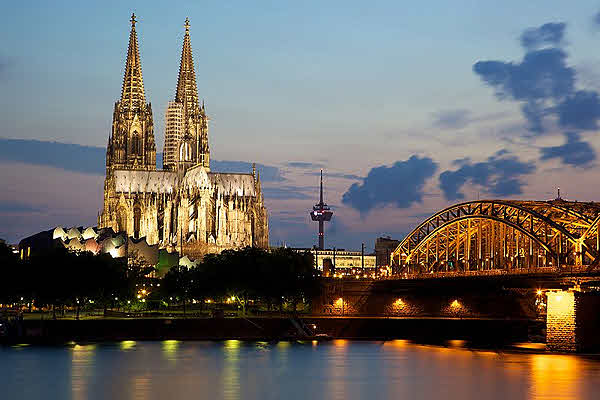 The catholic Cologne Cathedral at the Rhine River is a UNESCO World Heritage Site. It is Germany's most visited landmark
Christianity is the largest religion in Germany, with around 51.5 million adherents (62.8%) in 2008. Relative to the whole population, 30.0% of Germans are Catholics, 29.9% are Protestants belonging to the Evangelical Church in Germany (EKD), and the remaining Christians belong to smaller denominations each with less than 0.5% of the German population. Protestantism is concentrated in the north and east and Roman Catholicism is concentrated in the south and west; 1.6% of the country's overall population declare themselves Orthodox Christians.
The second largest religion is Islam with an estimated 3.8 to 4.3 million adherents (4.6% to 5.2%), followed by Buddhism with 250,000 and Judaism with around 200,000 adherents (0.3%); Hinduism has some 90,000 adherents (0.1%). All other religious communities in Germany have fewer than 50,000 adherents. Of the roughly 4 million Muslims, most are Sunnis and Alevites from Turkey, but there are a small number of Shiites and other denominations. German Muslims, a large portion of who are of Turkish origin, lack full official state recognition of their religious community. Germany has Europe's third largest Jewish population (after France and the United Kingdom). Approximately 50% of the Buddhists in Germany are Asian immigrants.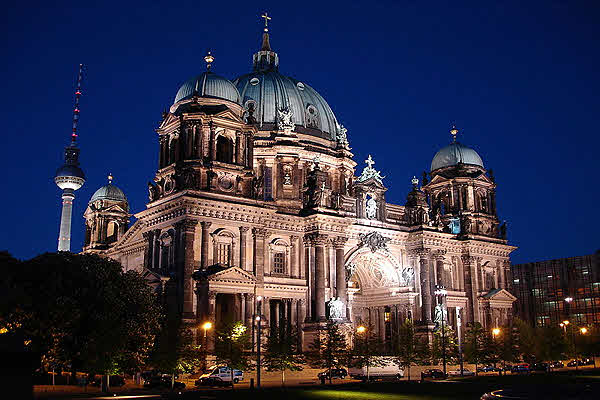 Berliner Dom, one of the main evangelical cathedrals in Germany
Germans with no stated religious adherence make up 34.1% of the population and are concentrated in the former East Germany and major metropolitan areas. German reunification in 1990 greatly increased the country's non-religious population, a legacy of the state atheism of the previously Soviet-controlled East. Christian church membership has decreased in recent decades, particularly among Protestants.
Languages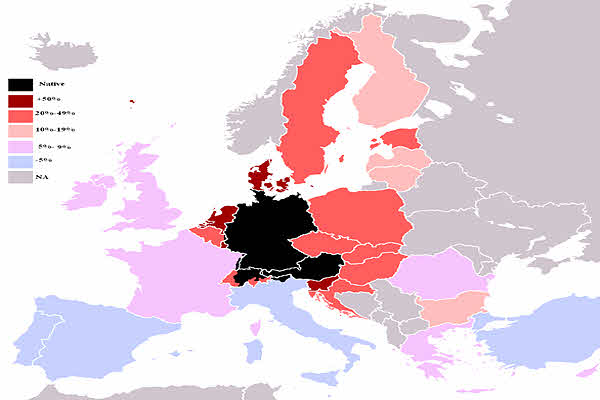 The German language is the most widely-spoken first language in the European Union, with around 100 million native speakers. German is the official and predominant spoken language in Germany. It is one of 23 official languages in the European Union, and one of the three working languages of the European Commission. Recognized native minority languages in Germany are Danish, Low German, Sorbian, Romany, and Frisian; they are officially protected by the European Charter for Regional or Minority Languages. The most used immigrant languages are Turkish, Kurdish, Polish, the Balkan languages, and Russian. 67% of German citizens claim to be able to communicate in at least one foreign language and 27% in at least two languages other than their own.
Standard German is a West Germanic language and is closely related to and classified alongside English, Low German, Dutch, and the Frisian languages. To a lesser extent, it is also related to the East (extinct) and North Germanic languages. Most German vocabulary is derived from the Germanic branch of the Indo-European language family. Significant minorities of words are derived from Latin and Greek, with a smaller amount from French and most recently English (known as Denglisch). German is written using the Latin alphabet. German dialects, traditional local varieties traced back to the Germanic tribes, are distinguished from varieties of standard German by their lexicon, phonology, and syntax.
Health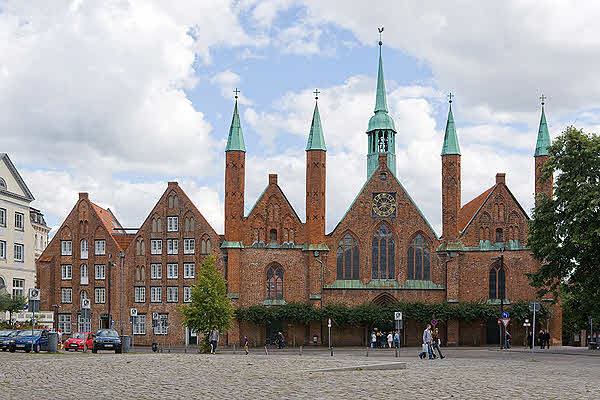 Hospice of the Holy Spirit in Lübeck – one of the world's oldest social institutions and a precursor to modern hospitals
Germany has the world's oldest universal health care system, dating back to Bismarck's social legislation in 1883. Currently the population is covered by a fairly comprehensive health insurance plan provided by statute. Certain groups of people (lifetime officials, self-employed persons, employees with high income) can opt out of the plan and switch to a private insurance contract. Previously, these groups could also choose to do without insurance, but this option was dropped in 2009. According to the World Health Organization, Germany's health care system was 77% government-funded and 23% privately funded as of 2005[update]. In 2005, Germany spent 11% of its GDP on health care. Germany ranked 20th in the world in life expectancy with 77 years for men and 82 years for women, and it had a very low infant mortality rate (4 per 1,000 live births).
Culture
From its roots, culture in German states has been shaped by major intellectual and popular currents in Europe, both religious and secular. Historically Germany has been called Das Land der Dichter und Denker ("the land of poets and thinkers"), because of the major role its famous writers and philosophers have played in the development of Western thought and culture. The federated states are in charge of the cultural institutions. There are 240 subsidized theatres, hundreds of symphonic orchestras, thousands of museums and over 25,000 libraries spread in Germany. These cultural opportunities are enjoyed by many: there are over 91 million German museum visits every year; annually, 20 million go to theatres and operas; 3.6 million per year listen to the symphonic orchestras. As of 2012 the UNESCO inscribed 37 properties in Germany on the World Heritage List.
Germany has established a high level of gender equality, promotes disability rights, and is legally and socially tolerant towards homosexuals. Gays and lesbians can legally adopt their partner's biological children, and civil unions have been permitted since 2001. Germany has also changed its attitude towards immigrants; since the mid-1990s, the government and the majority of Germans have begun to acknowledge that controlled immigration should be allowed based on qualification standards. Germany has been named the world's second most valued nation among 50 countries in 2010. A global opinion poll for the BBC revealed that Germany is recognized for having the most positive influence in the world in 2011, and for being the most positively viewed nation in the world, in 2013.
Art
Numerous German painters have enjoyed international prestige through their work in diverse artistic styles. Albrecht Dürer, Hans Holbein the Younger, Matthias Grünewald and Lucas Cranach the Elder were important artists of the Renaissance, Peter Paul Rubens and Johann Baptist Zimmermann of Baroque, Caspar David Friedrich and Carl Spitzweg of Romanticism, Max Liebermann of Impressionism and Max Ernst of Surrealism.
Several German artist groups formed in the 20th century, such as the November Group or Die Brücke (The Bridge) and Der Blaue Reiter (The Blue Rider) in Expressionism. The New Objectivity arose as a counter-style to it during the Weimar Republic. After WWII, main movements of Neo-expressionism, performance art and Conceptual art evolved, with notable artists such as Joseph Beuys, Gerhard Richter, Jörg Immendorff, HA Schult, Aris Kalaizis, Neo Rauch (New Leipzig School) and Andreas Gursky (photography). Major art exhibitions and festivals in Germany are the documenta, transmediale and Art Cologne.
Architecture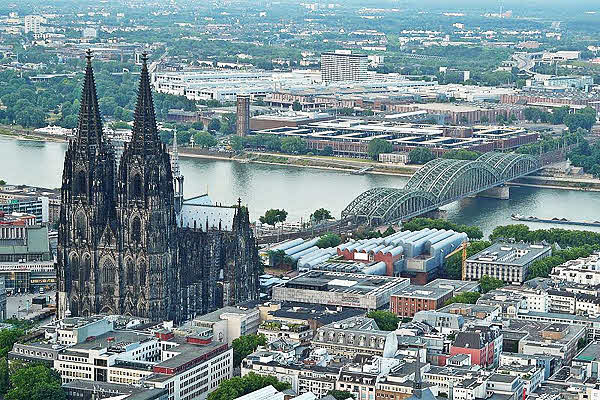 View over Cologne with its famous Cathedral 
Architectural contributions from Germany include the Carolingian and Ottonian styles, which were precursors of Romanesque. Brick Gothic in medieval times and Brick Expressionism in modern times are two distinctive styles that developed in Germany. Also in Renaissance and Baroque art, regional and typically German elements evolved (e.g. Weser Renaissance and Dresden Baroque). Germany is especially renowned for its timber frame old towns, with many well-kept examples to be found along the German Timber-Frame Road, leading from the very south of Germany to Northern Germany and its coasts.
When industrialization spread across Europe, Classicism and a distinctive style of historism developed in Germany, sometimes referred to as Gründerzeit style, due to the economical boom years at the end of the 19th century. Resort architecture and Spa architecture are sub-styles that evolved since the 18th century in Germany, with the first modern spas and Seaside resorts of Europe. Many architects formed this era, with Schinkel, Semper, von Gärtner, Schwechten and Lipsius among them. Jugendstil became a dominant architectural style at the turn of the 19th to the 20th century, with a strong influence of the Art Nouveau movement. The Art Deco movement did not gain much influence in Germany, instead the Expressionist architecture spread across the country, with e.g. Höger, Mendelsohn, Böhm and Schumacher being influential architects.
Germany was particularly important in the early modern movement – it is the home of the Bauhaus movement founded by Walter Gropius. And thus Germany is a cradle of modern architecture. Ludwig Mies van der Rohe became one of the world's most renowned architects in the second half of the 20th century. He conceived of the glass façade skyscraper. Renowned contemporary architects include Hans Kollhoff, Helmut Jahn, Behnisch, Albert Speer Junior, Frei Otto, Oswald Mathias Ungers, Gottfried Böhm, Stephan Braunfels and Anna Heringer.
Literature and philosophy
German literature can be traced back to the middle Ages and the works of writers such as Walther von der Vogelweide and Wolfram von Eschenbach. Well-known German authors include Johann Wolfgang von Goethe, Friedrich Schiller, Gotthold Ephraim Lessing and Theodor Fontane. The collections of folk tales published by the Brothers Grimm popularized German folklore on an international level. Influential authors of the 20th century include Gerhart Hauptmann, Thomas Mann, Hermann Hesse, Heinrich Böll and Günter Grass. German-speaking book publishers produce some 700 million books every year, with about 80,000 titles, nearly 60,000 of them new. Germany comes third in quantity of books published, after the English-speaking book market and the People's Republic of China. The Frankfurt Book Fair is the most important in the world for international deals and trading, with a tradition spanning over 500 years.
German philosophy is historically significant. Gottfried Leibniz's contributions to rationalism; the enlightenment philosophy by Immanuel Kant; the establishment of classical German idealism by Johann Gottlieb Fichte, Georg Wilhelm Friedrich Hegel and Friedrich Wilhelm Joseph Schelling; Arthur Schopenhauer's composition of metaphysical pessimism; the formulation of communist theory by Karl Marx and Friedrich Engels; Friedrich Nietzsche's development of perspectivism; Gottlob Frege's contributions to the dawn of analytic philosophy; Martin Heidegger's works on Being; and the development of the Frankfurt school by Max Horkheimer, Theodor Adorno, Herbert Marcuse and Jürgen Habermas have been particularly influential. In the 21st century, Germany has contributed to the development of contemporary analytic philosophy in continental Europe, along with France, Austria, Switzerland and the Scandinavian countries.
Cuisine
German cuisine varies from region to region. The southern regions of Bavaria and Swabia, for instance, share a culinary culture with Switzerland and Austria. In all regions, meat is often eaten in sausage form. Organic food has gained a market share of ca. 2%, and is expected to increase further. Although wine is becoming more popular in many parts of Germany, the national alcoholic drink is beer. German beer consumption per person is declining, but at 121.4 litres in 2009 it is still among the highest in the world. The Michelin guide has awarded nine restaurants in Germany three stars, the highest designation, while 15 more received two stars. German restaurants have become the world's second-most decorated after France.
Pork, beef, and poultry are the main varieties of meat consumed in Germany, with pork being the most popular. The average person in Germany will consume up to 61 kg (134 lb) of meat in a year. Among poultry, chicken is most common, although duck, goose, and turkey are also enjoyed. Game meats, especially boar, rabbit, and venison are also widely available all year round. Trout is the most common freshwater fish on the German menu; pike, carp, and European perch also are listed frequently. Vegetables are often used in stews or vegetable soups, but are also served as side dishes. Carrots, turnips, spinach, peas, beans, broccoli and many types of cabbage are very common. A wide variety of cakes and tarts are served throughout the country, most commonly made with fresh fruit. Apples, plums, strawberries, and cherries are used regularly in cakes. Cheesecake is also very popular, often made with quark. Schwarzwälder Kirschtorte (Black Forest cake, made with cherries) is probably the most well-known example of a wide variety of typically German tortes filled with whipped or butter cream.
Sports
Twenty-seven million Germans are members of a sports club and an additional twelve million pursue sports individually. Association football is the most popular sport. With more than 6.3 million official members, the German Football Association (Deutscher Fußball-Bund) is the largest sports organization of its kind worldwide. The Bundesliga, the top league of German football, is the most popular sports league in Germany and attracts the second highest average attendance of any professional sports league in the world. The German national football team won the FIFA World Cup in 1954, 1974 and 1990 and the UEFA European Football Championship in 1972, 1980 and 1996. Germany hosted the FIFA World Cup in 1974 and 2006 and the UEFA European Football Championship in 1988. Among the most well-known footballers are Franz Beckenbauer, Gerd Müller, Jürgen Klinsmann, Lothar Matthäus, and Oliver Kahn. Other popular spectator sports include handball, volleyball, basketball, ice hockey, and tennis.
Germany is one of the leading motor sports countries in the world. Constructors like BMW and Mercedes are prominent manufacturers in motor sport. Additionally, Porsche has won the 24 Hours of Le Mans, an annual endurance race held in France, 16 times, and Audi has won it 11 times. The Formula One driver Michael Schumacher has set many motor sport records during his career, having won more Formula One World Drivers' Championships and more Formula One races than any other driver; he is one of the highest paid sportsmen in history. Historically, German sportsmen have been successful contenders in the Olympic Games, ranking third in an all-time Olympic Games medal count, combining East and West German medals. In the 2008 Summer Olympics, Germany finished fifth in the medal count, while in the 2006 Winter Olympics they finished first. Germany has hosted the Summer Olympic Games twice, in Berlin in 1936 and in Munich in 1972. The Winter Olympic Games took place in Germany once in 1936 in the twin towns of Garmisch and Partenkirchen.
People
Being a federal republic, Germany is very much a decentralized country, which embraces the cultural differences between the regions. Most travellers will perhaps only think of beer, Lederhosen and Oktoberfest when Germany comes to mind, but Germany's famous alpine and beer culture is mostly centered on Bavaria and Munich. Here the beer is traditionally served in 1 litre mugs (normally not in pubs and restaurants, though). The annual Oktoberfest is Europe's most visited festival and the world's largest fair. Germany's south-western regions, however, are well known for their wine growing areas (e.g. Rheinhessen and Palatinate) and Bad Dürkheim on the 'German Wine Route' (Deutsche Weinstraße) organizes the biggest wine festival worldwide with over 600,000 visitors annually. The fall of the Berlin Wall in 1989 and the subsequent German Reunification are the main events of recent German history. Today most Germans as well as their neighbors support the idea of a peaceful reunified Germany and while the eastern regions still suffer from higher unemployment and of brain drain, the reunification process is overall seen as a success. October 3rd is celebrated as "German Unification Day".
Cars are a symbol of national pride and social status. Certainly manufacturers such as Audi, BMW, Mercedes, Porsche and Volkswagen (VW) are world famous for their quality, safety and style. This quality is matched by Germany's excellent network of roadways including the renowned Autobahn network, which has many sections without speed limits that attract speed hungry drivers. There are actually speed tourists who come to Germany just to rent an exotic sports car and fly down the autobahn. Amazingly for its size Germany is home to the third largest freeway/motorway network in the world. Germany also features an extensive network of high speed trains – the Intercity Express (ICE). Most cities have a vibrant gay and lesbian scene, especially Berlin and Cologne. The Berlin tourism agency and other tourism organizations have started campaigns to attract gay and lesbian travellers to their cities. In fact, some politicians (e.g. the mayor of Berlin and the German federal foreign minister) and stars in Germany are homo- or bisexuals. Germany was the host of the FIFA World Cup 2006.
Cities
Germany has numerous cities of interest to travellers; here are just nine of the most famous: 
Berlin — the reunified and re-invigorated capital of Germany; known for its division during the Cold War by the Berlin Wall. Today, it's a metropolis of diversity with elegant clubs, shops, galleries and restaurants
Bremen — one of the most important cities in northern Germany, its old town is a slice of hanseatic history
Cologne — city founded by the Romans 2000 years ago with a huge cathedral, Romanesque churches, and archaeological sites
Dresden — once called 'Florence on the Elbe' and world-famous for its Frauenkirche and rebuilt historic centre destroyed during World War II
Düsseldorf — Germany's capital of fashion also offers fascinating new architecture and a vibrant nightlife
Frankfurt — seat of the European Central Bank (ECB), with a skyline reminiscent of Manhattan ("Mainhattan")
Hamburg — Germany's richest and second-largest city, famous for its harbour; liberal and tolerant culture with its nightclubs and casinos along the Reeperbahn
Munich — Bavaria's beautiful capital city, gateway to the Alps and the site of the famous Oktoberfest
Nuremberg's old town has been reconstructed, including the Gothic Kaiserburg Castle. Visit the Nazi party rally grounds, the Documentation Centre and Courtroom 600 (the venue of the Nuremberg Trials)
Health care
If you have a non-urgent medical problem, you may choose from any local doctor. The German health system allows specialists to run their own surgery so you usually will be able to find every discipline from Dentistry to Neurology on duty within reasonable reach. In remote regions finding a doctor might require a ride to the next town but the German infrastructure allows fast connections. GPs/family doctors will usually describe themselves as "Allgemeinmediziner" – meaning "general practitioner".
Health insurance 
EU citizens that are members of any public health insurance can get a European Health Insurance Card. The card is issued by your insurance provider and lets you use the public health care system in any EU country, including Germany. If you're from outside the EU, or if you have a private health insurance, check if your insurance is valid in Germany. If not, get a travel health insurance for the trip – German health care is expensive. Foreign insurance, even if it covers travel abroad, may not be accepted by local hospitals.
Tourism
Germany is the seventh most visited country in the world, with a total of 369.6 million overnights during 2010. This number includes 56.5 million nights by foreign visitors, the majority of foreign tourists in 2009 coming from the Netherlands, the United States and Switzerland (see table). According to Travel and Tourism Competitiveness Reports, Germany is rated as one of the safest travel destinations worldwide. The official body for tourism in Germany is the German National Tourist Board (GNTB), represented worldwide by National Tourist Offices in 29 countries. Surveys by the GNTB include perceptions and reasons for holidaying in Germany, which are as follows: culture (75%), outdoors/countryside (59%), cities (59%), cleanliness (47%), security (41%), modernity (36%), good hotels (35%), good gastronomy/cuisine (34%), good accessibility (30%), cosmopolitanism/hospitality (27%), good shopping opportunities (21%), exciting nightlife (17%) and good price/performance ratio (10%) (Multiple answers were possible). More than 30% of Germans spend their holiday in their own country. With more than 133 million foreign visitors (2008) Germany is ranked as the 7th most visited travel destination worldwide. A total of 27.2 billion Euros is spent on travel and tourism: this is equivalent to 3.2% of Germany's GNP.
Education
Over 99% of Germans age 15 and above are estimated to be able to read and write. Responsibility for educational supervision in Germany is primarily organized within the individual federal states. Since the 1960s, a reform movement attempted to unify secondary education in a Gesamtschule (comprehensive school); several West German states later simplified their school system to two or three tiers. A system of apprenticeship called Duale Ausbildung ("dual education") allows pupils in vocational training to learn in a company as well as in a state-run vocational school. This successful model is highly regarded and reproduced all around the world.
Most German universities focus more on teaching than on research. Research is mostly exhibited in independent institutes that are embedded in academic clusters, such as within Max Planck, Fraunhofer, Leibniz and Helmholtz institutes. This German specialization is rarely reflected in academic rankings, which is the reason why German universities seem to be underperforming according to some of the ratings, such as ARWU. Some German universities are shifting their focus more towards research though, especially the institutes of technology.
STRUCTURE OF EDUCATION SYSTEM
Pre-higher education:
Duration of compulsory education:
Age of entry: 6
Age of exit: 15
Structure of school system: 
Primary
Type of school providing this education: Grundschule (4 years, 6 years in 2 Länder)
Length of program in years: 4
Age level from: 6 to: 10
Lower Secondary
Type of school providing this education: Hauptschule (5 or 6 years in most Länder)
Length of program in years: 5
Age level from: 10 to: 15
Certificate/diploma awarded: Hauptschulabschluss
Lower Secondary
Type of school providing this education: Gesamtschule
Length of program in years: 5
Age level from: 10 to: 15
Certificate/diploma awarded: Mittlerer Schulabschluss/Hauptschulabschluss, Ubergangsberechtigung in die Gymnasiale Oberstufe
Lower Secondary
Type of school providing this education: Realschule (in most Länder)
Length of program in years: 6
Age level from: 10 to: 16
Certificate/diploma awarded: Mittlerer Schulabschluss (Realschulabschluss)
General Secondary
Type of school providing this education: Gymnasium (8 or 9 years)
Length of program in years: 9
Age level from: 10 to: 19
Certificate/diploma awarded: Allgemeine Hochschulreife/Fachgebundene Hochschulreife
Integrated Secondary
Type of school providing this education: Gesamtschule (4 to 6 years in most Länder)
Length of program in years: 5
Age level from: 10 to: 15
Certificate/diploma awarded: Mittlerer Schulabschluss (Realschulabschluss)/Hauptschulabschluss/Übergangsberechtigung in die Gymnasiale Oberstufe
Higher Secondary
Type of school providing this education: Berufliches Gymnasium/Fachgymnasium (in some Länder)
Length of program in years: 3
Age level from: 16 to: 19
Certificate/diploma awarded: Allgemeine Hochschulreife
Higher Secondary
Type of school providing this education: Gymnasiale Oberstufe (Since 1972) (2 or 3 years depending on the land)
Length of program in years: 3
Age level from: 16 to: 19
Certificate/diploma awarded: Allgemeine Hochschulreife
Vocational Secondary
Type of school providing this education: Berufsschule (part-time)
Length of program in years: 3
Age level from: 15 to: 18
Certificate/diploma awarded: Hauptschulabschluss, Mittlerer Schulabschluss, Vocational school-leaving certificate and professional certificate (Facharbeiterbrief/Kaufmannsgehilfenbrief/Gesellenbrief depending on professional sector)
Vocational Secondary
Type of school providing this education: Fachoberschule (full-time)
Length of program in years: 2
Age level from: 16 to: 18
Certificate/diploma awarded: Fachhochschulreife
Vocational Secondary
Type of school providing this education: Berufsfachschule (full-time)
Length of program in years: 2
Age level from: 16 to: 18
Certificate/diploma awarded: Fachhochschulreife and vocational leaving certificate
Vocational Secondary
Type of school providing this education: Berufschule (in some Länder)
Length of program in years: 2
Age level from: 18 to: 20
Certificate/diploma awarded: Fachgebundene Hochschulreife/Allgemeine Hochschulreife (with 2nd foreign language)
Vocational
Type of school providing this education: Fachschule (1 to 3 years programmes of continuing education)
Length of program in years: 2
Certificate/diploma awarded: Professional title and possibility to obtain also the Fachhochschulreife after 2-3 year programmes
Preschool
The German preschool is known as a Kindergarten (plural Kindergärten) or Kita, short for Kindertagesstätte (meaning "children's daycare center"). Children between the ages of 3 and 6 attend Kindergärten, which are not part of the school system. They are often run by city or town administrations, churches, or registered societies, many of which follow a certain educational approach as represented, e.g., by Montessori or Reggio Emilia or "Berliner Bildungsprogramm", etc. Forest kindergartens are well established. Attending a Kindergarten is neither mandatory nor free of charge, but can be partly or wholly funded, depending on the local authority and the income of the parents. All caretakers in Kita or Kindergarten must have a three-year qualified education, or be under special supervision during training.
Primary education
Parents looking for a suitable school for their child have a wide choice of elementary schools:
State school. State schools do not charge tuition fees. The majority of pupils attend state schools in their neighborhood. Schools in affluent areas tend to be better than those in deprived areas. Once children reach school age, many middle-class and working-class families move away from deprived areas. 

or, alternatively 

Waldorf School (206 schools in 2007) 

Montessori method school (272) 

Freie Alternativschule (Free Alternative Schools) (85) 

Protestant (63) or Catholic (114) parochial schools 
School education:
Primary education (Grundschule) lasts for four years in most Länder except Berlin and Brandenburg where it lasts for six years. The secondary school system (grades 5/7 to 12/13) in the Länder is divided in educational paths (depending on the Land) with the respective leaving certificates and qualifications for which different school types and/or school careers are responsible. All types of vocational schools (grade 10/11 onwards) offer the opportunity to acquire general education certificates. There are general secondary education schools, special schools for the physically or mentally handicapped within the system of general and vocational education, and full- or part-time vocational schools (10th/11th grade on). Four main types of general secondary schools covering compulsory schooling exist: Haupschule, Realschule, Gymnasium and Gesamtschule. Types and names of schools offering several courses of education at lower secondary level differ according to Länder. Secondary education is compulsory and tuition is free. Textbooks and other school material are either free or lent out. From grade 10, pupils may obtain grants if no other financial sources exist.
Secondary education
After children have completed their primary education (at 10 years of age, 12 in Berlin and Brandenburg), there are four options for secondary schooling:
Hauptschule (the least academic, much like a modernized Volksschule [elementary school]) until grade nine (with Hauptschulabschluss and in some cases Mittlere Reife = Realschulabschuss as exit exam); in some States of Germany the Hauptschule does not exist and pupils are mainstreamed into a Mittelschule or Regionale Schule instead. 

Realschule until grade ten (with Mittlere Reife (Realschulabschluss) as exit exam); 

Gymnasium (grammar school) until grade 12 or 13 (with Abitur as exit exam, qualifying for university); and 

Gesamtschule (comprehensive school) 

After passing through any of the above schools, pupils can start a career with an apprenticeship in the Berufsschule (vocational school). The Berufsschule is normally attended twice a week during a two, three, or three-and-a-half year apprenticeship; the other days are spent working at a company. This is intended to provide knowledge of theory and practice. The company is obliged to accept the apprentice on its apprenticeship scheme. After this, the apprentice is registered on a list at the Industrie- und Handelskammer IHK (chamber of industry and commerce). During the apprenticeship, the apprentice is a part-time salaried employee of the company. After passing the Berufsschule and the exit exams of the IHK, a certificate is awarded and the young person is ready for a career up to a low management level. In some areas, the schemes teach certain skills that are a legal requirement (special positions in a bank, legal assistants). 
Public and private schools
In 2006, six percent of German children attended private schools. In Germany, Article 7, Paragraph 4 of the Grundgesetz, the constitution of Germany, guarantees the right to establish private schools. This article belongs to the first part of the German basic law, which defines civil and human rights. A right which is guaranteed in this part of the Grundgesetz can only be suspended in a state of emergency, if the respective article specifically states this possibility. That is not the case with this article. It is also not possible to abolish these rights. This unusual protection of private schools was implemented to protect them from a second Gleichschaltung or similar event in the future.
Special schools
Most German children with special needs attend a school called Förderschule or Sonderschule (special school) that serves only such children. There are several types of special schools in Germany such as:
The "Sonderschule für Lernbehinderte" – a special school serving children who have learning difficulties
The "Schule mit dem Förderschwerpunkt Geistige Entwicklung" – a special school serving children who have very severe learning difficulties
The "Förderschule Schwerpunkt emotionale und soziale Entwicklung" – a special school serving children who have special emotional needs
Only one in 21 German children attends a special school. Teachers at those schools are qualified professionals who have specialized in special-needs education while at college. Special schools often have a very favourable student-teacher ratio and facilities compared with other schools. Special schools have been criticized. It is argued that special education separates and discriminates against those who are disabled or different. Some special-needs children do not attend special schools, but are mainstreamed into a Hauptschule or Gesamtschule (comprehensive school) and/or, in rare cases, into a Realschule or even a Gymnasium.
Elite schools
There are very few specialist schools for gifted children. Because German schools do not IQ-test children, most intellectually gifted children remain unaware that they fall into this category. The German psychologist, Detlef H. Rost, carried out a pioneer long-term study on gifted children called the Marburger Hochbegabtenprojekt. In 1987/1988 he tested 7000 third graders on the CFT 20, Culture Fair Intelligence Test III (Cattell Culture Fair III). Those who scored at least two standard deviations above the mean were categorized as gifted. A total of 151 gifted subjects participated in the study alongside 136 controls. All participants in the study were tested blind with the result that they did not discover whether they were gifted or not. The study revealed that the gifted children did very well in school. The vast majority later attended a Gymnasium and achieved good grades. However, 15 percent were classified as underachievers because they attended a Realschule (two cases) or a Hauptschule (one case), had repeated a grade (four cases) or had grades that put them in the lower half of their class (the rest of cases). The report also concluded that most gifted persons had high self-esteem and good psychological health. Rost said that he was not in favour of special schools for the gifted. Gifted children seemed to be served well by Germany's existing school system.
Tertiary education
There are public and private state-recognized institutions of higher education categorized as:
1. Universities (Universitäten) and equivalent higher education institutions (Technische Hochschulen/Technische Universitäten, Pädagogische Hochschulen);
2. Colleges of art and music (Kunsthochschulen and Musikhochschulen);
3. Fachhochschulen (universities of applied sciences) and Verwaltungsfachhochschulen.
Universities in Germany
Germany's universities are recognized internationally; in the Academic Ranking of World Universities (ARWU) for 2008, six of the top 100 universities in the world are in Germany, and 18 of the top 200. Most of the German universities are public institutions, charging tuition fees of only around €60 per semester (and up to €500 in the state of Niedersachsen) for each student. Thus, academic education is open to most citizens and studying is very common in Germany. Although the dual education system, that combines practical and theoretical educations and does not lead to academic degrees, is more popular than anywhere else in the world – while it is a role model for other countries.
The oldest universities of Germany are also among the oldest and best regarded in the world, with Heidelberg University being the oldest (established in 1386 and in continuous operation since then). It is followed by Leipzig University (1409), Rostock University (1419), Greifswald University (1456), Freiburg University (1457), LMU Munich (1472) and the University of Tübingen (1477).
Most German universities focus more on teaching than on research. Research is mostly exhibited in independent institutes that are embedded in academic clusters, such as within Max Planck, Fraunhofer, Leibniz and Helmholtz institutes. This German specialization is rarely reflected in academic rankings, which is the reason why German universities seem to be underperforming according to some of the ratings, such as ARWU.
Academic year: 
Classes from: Oct to Aug
Long vacation from: Aug to: Sep
Languages of instruction: German
Benefits of studying in Germany
German universities have an excellent reputation throughout the world. They produce significant and internationally applicable advances in research and innovation. 

Many pioneering inventions were created in Germany. The list of German Nobel Prize winners is long – sixty-eight alone in the field of science and medicine. These include Wilhelm Conrad Röntgen, Robert Koch, Max Planck, Albert Einstein, Christiane Nüsslein-Volhard and Harald zur Hausen. And Germany isn't called the "land of poets and thinkers" for nothing. It has produced great philosophers like Kant, Hegel and Adorno, poets like Goethe, Heine and Brecht, and renowned composers, such as Bach, Beethoven and Brahms. 

Science and research have a long tradition in Germany and still play an important role today. The oldest university was founded in Heidelberg in 1386. There are over 360 nationally accredited universities located in more than 170 cities and towns in Germany. These universities offer a wide range of opportunities to study and research with more than 13,000 degree programmes, 800 of which are internationally oriented. 

Your child will find optimal conditions for gaining a successful education in Germany. The facilities at universities and research institutes are well-equipped. Students receive intensive academic advising, but are also taken seriously as future scholars and scientists. 

And, of course, German is one of the most important scientific languages and is shared by over 125 million people worldwide. Although English is a must, German is a plus. Most people regard English as essential, but knowing another foreign language can improve one's career chances in a globalised world. That's why learning German is a good idea!
Why study in Germany?
High quality university education 

Many Programs in English 

Low tuition fees 

Accessibility for international applicants 

A safe and welcoming environment 

High living standards 

Excellent employment prospects 
Germany has much to offer as a place to study .Internationally recognized qualification such as Bachelors & masters .This allows accumulation & transfer of study & exam modules .Germany is one of the most highly developed industrial nations in the world and, after the USA and Japan has the world's third largest national economy.
Germany is a land of ideas. Education, science and research play a central role here. Germany is one of the most preferred countries by International students, a hub of cutting-edge international research and a constant source of new patents.
Germany is a place of remarkable beauty and stunning splendor. It's been associated with learning as the oldest university in Germany was founded in Heidelberg in 1386. Germany currently has more than 300 institutions of higher education that include 82 universities, 132 such institutions that offer shorter and practically oriented courses, and other institutions. Germany has a high turnout of foreign students as it offers a high range of study possibilities.
With more than 300 higher education institutions across the country, Germany has a density of universities which is practically unequalled around the world. Many German higher education institutions offer courses leading to an international degree. The range of study opportunities covers undergraduates, graduate and postgraduate degree courses (Bachelor's, Master's, PhD levels). Nearly all German universities and colleges are financed by the state. So far, German and international students have been able to pursue their studies and research without having to worry about tuition fees. This situation is changing now; universities in Germany are starting to introduce tuition fees. However, these fees will be considerably lower than in other countries. The cost of living for students in Germany can be kept low by using many of the student benefits and discounts