Cyprus is an island country in the Eastern Mediterranean Sea, Cyprus is the third largest and third most populous island in the Mediterranean, and a member state of the European Union. It is located east of Greece, south ofTurkey, west of Syria and Lebanon, northwest of Israel and the Gaza Strip, and north of Egypt.Cyprus is home to some of the oldest water wells in the world. Cyprus is a major tourist destination in the Mediterranean. An advanced,high-income economywith a very high Human Development Index.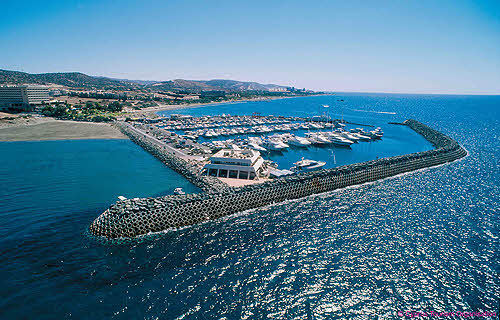 Geography
Cyprus is the third largest island in the Mediterranean Sea, after the Italian islands of Sicily and Sardinia (both in terms of area and population). It is also the world's 81st largest by area and world's 51st largest by population. It measures 240 kilometres long from end to end and 100 kilometres (62 mi) wide at its widest point, with Turkey 75 kilometres to the north. It lies between latitudes 34° and 36° N, and longitudes 32° and 35° E.
Other neighbouring territories include Syria and Lebanon to the east, Israel to the southeast, Egypt to the south, and Greece to the northwest.
The physical relief of the island is dominated by two mountain ranges, the Troodos Mountains and the smallerKyrenia Range, and the central plain they encompass, the Mesaoria. The Mesaoria plain is drained by the Pedieos River, the longest on the island. The Troodos Mountains cover most of the southern and western portions of the island and account for roughly half its area. The highest point on Cyprus is Mount Olympus located in the centre of the Troodos range. The narrow Kyrenia Range, extending along the northern coastline, occupies substantially less area, and elevations are lower.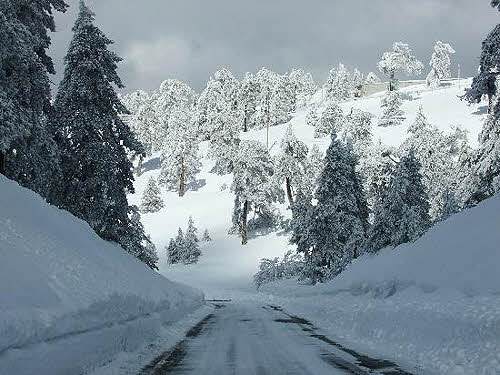 The Troodos Mountains
Climate
Cyprus has a subtropical climate – Mediterranean and semi-arid type with very mild winters (on the coast) and warm to hot summers. Snow is possible only in the Troodos Mountains in the central part of island. Rain occurs mainly in winter, with summer being generally dry.Cyprus has the warmest climate (and warmest winters) in the Mediterranean part of the European Union.Generally – summer's/holiday season lasts about 8 months, begins in April. Among all cities in the Mediterranean part of the European Union, Limassol has the warmest winters, in the period January–February. Middle of summer is usually hot – in the July and August on the coast. Large fluctuations in temperature are rare. Temperatures inside the island are more stringent, with colder winters and more hot summers compared with the coast of the island.
Transport
Available modes of transport are by road, sea, and air. Cyprus is one of only four EU nations in which vehicles drive on the left-hand side of the road. There are several modern motorways in Cyprus. A series of motorways runs along the coast from Paphos east to Ayia Napa, with two motorways running inland to Nicosia, one from Limassol and one from Larnaca.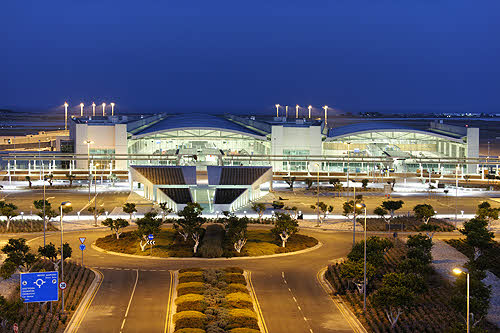 Larnaca International Airport, the busiest airport
Per capita private car ownership is the 29th-highest in the world. There were approximately 344,000 privately owned vehiclesand a total of 517,000 registered motor vehicles in the Republic of Cyprus in 2006. In 2006 extensive plans were announced to improve and expand bus services and restructure public transport throughout Cyprus, with the financial backing of the European Union Development Bank. In 2010 the new revised and expanded bus network was implemented.Cyprus has several heliports and two international airports: Larnaca International Airport and Paphos International Airport. A third airport, Ercan International Airport operates in the Turkish Cypriot administered area with direct flights to Turkey. The main harbours of the island are Limassol and Larnaca, which service cargo, passenger, and cruise ships.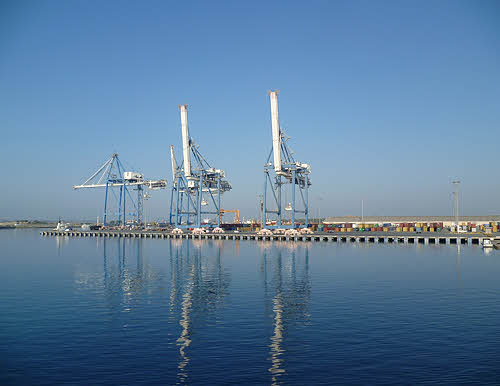 The Port of Limassol, the busiest port in Cyprus
Sports
Governing bodies of sports in Cyprus include the Cyprus Football Association, Cyprus Basketball Federation,Cyprus Volleyball Federation, Cyprus Automobile Association, Cyprus Badminton Federation,  Cyprus Cricket Association and the Cyprus Rugby Federation.
The Cyprus League includes notable teams such as APOEL FC, Anorthosis Famagusta FC.  Stadiums or sports venues in Cyprus include the GSP Stadium (the largest in the Republic of Cyprus), Tsirion Stadium (second largest), Neo GSZ Stadium.  Apart from the emphasis on football, Cyprus has exhibited various accomplishments in other sports. Marcos Baghdatis is one of the most successful tennis players on the international stage. He was a finalist at the Australian Open. Also Kyriakos Ioannou a Cypriot high jumper achieved a jump of 2.35 m at the 11th IAAF World Championships in Athletics. He was recently ranked third at the international level and second in Europe. In motorsports, Cyprus is represented by Tio Ellinas, a successful race car driver, currently racing in the GP3 Seriesfor Marussia Manor Motorsport.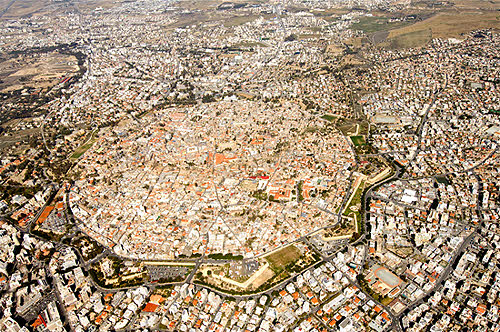 Nicosia City
Tourism
Tourism occupies a dominant position in the economy of Cyprus.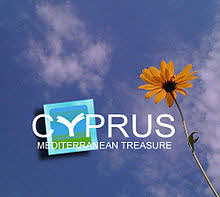 Cyprus Tourism
In 2006 it was expected to contribute 10.7% of GDP.
In real terms it generated CYP£2,598.2 mn (US$5,445.0 mn) (annual-2006).
Total employment was estimated at 113,000 jobs (29.7% of total employment = 1 in every 3.4 jobs).
With over 2 million tourist arrivals per year, it is a popular destination in the world.
Cyprus became a full member of the UNWTO when the organisation was created in 1975.According to the World Economic Forum's 2013 Travel and Tourism Competitiveness Index, Cyprus' tourism industry ranks 29th in the world in terms of overall competitiveness. In terms of Tourism Infrastructure, (in relation to the tourism industry) Cyprus ranks 1st in the world.
Many an expat working in Cyprus today probably got to know the island through one of its main assets. With its beautiful location right in the Mediterranean Sea, its virtually uninterrupted, year-long sunshine, and plentiful cultural treasures to boost, it should not be very surprising that Cyprus is a popular tourism location. In fact, the tourism sector is one of the country's most important economic pillars, contributing a sizeable share to the national GDP. Cyprus's hotels, restaurants, bars, sights, and other parts of the hospitality industry have provided safe employment opportunities for many Cypriots for decades.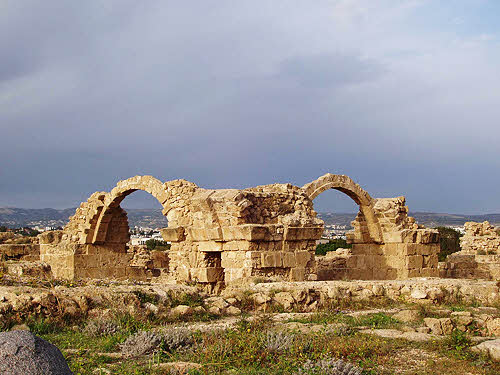 Saranta Kolones Paphos, Cyprus
Places of Interest
Cyprus history presents an unlimited choice of places to see and things to do. 
Neolithic settlements, ancient Greek temples and theatres, Byzantine churches
and monasteries, tombs, museums and castles – or just a glimpse of the simple
life of yester year in remote villages unchanged and steeped in tradition.
To get around the Island there are cars for hire from international and local companies, or tours in luxury air-conditioned coaches with well-trained guides that speak fluent English. There is also an inexpensive way to travel between cities – a frequent inter-town taxi service system, whereby the passenger rents a seat and shares the taxi with other passengers.
Cypriot cities have a variety of historical spellings and writings, all in fairly common use, and which change according to the context, whether it be Greek Cypriot, Turkish or English tourist. The following list emphasizes traditional English spellings that will most often be encountered by the traveller. Some of these places are:
Nicosia, Limassol, Paphos, Larnaca, Ayia Napa, Polis, Troodos Mountains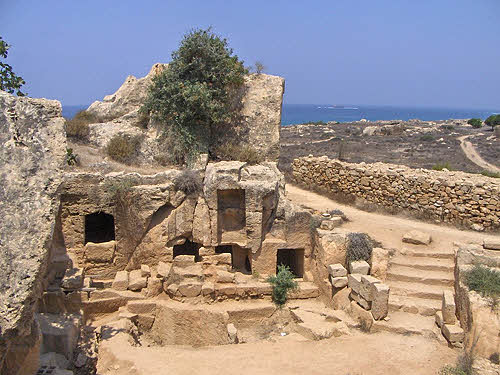 Tombs of the Kings – Paphos, Cyprus
Living in Cyprus
Offering the perfect balance between work and relaxation, with long sunny days in a stress-free atmosphere and beautiful surroundings, Cyprus enjoys an idyllic Mediterranean lifestyle, 340 days of sunshine a year and some of the most welcoming people in the world…all in a modern and well-functioning environment.
Imagine a life away from cold, rainy days and the hectic lifestyle that exists in most Western countries, but in a perfect sunny climate with crystal clear blue seas, forests, mountains and vibrant wild flowers throughout the year, in a relaxed atmosphere where the welcoming smiles of the locals make every visitor feel instantly at home. It is easy to see why Cyprus is emerging as one of the top destinations in which to relocate.
This beautiful island plays host to a wealth of contrasts: it is a country where east meets west; where traditions still play an important role in society but where life is never stuck in the past; it may be small but is never claustrophobic, always offering something new to discover; and life moves at a relaxed and gentle pace without ever being dull.
Culture, Heritage and Languages
Expats in Cyprus will get to know a culture which is as old as it is fascinating – no wonder, seeing how the islands has been inhabited since prehistoric times. The earliest human activity on Cyprus dates back a mind-boggling 12 millennia. The strategic importance of the island for major cultures in the Mediterranean and adjacent regions has led to its occupation and colonization by a large number of ancient civilizations, all of which have left indelible marks.
While the Ottoman Turks and the British have had the most recent impact on shaping life in Cyprus, the most obvious and strongest influence on the people living in Cyprus today has been that of the Greeks. At least as far as the Republic of Cyprus – the subject of this guide – is concerned, the Greek settlement, which began about 4,000 years ago, has most profoundly shaped local language and culture.
However, you should not expect living in Cyprus to be just like living in Greece. Not only are there definite cultural differences and peculiarities which are typically Cypriot, ranging from music to dishes such as the world-renowned Halloumi cheese; Cyprus is also a sovereign nation and not simply a part of the Greek mainland.Today, the majority of people in Cyprus are young, educated, and often fluent in more than two languages – commonly English and Russian, French, or German.
Colourful Culture
Lying at the crossroads of three continents, Europe, Asia and Africa, Cyprus has long served as a major Eastern trading post. Its location, abundance of mineral deposits, rich agriculture and highly skilled craftsmen has long made it a jewel in the crown of the powers of the day. Cultural influences came from all directions, with many civilisations leaving their mark on the island, contributing to the development of a rich and diverse cultural heritage.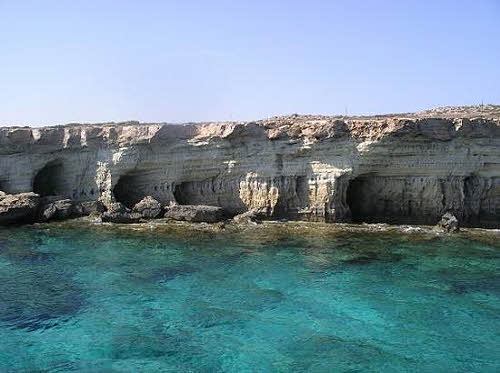 Sea Caves, AyiaNapa
Large Expat Community
A former British colony, Cyprus gained its independence in 1960. A notable British presence remains to this day and Cyprus has become home to a large expat community. Today, Cyprus has the third highest percentage of foreign citizens in the European Union, with a total of 128,000. 78,000 or 9.8 per cent of the total population are from other EU member states, and 50,000 or 6.3 per cent of the total population are from non-EU countries according to a survey of the EU's statistical office. The biggest group of expats living in Cyprus consists of British nationals, but there are also large communities of Americans, Russians and other Eastern European nationals.
Familiar Environment
Cyprus law is based on British law and the island's banking system is modelled on the British banking system. The vast majority of Cypriots speak English and business is conducted in both Greek and English. Medical care in the Republic of Cyprus is good and meets Western standards. In fact, many of the physicians that practice in Cyprus were trained in either the UK or the United States. Purchasing real estate in Cyprus is straightforward; however, buyers should seek help from a lawyer in case complications arise. Renting or leasing an apartment in Cyprus is relatively affordable.
Natural Beauty
With around 340 days of glorious sunshine a year and a coastline teeming with endless stretches of golden sands, secluded bays and rocky coves, where better to relax at the end of the working day but by the crystal clear waters of the Mediterranean Sea? Or, for a respite from the heat and a complete change of scenery why not unwind with a drive through the picturesque Troodos Mountains? One of the beauties of Cyprus is that the relatively small size of the island means that you are always just a short journey away from anywhere you would like to visit.
Mediterranean Lifestyle and Cuisine
It is of course impossible to talk about Cyprus without mentioning the food. As with most Mediterranean countries food plays an important role and is to be enjoyed at a leisurely pace with friends and family. One of the first Greek phrases to learn in Cyprus is 'siga siga' which means 'slowly slowly', and is a mantra one will hear almost daily. The fabulous Cypriot food is to be savoured unhurriedly, usually al fresco with friends and family. Even a cup of coffee can be a two hour past time.
Life is meant to be enjoyed in Cyprus and the finer things in life should never be rushed. Cyprus cuisine is a unique blend of Greek and Arabic food heavily influenced by the Mediterranean diet, said to be one of the healthiest in the world. The best way to experience Cypriot cuisine is to savour the delights of a traditional meze – a seemingly endless succession of 'small plates' of wonderful home cooked fare including the famous Cypriot halloumi cheese as well as other delicacies such as moussaka, succulent homemade sausages known as sheftalia, grilled marinated meats and delicious casseroles to name but a few.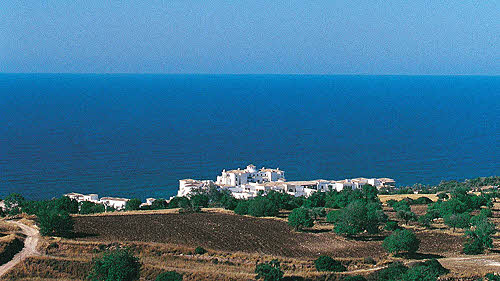 Anassa hotel, Polis
Excellent Infrastructure
Other factors that contribute to this enviable lifestyle include a superb road system with signs in both Greek and English, a reliable and efficient postal service, a large choice of schools, clubs, restaurants, gyms, theatres, cinemas, museums and art galleries. Added to this already attractive package there is the relatively low cost of living, the favourable taxation system and one of the lowest crime rates in Europe.
The local infrastructure is ideally suited for business people who need to get things done. Thanks to its modern road network, extensive port facilities and two international airports, travel and transport in and beyond Cyprus is fast, efficient and economical.
A Home in the Sun
The genuine warmth and hospitality of the Cypriot people ensure that any visitor to the island is made to feel instantly at home and with guaranteed sunshine and all the other benefits those come with living in Cyprus; it is hard to think of any other location more ideally suited to actually call home.
Quality of Life
The island boasted one of the highest per capita GDP in the European Union. This often came as a surprise to expats interested in living in Cyprus. After all, we are talking about a small island nation on the south-eastern edge of Europe. Having been an important strategic outpost and trade centre for millennia, Cyprus made the best of its location.
The quality of life in Cyprus is, of course, not only determined by the figures on your pay check but you may also get to enjoy a welcoming, warm-hearted culture, advanced infrastructure in most respects, and a very safe environment. The nation has a fairly low crime rate.
Working in Cyprus
Cyprus' climate and natural advantages mean that there is always a steady supply of travellers seeking employment and residency on the island. Perhaps the biggest change that has occurred in recent years has been the accession of Cyprus to the European Union on 1 May 2004, opening up new employment opportunities for European citizens.
The burgeoning Cypriot tourism industry, however, means that there is a huge seasonal demand for temporary workers of most nationalities during the summer months, with a definite preference for English-speaking workers in order to service the very large numbers of British tourists. The Greek Cypriot South remains the best overall bet for jobs, as the South is where the majority of the tourist trade is located.Seasonal employment will most probably involve working in one of the countless bars, hotels and resort complexes of the South. Many holiday companies employ 'reps' (representatives) and marketing staff to assist their operations on the island – this work is financially rewarding.
Teaching English as a Foreign Language (EFL) is another worthwhile option and well paid.Finally, Cyprus' ongoing construction boom in tourism infrastructure results in a demand for skilled builders and tradesmen.
Expats interested in working in Cyprus could look forward to entering a work environment with all the assets of a modern economy that focuses heavily on the service sector. While there is still some agriculture and mining to be found in Cyprus – the name itself has its roots in the Greek work for 'copper' – the national economy is firmly based on its tertiary sector. In 2012, 80% of all employees working in Cyprus had a job in the nation's diverse services sector.
The Services Sector
An incredible 81% of the national GDP is generated within the third sector. Apart from the obvious contributions of the tourism sector, the employees working in Cyprus's banking and financial services sector accounted for a nearly 9% of the gross domestic product.
Another main staple of the services sector is shipping. Limassol is one of the busiest ports in the EU and the main point of entry and exit for goods of all kind, as well as one of the largest ship management centres in Europe.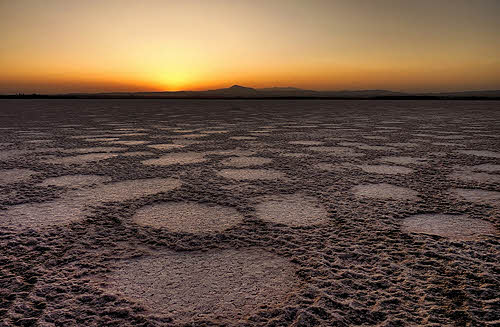 Salt Lake, Larnaca, Cyprus
Manufacturing and Energy
Energy production is a new potential growth factor. Cyprus does have a relatively large manufacturing industry that produces, among other things, food and beverages, clothing and textiles, plastics and chemicals.
Cyprus is planning to exploit natural gas supplies, which were discovered in its coastal waters. This venture, as well as a greater interest in renewable energy and green tech, may lead to new economic projects and more jobs for working in Cyprus.
Cyprus: An International Business Location
The island's great openness towards international businesses has always been one of the most important aspects for expats interested in working in Cyprus. The Cypriot government is actively promoting the nation's location as a gateway to three continents – Europe, Asia, and Africa – and thus attracting multinational corporations who consider working in Cyprus as a strategically smart move to expand to further markets.
Healthcare in Cyprus
Apart from its usual share of tourists, Cyprus also aims to attract medical tourism.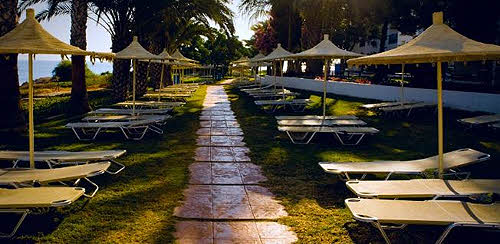 Quality of Healthcare
Seeing how the Republic of Cyprus is a highly advanced, modern country in every respect, it should not come as a surprise that the nation's healthcare system and its institutions are of very good quality. Such is their quality, in fact, that the population of Cyprus is considered one of the healthiest in the Mediterranean area. Many doctors and members of their medical staff have had their training abroad, often in renowned medical schools.
The Cypriot government has plans of actively promoting the idea of medical tourism to the island, an idea that has already gained some popularity. As the fees and prices for treatments and other services are comparatively low, relative to their standard, this is definitely a sensible approach.
Many other countries which are similarly popular with tourists as Cyprus have been reaping the benefits of medical tourism for a number of years now. Moreover, the tourism industry is currently working out a general strategy to attract even more visitors to the island and help to revive the weakened economy.Cyprus has continuously upgraded the quality of healthcare facilities and opened several new, specialized clinics for treatments that had previously to be performed abroad. Nowadays, even complex operations, such as open heart surgery, can be taken care of in the country.
Healthcare Infrastructure
The average expat will, of course, not think too much about how the country can benefit from its healthcare system and rather worry whether they are in good hands. They definitely are. Doctors, clinics and hospitals abound in Cyprus and its large expat-friendly municipalities. There is a choice between public and private healthcare institutions, both of which are of similar quality.
Emergency care is always provided free of charge in government hospitals. Short-term visitors from EU countries who have a European Health Insurance Card can also lay claim to free essential care during their stay.
You should look into buying international health insurance with coverage in Cyprus or consult one of the local insurance companies on the island. Alternatively, you can discuss your inclusion in a company healthcare scheme with your future employer.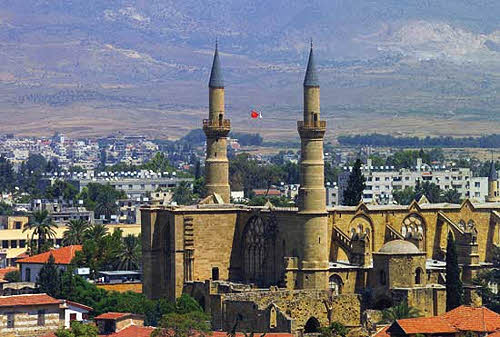 Study in Cyprus
Education in Cyprus is overseen by the Ministry of Education and Culture. The education system is divided into pre-primary education (ages 3–6), primary education (ages 6–12), secondary education (ages 12–18) and higher education (ages 18+). Full-time education is compulsory for all children aged between 5 and 15. State-provided schooling including higher education is paid for by taxes.In the 2012-2013 academic year there were 340 primary schools with 49,612 students and 4,144 teachers
Higher or tertiary education is provided by a network of state and private universities and colleges. Private universities were first accredited in 2005 and require a special licence to operate and award degrees. This was set out in the 2005 Private Universities law.
There is also a parallel system of accredited independent schooling, and parents may choose to educate their children by any suitable means. Higher education often begins with a four-year bachelor's degree. Postgraduate degrees include master's degrees, either taught or by research, and the doctorate, a research degree that usually takes at least three years. Universities require accreditation in order to issue degrees.
Cyprus has a highly developed system of primary and secondary education offering both public and private education.Higher or tertiary education is provided by a network of state and private universities and colleges. The high quality of instruction can be attributed to a large extent to the above-average competence of the teachersbut also to the fact that nearly 7% of the GDP is spent on education which makes Cyprus one of the top three spenders of education in the EU along with Denmark and Sweden.It is noteworthy that Cyprus currently has the highest percentage of citizens of working age who have higher-level education in the EU at 30% which is ahead of Finland's 29.5%.There are many fields of study that the students may choose for applying in the colleges in Cyprus.
INSTITUTION TYPES & CREDENTIALS
Types of higher education institutions:
University
Public Institutions of Tertiary Education
Private Institutions of Tertiary Education
School leaving and higher education credentials:
Apolytirion
General Certificate of Education Advanced Level
Certificate
Diploma
Bachelor
Master
STRUCTURE OF EDUCATION SYSTEM
Pre-higher education:
Duration of compulsory education:
Age of entry: 5
Age of exit: 15
Structure of school system:
Pre-Primary
Type of school providing this education: Pre-Primary School
Length of program in years: 1
Age level from: 4 to: 5
Certificate/diploma awarded: Certificate of attendance
Primary
Type of school providing this education: Primary School
Length of program in years: 6
Age level from: 6 to: 12
Certificate/diploma awarded: Leaving Certificate
Lower Secondary
Type of school providing this education: Gymnasium
Length of program in years: 3
Age level from: 12 to: 15
General Secondary
Type of school providing this education: Lykeion
Length of program in years: 3
Age level from: 15 to: 18
Certificate/diploma awarded: Apolytirion
Technical Secondary
Type of school providing this education: Technical School
Length of program in years: 3
Age level from: 15 to: 18
Certificate/diploma awarded: Apolytirion
School education:
Primary education lasts for seven years leading to a Leaving Certificate. Public general secondary education lasts for six years. It is divided into two three-year cycles: three years' Gymnasium, followed by three years Lykeion. Most private schools have competitive entrance examinations in Greek and Mathematics. In parallel, there is also a vocational and technical stream. The syllabus in the technical stream emphasizes Science subjects, whereas in the vocational stream technological subjects, workshop practice and industrial training are emphasized. Graduates of both streams may also proceed to tertiary institutions. The Eniaio Lykeio was launched on a pilot project basis in three schools from 1995 to 2001 to offer both general and technical/vocational education.  In the school year 2000-2001, the restructured Eniaio Lykeio, offering a great variety and flexibility in the choice of studies, was established on a pancyprian scale to replace the Lykeion system of optional subjects which functioned before for over 20 years. The Eniaio Lykerio is characterized by its focus on general education (including technology and economics) aiming at developing a multifaceted personality. At the Eniaio Lykeio, the A Form is for observation, guidance and orientation. In the B and C Forms, pupils attend common core courses which are considered as indispensable for all. At the same level, the Technical secondary education which is separate from the Eniaio Lykeio offers upgraded curricula. Continuous efforts are being made to achieve a more systematic and efficient implementation of the unified nine-year curriculum for the primary and gymnasium stages of the educational process.
Higher education:
The higher education system of Cyprus comprises both public and private institutions. The State established three state universities. The University of Cyprus, which opened in September 1992, has six faculties (Humanities and Social Sciences, Pure and Applied Sciences, Economics and Management, Letters, and Engineering). Studies are organized in semesters, and subjects taught are counted in credits. The Council of Ministers decided to proceed with the establishment of two state universities: the University of Applied Sciences and Arts and the Open University of Cyprus and appointed two interim Governing Boards to do so.
Academic year:
Classes from: Sep to: Jun
Languages of instruction: Greek, English
Stages of studies:
Non-university level post-secondary studies (technical/vocational type):
Non-university level:
A large number of students who continue their education do so abroad.  Public-sector institutions offer full-time courses of between one and three years. The Mediterranean Institute of Management offers a postgraduate diploma in management. A number of private institutes offer one- to four-year courses leading to certificates, diplomas and higher diplomas.
University level studies:
University level first stage: Bachelor:
The first stage of university level education at the University of Cyprus lasts for 4 years and leads to the award of a Ptychio (240 ECTS).
University level second stage: Master; Post-graduate Degree:
After completion of the first stage, graduates may follow a one- or two-year post-graduate programme in specific institutions leading to a Postgraduate degree. The University of Cyprus confers a Master's Degree eighteen months after the Bachelor's Degree in most fields.
University level third stage: Doctorate:
The University of Cyprus confers a Doctorate (PhD) in some fields of study after studies lasting at least three years beyond the Master's Degree.
Teacher education:
Training of pre-primary and primary/basic school teachers
All teachers in the public sector must have a University of Cyprus degree (Ptychio) or equivalent degree in Pedagogical Studies.
Training of secondary school teachers
All general secondary teachers must be graduates but few have any initial teacher training. The Pedagogical Institute of the Ministry of Education and Culture runs in-service training courses which are compulsory for probationers.
Training of higher education teachers
Higher education teachers are trained abroad. A number of teachers at public third-level institutions are holders of postgraduate degrees (MA, PhD) or have pursued at least one year of postgraduate studies abroad. Every member of the University faculty holds a Ph.D.
Non-traditional studies:
Lifelong higher education
Public and semi-public non-formal education are provided by the Apprenticeship Training Scheme and evening classes of technical education at the Ministries of Labour and Education respectively, and through courses in various fields organized by Adult Education Centres. Various programmes are also sponsored by the Human Resource Development Authority.
Higher education training in industry
Accelerated vocational training and re-training courses are organized by the Human Resource Development Authority (former Cyprus Industrial Training Authority)
The excellent quality of instruction; innovative teaching fed by the latest research; a highly supportive learning environment; and an inclusive international culture.Enthusiastic committed staff, first-rate facilities and a strong record of graduate employment are just a few of Cyprus' Education strengths. The knowledge and skills developed during studies will prepare you for careers in a broad range of employment.Employers in business and industry recognise and value Cyprus' reputation for teaching excellence. They also value the many transferable skills and personal qualities students acquire from attending colleges with such diverse interests. In addition to all the academic benefits of studying at one of the colleges in Cyprus, you will be living in one of the country's most exciting cities. The quality of this experience will stand you in good stead once you finish your degree and assist you to progress on to something new. As a student you will meet people who are similar to you and others who are quite different. You will be studying in a lively environment and some of the friendships you will make probably last forever. Whatever your interests, there is always something for you to enjoy in Cyprus, which is a fantastic country to live and study in. So why not come and experience it for yourself? It is a place of stylish shops and cafe-bars providing great nightlife, sport and culture.
TheCyprus' Universities and Colleges are committed to preserving the quest for knowledge as more than simply a practical pursuit. Through broad range of programs, the Colleges provides students from Cyprus and around the world with the depth of understanding and intellectual flexibility they need to respond to the challenges they will face in the years to come.The dedicated academic and administrative staff works hard to keep the Cyprus' Colleges a warm, human and friendly place.
Choosing the right study opportunity abroad is an important decision, which will affect the extent to which you find your life as a student fulfilling and enjoyable, as well as having an impact on your whole future career. Choosing the CyprusEducation establishes a commitment to high quality. The emphasis remains upon excellence of teaching, academic distinction and relevance to today's problems. 
High Quality Education 
Cyprus Institutions' faculties comprise of established professors from diverse backgrounds who combine academic knowledge with professional experience which is the key to maintaining quality and guaranteeing success. Of equal importance is the fact that quality programs are accompanied by sound advice, support and guidance. Cyprus Institutions aim at equipping students with highly-regarded qualifications, skills and experience, which will fulfil their career aspirations and enrich their future lives. The accomplishments of their students reflect their commitment to quality. Many graduates have successfully entered the working world and have excelled within their fields of study.
Flexibility 
The flexibilityand diversity of the programs attracts students of all ages from every background and from many different countries. The programs of study are reviewed regularly so that they meet students' needs and the needs of society in general. Furthermore, the Colleges are able to take a flexible and sympathetic approach to applications.
Programmes of Study
Engineering
Secretarial Studies
Computer Studies
Business Administration
Hospitality Management
Security Services & V.I.P. Protection
MBA
& Many More
Why choose Cyprus?
The Cyrus Institutions are well known for their transfer opportunities to many prestigious American, British, Canadian, Australian and European Universities. The Colleges have well-established international links and many universities accept the students on a credit/year for credit/year basis.
Part of the College's philosophy is to enable qualified students to receive quality higher education. The Colleges offer the opportunity for students to study at other Colleges that have competitive fees and in a country that has competitive living expenses as compared to other European countries.
The Colleges'staff provides all the necessary personal attention and guidance to every student throughout his/her studies. They feel it is very important that all students are made to feel at home from the moment they commence their studies in Cyprus.
The Collegesare well known for the international character and diverse academic background of the highly qualified and experienced faculty most of whom have earned their qualifications from the best universities in the United Kingdom and the United States.  The faculties consist of highly qualified lecturers selected on the basis of their academic and professional expertise.
The Colleges' students enjoy the fact that they study in Cyprus, a crime-free country with a lovely weather, which makes it an ideal place to study.
Colleges offer excellent facilities to all students such as laboratories with computers of the latest technology, full professional kitchens and restaurants facilities, modern cafeterias and gymnastic centres and thoroughly up-to-date libraries. Colleges emphasize on the integration of technology in all programs of study.
All students, local and international, gain the experience of being members of a very diverse international student body. Colleges' students come from many different countries all around the world forming a unique cultural mix.
Mission and Objectives
Mission
Collegesare committed to meeting the educational and professional needs of their students. In addition, they aim to encourage and help students develop a strong knowledge base. They also aim to encourage students to achieve their potential and prepare graduates for career and/or academic advancements. Finally, the Colleges strive to help their students maintain and foster ethical, fair and honest behaviours in all their endeavours.
Objectives
To recruit and retain qualified faculty dedicated to excellence in teaching;

To promote and support research and scholarship, academic freedom and faculty development;

To recruit and retain qualified administrators dedicated to adequately servicing the students' needs;

To offer programs of study of high quality that can respond to the current and future needs of the society;

To introduce and maintain adequate educational facilities, resources and services of high quality that can provide a stimulating environment conducive to learning; and

To have a clear organizational and administrative structure and employ effective policies, procedures and regulations that can support Colleges in achieving their mission.