Language
All people in Australia are encouraged to learn English which is the national language and an important unifying element of Australian society. However, languages other than English are also valued. In fact, more than 15 per cent of Australians speak languages other than English at home. The most commonly spoken languages after English are Italian, Greek, Cantonese, Arabic, Vietnamese and Mandarin. Australians speak more than 200 languages, including Indigenous Australian languages.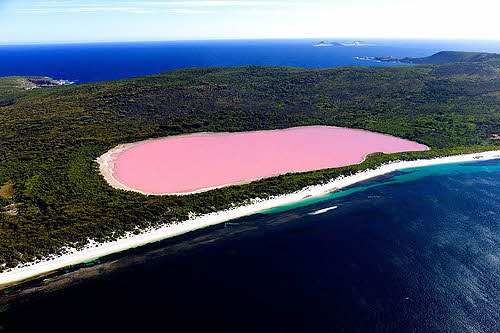 Lake Hillier, Australia
A sporting culture
Australians love their sports, both playing it and watching it. Australia has often achieved impressive results at the elite level. In the 2004 Athens Olympic Games, Australia ranked fourth overall in the medal tally behind the United States, China and Russia. In the 2006 Football World Cup, Australia reached the final 16. Australia is also ranked the top cricketing nation in the world.
But it's not just at this top level that Australians enjoy their sport. A recent national survey showed that more than 11 million Australians aged 15 or over participated at least once a week in physical activity for exercise, recreation and sports—a participation rate of almost 70 per cent. The 10 most popular physical activities were walking, aerobics/fitness, swimming, cycling, tennis, golf, running, bushwalking, football (often referred to as soccer in Australia) and netball. Other popular sporting activities include Australian football, rugby, hockey, basketball, baseball, car racing, horse racing, sailing and snow skiing.
The most watched sports in Australia include Australian Rules football, a uniquely Australian game with roots traceable to early forms of rugby and Gaelic football, rugby league, rugby union and cricket. The Australian Open, held in Melbourne, is one of tennis's four Grand Slam events. Australia has more than 120 national sporting organisations and thousands of state and local bodies.