Australian education is one of the best in the world and it is in the top 5 favourite study destinations for overseas students. Education in each state is administered by their state government. The various states education system is basically the same, except for a few minor differences in their education system.
Every year, thousands of overseas students come to Australia further their studies. And upon completing their course of study, many students went on to apply for their Australia PR (permanent residency). Learning and studying in Australia is the perfect way to launch your career.
Employment opportunities open up to those who have degrees from any one of the universities, whether they study in Sydney, Melbourne, Brisbane, Perth, Adelaide, or at any of the other higher-education institutions located around Australia.
Australia offers a unique experience for students. Apart from a world-class education system, the opportunities to get involved in daily life are endless: whether you're into the arts or sport, partying or book clubs, the great outdoors or cosy cafés, you'll find many ways to join in and have fun. So if you want to get an education and have a life, it really is the place to be. Australia is an internationally recognized source of high quality education as well as research excellence.
Australia has the third largest number of international students in the English-speaking world behind the USA and UK. Australian qualifications and institutions are recognized worldwide for their high quality and excellence.
Graduates from Australia are very successful in finding jobs and hold lead positions worldwide. Also, they are readily accepted for postgraduate study at leading international universities. Multicultural Australia is a safe, friendly, sophisticated and harmonious society in which students can learn and travel in an English speaking country.
Australia is a very safe country compared with almost anywhere in the world. Political unrest is limited in Australia, crime rates are low and strict gun control laws provide a safe environment.
Australia also offers excellent value for money and a high standard of living. Students from all over the world come to Australia to take advantage of the top-notch education and enjoy the friendly hospitality and cultural diversity.
Structure of Australian Education System
The structure of the Australian Education System can be represented by this diagram: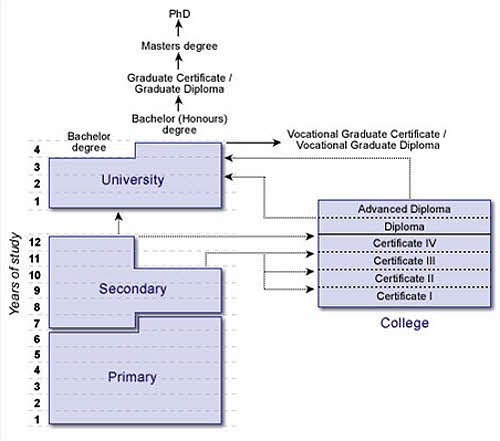 The diagram shows the study options that students have after completing different levels of education. Any further studies above the undergraduate level are called postgraduate qualifications.
COMPLETED LEVEL
STUDY OPTION(S)
Year 10
– Year 11 and then Year 12 (senior high school),
– A vocational (work training) program. These begin from the lowest level Certificate I to Certificate III depending on the ability of the student. The courses may be held in a school, at a TAFE college or at a Private College.
 Year 11
– A one-year foundation studies course to prepare for University entry.
– A Certificate IV course.
 Year 12
– A foundation program.
– A Certificate IV program.
– A University undergraduate program if the student has acceptable results.
– A Vocational Diploma.
 Diploma
– A University undergraduate program in year 2. This depends on the recognition that the University provides to the Diploma program.
Advanced Diploma
– A University undergraduate program in year 3. This depends on the recognition that the University provides to the Diploma program.
Bachelor
Degree(Undergraduate)
– A one-year "Honours" degree (for students who have the ability).
– A postgraduate qualification.
Any further studies above the undergraduate level are called postgraduate qualifications. There are many courses available that vary in length and are ranked as follows (from the lowest to highest level):
Graduate Certificate (and Vocational Graduate Certificate),
Graduate Diploma (and Vocational Graduate Diploma),
Masters Degree (Coursework and Research),
Doctor of Philosophy Degree (PhD).
The diagram does not represent some types of courses such as:
     English language courses (ELICOS),
     Non-award, foundation and pathway courses. 
Education in Australia is primarily the responsibility of the states and territories. Each state or territory government provides funding and regulates the public and private schools within its governing area. The federal government helps fund the public universities, but was not involved in setting university curriculum. As of 2012, the Australian National Curriculum, under development and trial for several years, has already been adopted by some schools and will become mandatory soon. Generally, education in Australia follows the three-tier model which includes primary education (primary schools), followed by secondary education (secondary schools/high schools) and tertiary education (universities and/or TAFE colleges). The Programme for International Student Assessment (PISA) 2006 evaluation ranked the Australian education system as sixth for reading, eighth for science and thirteenth for mathematics, on a worldwide scale including 56 countries. The PISA 2009 evaluation ranked the Australian education system as sixth for reading, seventh for science and ninth for mathematics, an improvement relative to the 2006 rankings.
Education in Australia is compulsory between the ages of five and fifteen to seventeen, depending on the state or territory, and date of birth. Post-compulsory education is regulated within the Australian Qualifications Framework, a unified system of national qualifications in schools, vocational education and training (TAFE) and the higher education sector (university).
The academic year in Australia varies between states and institutions, but generally runs from late January/early February until mid-December for primary and secondary schools, with slight variations in the inter-term holidays and TAFE colleges, and from late February until mid-November for universities with seasonal holidays and breaks for each educational institute.
University is the highest level of study in Australia.
Study can be undertaken at an undergraduate level (Bachelor Degree) and/or a postgraduate level (Graduate Certificate, Diploma, Masters and PhD). Australia has 41 universities, 38 of which are government funded and three privately funded.
Vocational
Vocational institutions include skill-based courses which are closely linked to selected industries and give students practical skills and industry experience. Courses are provided at both government-funded Technical and Further Education (TAFE) institutes and private institutions. Many vocational institutes have links and agreements with universities.
Through these links, universities may offer up to one year of advanced standing into a Bachelor degree as well as guaranteed entry into your course when you achieve the required grades at your vocational institution. Many of the courses provide advanced standing into university degrees.
School
Australian schools are either government or privately funded. The schooling system is separated into two levels: primary and secondary. Primary school is undertaken by students between the ages of 6 and 12 years and secondary school is undertaken by students between the ages of 13 and 18 years. School is compulsory for children between the ages of 6 to 15 after which students may choose to continue their secondary study (up until the age of 18), leave secondary school to enter the workforce or enrol in vocational courses.
There are approximately 100 private English language centres in Australia. Courses in English can be taken for a variety of reasons including study, travel, immigration or business purposes. English courses can also be undertaken at some universities and TAFE institutions.
Australian Academic Year
The Australian academic year begins in early February for school students and late February/early March for vocational and university students. Most schools have three or four terms a year. Unlike the school system, universities and vocational institutes have two semesters with exams held at the end of each semester in June and November, followed by a two-to-four-week break. The long summer holiday break is from November to March.